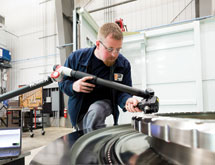 Mid-State Machine Products
When Mid-State Machine expanded its operation five years ago in Winslow, Maine, the company experienced many of the growing pains encountered by small, privately held businesses. Today, however, with help from parent company Precision Partners – a private equity firm with operations in four countries and more than 1,800 employees worldwide – Mid-State Machine has become one of the industry leaders in precision contract machining, fabrication and assembly.
According to President Duane Pekar, who took the helm of the company in June 2012, Mid-State Machine is growing at a double-digit pace through three driving factors: an aggressive lean manufacturing deployment; education of the next generation of machine technicians; and investment in new equipment and technology.
"These are the things that are going to drive our rapid growth," Pekar says. "Two to three years from now, we want to be known as the machining expert that  makes complex parts faster than anyone in the industry. We're shortening the cycle time in every facet of our business."
Mid-State Machine and its sister company, Berkshire Industries in Westfield, serves customers in the aerospace, defense, oil and gas and power generation industries. The company's recently expanded 250,000-square-foot facility in Winslow adds state-of-the art vertical turning capability that combines a 2-axis lathe with 3-axis milling on parts up to 3.5-meter diameter and 2 meters in height, to more than 100 multi-axis machining centers and a range of test qualifications. The facility also has plans to expand its welding capabilities, which Pekar says Mid-State will bring in-house in 2013.
Lean Machining
Although lean manufacturing techniques typically are best applied to continuous flow processes, Pekar was determined to bring lean to Mid-State's operations. The company had called on numerous lean experts before finding a consultant adept at applying lean techniques to complex machine shops.
"There are a lot of consultants with expertise on how to apply lean principles to a continuous flow process, but not the expertise to deploy lean in a complex machine or job shop environment," Pekar says. "We brought in experts who could lead our team through lean deployment in each of our value streams and now we're utilizing lean tools to drive continuous improvement every day."
Pekar says Mid-State's  managers have witnessed the workforce using these new techniques during their daily Gemba walks, which is another lean technique that helps managers do their job by walking the shop floor and monitoring progress. "Operators engage in solving problems and improving on a daily basis," Pekar says. "It's a fantastic transition we have begun to see."
The 'Game Boy Generation'
Because the nature of Mid-State's operations are so technical, Pekar says it is imperative to train the next generation of operators so the company can continue to grow. To make this happen, Mid-State has partnered with local colleges such as Kennebec Valley Community College in Fairfield, Maine.
Pekar says this institution has a strong technical machining program, which made it a great fit. Now Mid-State runs a co-op program with Kennebec Valley bringing in students for hands-on training in its operations, and hires them upon graduation. He adds that it gives an additional six months of on-the-job training with Mid-State's highly skilled machinists.
Although this has helped pass on valuable experience, Pekar admits today's young machinists catch on quickly because many of them grew up with computers and playing video games. This allows the "Game Boy Generation," as Pekar calls them, to adapt to the controls of various CNC machines much faster.
"We bring them on board and up to speed faster because they are naturally more in tune with technology and learn differently," Pekar says. "They catch on to CNCs incredibly fast because they dig in and are not afraid to do trial and error."
Innovation and Technology
The third aspect of Mid-State's  growth is ongoing investment in new technology and equipment. According to Pekar, investing in welding capabilities, for example, will allow Mid-State to take on large housing projects with difficult welding requirements. This is especially important as the company enters the oil and gas market, which relies heavily on large housings for drills and wells.
Pekar adds that welding is just one of the long-term investments Mid-State will be making.
"By bringing many of these capabilities in-house, we improve our cost position, quality, and take weeks out of our cycle time," Pekar says.
No matter what new markets Mid-State Machine intends to pursue next, Pekar says the bottom line is that Mid-State is all about full-scale lean deployment and investing in people and process so the company can outpace its competition. mt