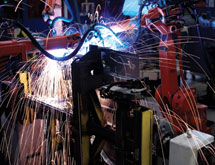 Midwest Engineering Systems (MWES) Inc.
A frequent complaint to a Broadway play doctor is that the production is having trouble in the third act. A frequent response is, "Your problem with the third act is the first act." Similarly, if the expectations for an automated manufacturing system are not defined accurately in the design stage, the finished system might not deliver what the customer expected.
"The hardest part of a project typically is the last 5 percent – making sure the customer is completely happy," insists Scott Woida, Midwest Engineering Systems (MWES) Inc. president and owner. "When you've really defined what that piece of equipment is going to do and your customer has the same expectations that you're working toward, it makes that last 5 percent much easier. That's where we see a lot of people get into trouble – where the expectations of the project have not been as well defined. We go to great lengths to make sure everyone on the front-end of the job understands exactly what it is we are delivering."
In addition to designing and building automated manufacturing systems, MWES provides on-site customer service and support for automation, robotic and web-handling systems through a nationwide network of field service and support specialists. "We win quite a bit of business when we go in as a service organization and finish other people's projects," Woida reports. He estimates that in a typical year, approximately 80 percent of MWES's annual revenue is obtained from repeat customers, although last year was the exception – approximately 80 percent of last year's business was from new customers.
MWES customers are major manufacturers that are located in countries worldwide, including China, India, Mexico, South America and the United Kingdom. "I'd say about 90 percent of what we manufacture ends up in the U.S.," Woida calculates. Part of the reason for this is the trend toward companies bringing their manufacturing back from overseas. "When it does come back, a lot of times – in order for it to be competitive – some or all of a process needs to be automated," Woida explains.
In-house Design
Woida estimates that MWES has from 50 to 60 designers for its manufacturing systems who include project managers and mechanical and electrical engineers. "We engineer systems to order," Woida says. "When you open up a catalog and you can't find what you're looking for, this is where you end up. We try to bring as much in-house to basically get control of our delivery, cost and quality. We do very little consultant-type design right now. We've brought in a machine shop. We assemble everything on our floor. We've got our own paint shop."
Besides investing in machine tools to expand the machine shop – Woida estimates approximately 30 percent of the company's machined components are made in-house – and purchasing new hoists and cranes in its 55,000-square-foot plant in Pewaukee, Wis., MWES has purchased several companies in Fort Collins, Colo., that specialize in heavy, large welding projects, such as manufacturing truck or tractor frames or electrical transformer enclosures. MWES has invested in more welding equipment for these companies and a new ERP system specifically designed for engineer-to-order companies such as MWES.
Components that are too large for MWES to fabricate in-house, along with robots and other mechanical components, are purchased from outside suppliers. Those vendors also can supply any components that MWES's engineers have custom-designed that are not off-the-shelf and cannot be fabricated in-house.
Recruiting Employees
Given the high skill levels required of MWES employees, recruiting them can be challenging, but the company uses a combination of sources, such as referrals from employees or industry contacts, recruiters and employees at companies that MWES has acquired recently.
MWES's employees are key to keeping customers informed about the progress of their projects. "I attribute the company's success to basically making sure that our customers are very well informed as far as what we're providing," Woida says. "Then our employees here do a very good job at executing exactly what it is we have set out to do. We have some great employees here that basically can take exactly what the applications sales engineers have provided for our customers and what has been purchased and keep the expectations of our customers in mind. If your customer understands what they're getting and what it costs, and in the end, they get exactly what they expected, that's a happy customer."
MWES's engineering staff has the technical expertise it needs and a diverse knowledge base to serve customers in many different industries. Industries served by MWES include  engine and transmission assembly, heavy equipment machining, agriculture, consumer goods and warehouse conveyance systems.
For the future, Woida anticipates growth into additional industries. "We're definitely just breaking into the aerospace and the medical industries right now," Woida says. "As far as automation goes, we're already pretty well established in machining and material handling and assembly-line types of systems."
He would like to expand the company's engineering services and add approximately 40,000 square feet to each of the company's plants in Pewaukee and Fort Collins. "We're definitely still looking to grow a bit," he emphasizes. "We're looking at total employees and thinking in 2014 to 2015 somewhere around 160 employees. That's a place we're looking to level out at for a while."