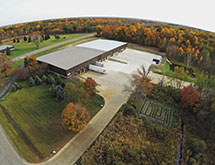 Many firms manufacture angle rings, but Midwest Metal Products sets itself apart by making itself invaluable to its clients, President Geoff Wendt says. "You have to figure out how to make business so nice [that] they don't want to go anywhere else," he says.
The company earns client loyalty by making sure it provides friendlier, faster service than its competitors, Wendt says. "Once people get a taste for that, they stick with you," he says.
Based in Michigan City, Ind., Midwest Metal Products manufactures rolled angle rings and structural shapes for clients that range from HVAC and mechanical contractors to major technology corporations. Wendt's father, Bill Wendt, started the company in 1982.
Previously, Wendt was part of a family company that made structural rings. "He had a lot of ideas on how to make them better, but because he didn't have full control of the business, he wasn't able to implement them," Geoff Wendt explains.
Bill Wendt then founded Midwest Metal Products to put those ideas to fruition. Today, Midwest Metal Products manufactures hundreds of thousands of angle rings annually for contractors that serve such clients as Intel Corp. and Texas Instruments Inc.
Midwest Metal Products has a stock product line of angle rings that range from three to 72 inches. Aside from its own stock specs, the company emulates all other stock specs of its competitors. "If you want to get the 'Midwest experience,' but stick with a different competitor's spec, we can accommodate for that," Geoff Wendt says. "This is particularly important when doing work on an existing system where it's important that the flanges stay the same for maintenance reasons.
"For the most part, those stock angle rings are used as flanges for industrial ductwork," Wendt says, noting that the remainder of its business consists of custom work.
The Family Business
Wendt has a long history with Midwest Metal Products. After growing up in the business, he pursued a career in Chicago's restaurant industry. "I came back in February of 2002, [when] my dad was getting closer to retirement," he recalls.
At the time, many were interested in buying Midwest Metal Products. "When I caught wind that my dad might seriously consider exiting, it only made sense for me to come on back to the family business," Wendt says.
He credits the company's success to its employees. "They all know how we want to be portrayed in the message that we send to our clients and prospective customers," he says. "You can have all the fancy machines you could ever buy, but if you don't have people who believe in the business, then you really don't have anything."
Midwest Metal Products' work is "a perfect melding of technology and human touch," Wendt says. "Our service people are fantastic, very friendly and prompt."
He asserts that when customers call the company, they always deal with a live person and not voice mail. "You can get them any time on the phone, but they have tools in both the office and the shop to do their job better than anyone else in the industry," Wendt says.
Trinity of Sales
Midwest Metal Products offers its clients what Wendt calls "the trinity of sales" – quality, service and price. "I can say that we offer all three of those without question," he says.
Although Midwest Metal Products is a low-cost manufacturer, "We service the customer better and we do things in the quality department that no other ring manufacturer does," he says. For instance, the company electronically measures each ring with custom built, in line coordinate measuring machines during the manufacturing process, before they are shipped out.
During this process, Midwest Metal Products makes a record of the measurements in its database. That way, if a customer has a problem with the size, "I can call up the information," Wendt says. "We have very little quality control issues because of that."
Midwest Metal Products measures its rings with coordinate measuring machines that the company builds itself, with "a core group of people who have been with the business for a long time," Wendt says. "[We] are very good at thinking up ideas on how to make things more efficient, how to make a better ring [and] basically better ways to make sure we're staying ahead of the curve."
The company also invests in regular maintenance of the machines, he adds. "I don't think there's a single machine in our shop that isn't changed a couple times a year," he says. "Whether it's changed by replacing hydraulic motors with servo drives, updating controls to the latest and greatest, etc."
Making New Space
Midwest Metal Products recently added 27,500 square feet to its facility in Michigan City, which was long overdue, Wendt says. "We've been getting more and more cramped over the past couple years due to our growth," he explains.
Midwest Metal Products applied "an immediate Band-Aid" by adding more space with two more dock doors. "Now that we've added on to our building, we've added four more dock doors on the old side of the building for a total of 10 shipping docks," Wendt says.
Now that the extension is completed, "I want to start perfecting the systems we have in place and apply those to larger structural profiles," he says.
The company still plans to be a ring manufacturer, but "the material we're going to make the rings from is going to be heavier," he says, noting that he has new ideas on how to add value. "[They] will be unique."
Branching Out
Next year, Midwest Metal Products will appear at the AHR Expo in Chicago. "We've been displaying [there] for about 10 years now," Wendt says. "It's always nice for us when it comes back to Chicago."
He looks forward to meeting his current customers and new people at the show. "If I see some sort of new product on the floor or some exhibitor I haven't met before, it's always time [to offer our services]," he says.
Wendt predicts continued growth for Midwest Metal Products with its staff, which consists of "some long-term employees who have been here 15 to 25 years," he says. "I have a lot of fresh people in the shop and office, as well."
He expects the company to branch into new markets, including building components, architectural details pressure vessels and tanks. "The applications on the custom side of things are almost limitless," Wendt says.