Gearing prosperity
Millat Equipment Limited (MEL) is a part of Millat Group of Companies (Chaired by Mr. Sikander Mustafa Khan) which also includes of Millat Tractors Limited, Millat Industrial Products Limited, Bolan Casting Limited and TIPEG Intertrade. MEL is one of Pakistan's foremost manufacturing organisations, responsible for producing high quality transmission parts and automotive solutions
Background of Millat Group
Established in 1964 as Rana Tractor and Equipment Limited, the company set up its operations with the import of built up Massey Ferguson tractors. In 1965, an engineering facility in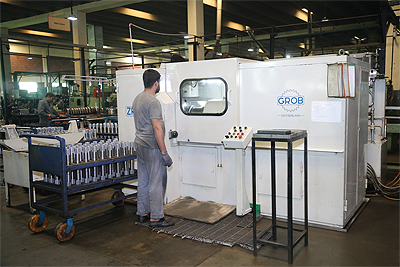 Karachi was established to assemble tractors from semi-knocked down kits, which not only created new agricultural horizons but also paved the way for transfer of technology. The facility was shifted to Lahore in 1967.
In 1972, the company was nationalised and renamed as Millat Tractors Limited. In 1973, Millat Tractors Limited entered into trademark license and 'technology transfer' agreements with Massey Ferguson and Perkins UK. Moving forward, in 1982, the first engine assembly plant in the country was inaugurated to start the process of indigenisation. It was a landmark initiative which ignited the spark of rapid development. Two years later, a machining division was also inaugurated. In 1992, an employees' buyout of the company through a privatisation process played a significant role in defining the company's growth trajectory.
Today, MTL is a blue-chip, public limited company listed on the Karachi, Islamabad and Lahore Stock Exchanges, principally involved in the manufacturing of agriculture tractors, implements and multi-application products. In the fiscal year 2017-18, it was responsible for producing and selling over 42,500 tractors, and was named on the Forbes List of 'Asia's 200 Best Companies Under a Billion'.
Millat Equipment Limited
Making up a crucial part of the wider Millat Group is Millat Equipment Limited (MEL). "MEL is one of Pakistan's leading manufacturing organisations, producing high quality transmission components and automotive solutions," begins MEL's Chief Executive Officer and Former Director Technical of MTL, Ahsan Imran Shaikh. "We are equipped with complete in-house gear manufacturing capabilities, supported by state-of-the-art inspection and testing equipment, a specialist heat treatment facility and metallurgical lab."
Over the years, MEL has built up a solid reputation for quality, service and reliability, and for supplying products that meet the demanding requirements of the gear industry An ISO 9001:2015 certified company, it is arguably the most technologically advanced transmission gears and shafts manufacturing business in Pakistan. "From our facility, we are able to manufacture a broad range of transmission shafts, spur gears, helical gears, spiral and straight bevel gears, as well as sub-assemblies such as hydraulic pumps, balancer unit and carrier planetary units," Ahsan continues. Furthermore, MEL takes pride in being the third company in Pakistan to acquire Energy Management System (EnMS) ISO 50001:2011 certification. The certification requires it to conserve energy through improving its existing setup and also by refining its purchase process by procuring products that are energy efficient. MEL is also investing in green energy with its future solar energy system project, which will cater for 25 per cent of MEL's energy needs.
"As a functional company," Ahsan adds, "we never compromise when it comes to delivering products to our customers that are of the highest level of quality and that strictly adhere to their respective specifications, at the best possible price. We have developed a strong dealer network at group level in the country, and we also now boast export clientele in countries such as Turkey, India, Poland and UK."
In the last few years, MEL has instigated an aggressive investment programme which has been concentrated on its machine tool and inspection equipment capabilities. As Ahsan reveals, this investment has been critical to the company's continued success. "I am a believer in the idea that in order to survive you have to constantly improve and upgrade your technologies and systems in line with changing market demands. Recent investments include spline cold rolling machines, CNC teeth cutting and turning machines, CNC gear profile testing machine and induction hardening solutions which only helps to advance our ability to produce solutions and components to the highest of industry standards." MEL is also in the process of implementing a IFS 9 (Industrial and Financial Systems) application. The application is tailor-made for companies that are into manufacturing and Millat Group is proud to have joined hands with IFS Research & Development (Sri Lanka) as business partners to launch its Enterprise Resource Planning ERP) services and products in Pakistan.
Market conditions, as Ahsan freely admits, are somewhat challenging at present, which is why MEL finds itself moving forward with its efforts to expand its own capabilities, while also exerting fresh efforts to boost its export growth. "Within our local market, we are beginning to make efforts towards targeting new sectors such as the aftercare market for tractors and
similar vehicles, as we believe there is a big opportunity for a company with the expertise of MEL to make good ground here," he says. "In terms of our export programme, we are actively pursuing more orders from customers outside of Pakistan.
We will do this by targeting any and all markets that we see as having potential, with regions including Africa and the former states of the Soviet Union being good examples. We are actively working on strategic alliances with local manufacturing companies in said markets, to see how we can synergise in order to achieve our common objectives of economies of scale, developing products, technologies and resources, and gaining a competitive advantage for the growth of the Pakistani automotive industry, both locally and globally."
MEL also strongly believes in corporate social responsibility (CSR). "We have sponsored national level upcoming young golfers, and we are continuously supporting non-profit organisations engaged in improving primary education in Pakistan," Ahsan reveals. "We are also collaborating with local universities and technical institutes to develop effective industry-academia linkage. Recently, MEL has been declared as having the 'Best Landscape Factory' in the city and stood in second position in the Open Flower Competition organised by the Provincial Horticultural Authority."
As for what the immediate future holds for MEL, Ahsan highlights the fact that further new machinery is already on the cards to be introduced during the latter half of 2019, while the business itself will continue undergoing something of an 'evaluation process' as it looks to make the most of the considerable investment it has made. "As we endeavour to keep our technology in line with the rest of the market, we will work as hard as ever to secure orders both locally and internationally," he states. "All the while, we will strive towards achieving our long-term vision, which is to be considered one of the best companies globally when it comes to the manufacture of gears, shafts and other components, and one that is globally recognised for the quality of its work."
Millat Equipment Limited
Products: Transmission gears, shafts, hydraulic pumps, engine balancer unit and other related parts