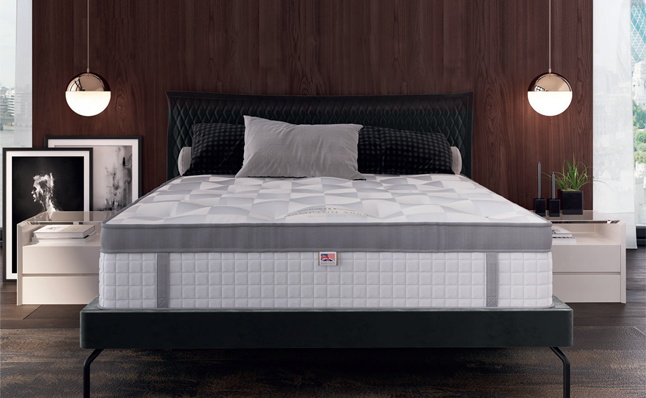 Sleep made simple
Since 1946, Millbrook Bed Company (Millbrook Bed Co) has been seeking new ways to help Britain sleep better. Its founder, Walter Croll, was inspired by the elegant interiors of the ships sailing around the Millbrook area of Southampton English passenger fleets at the time had become synonymous with luxury and elegance, and the workmanship required to furnish them needed to be of the highest possible standard. It was this standard that Croll set for himself with the establishment of his small upholstery and bedding workshop. Millbrook UK was soon contracted to refurnish the entire Union Castle Line fleet, and the company has seen growing success ever since. It is one man's mission, to create luxury through a simple and resolute dedication to good craftsmanship which remains the foundational ethos behind Millbrook Bed Co today.
2021 marks the company's Jubilee anniversary, and today Millbrook Bed Co has diversified into becoming 'The Experts in Sleep', a larger group that incorporates a number of different sectors from classic Divan-style beds and mattresses, to contract bedding for hotels, and even going back to its roots with the invention of Millbrook Boat Mattresses, the company exhibits a dedication to providing people with the best possible night's sleep, home, away and anywhere in-between.
There is a 'can do ethos' behind Millbrook Bed Co's manufacturing process, and its ongoing diversification speaks to this. Aiming to demonstrate a quick understanding of its client's needs, and then deliver the best-quality and most cost-effective solution, Millbrook Bed Co highlights the importance of being proactive, and taking special care over each and every detail. Maintaining this level of care and attention to craftsmanship has not only won the company a stellar reputation, but has offered it incredible opportunities, such as restoring antique furniture at Sterling Castle, and even working within the walls of Downing Street.
Combined techniques
An accumulation of 75 years' worth of knowledge and experience in mattress-making has led to a surge in innovation, making the reorganization of Millbrook Bed Co's portfolio necessary, in order to clearly differentiate the new brands within its handmade mattress collection. The introduction of new technology and materials to the company's offering is now possible, without diluting its existing range, which continues to have a strong appeal and demand.
As Ross Thurston, Operations Director of Millbrook Bed Co comments: "A new Group level structure enables us to venture into new markets, such as memory foam and to use new technologies without diluting the existing Millbrook Beds brand. The new structure provides clarity for our trade customers and our end consumer along with clear brand definition and positioning for each of our ranges."
One new brand, which the company launched in early 2021, is the Chittenden & Eastman Hampton Range, which has been designed in collaboration with leading American bedding maker, Bedding Industries America, to meet the self-care needs of modern people. To achieve this Millbrook Bed Co has blended its mastery over traditional manufacturing methods with modern technologies; hand-tufting, for example, combines ancient weaving techniques with modern technology, as weavers will use a tufting tool to put wool strands through the material canvas. This not only contributes to the beauty of the end product, and increases its durability, but the Hampshire Wool used is also antimicrobial, ensuring the customer an odor and allergen free sleeping environment, even from the very beginning of the manufacturing process. The company's beds also feature 1000-plus individually wrapped pocket springs and intricate hand stitching; these labor-intensive processes boost the mattress quality and support the company's assertion that there are no shortcuts to luxury.
Drive for sustainability
More recently, in August 2021, again in partnership with Bedding Industries America, the company also announced the launch of its first memory foam mattress collection – the Laguna by Eclipse International. This collection will feature Five Zone Air Flow memory foam, which has been created to allow airflow around the body, avoiding the over-heating often associated with normal memory foam.
Three models are available to customers, these being the Laguna 20, Laguna 40, and Laguna 50, featuring three depths of Five Zone memory foam – 20mm, 40mm or 50mm respectively – and a choice of 1000, 2000 or 3000 pocket springs. Many of the natural fabrics and fillings Millbrook Bed Co mattresses are well known for are used, including Hampshire wool, while zonal quilting of a knitted Tencel cover gives a tighter quilt pattern at shoulder and hip to give the sleeper extra support in the important areas where the body rests on the mattress.
"The launch of the Eclipse International brand into the UK market represents a significant step for Millbrook Bed Co and moves us into the ever-popular memory foam market with a competitive starting price point of £999," Ross noted at the time of its launch. "We have not previously ventured into this market, and our partnership with Bedding Industries of America has enabled us to introduce our first range of luxurious memory foam mattresses providing the levels of comfort and support our traditional handmade mattresses are known for, while appealing to a completely different consumer with a fresh new USA inspired style."
Existing outside the ever-changing trend-cycle of today, Millbrook Bed Co's beds have a classic look that matches their enduring quality. The company becomes the most sustainable option all around through a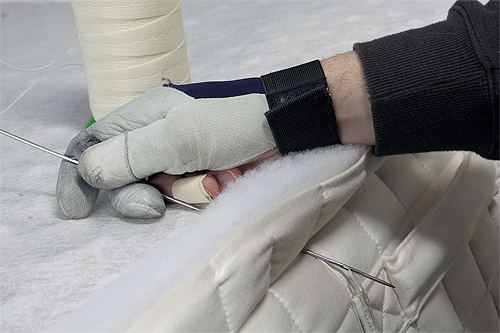 combination of high-quality design and craftsmanship. These assets will no doubt support its up and coming sustainability drive, launched in August 2021 with the stated aim of introducing new solutions to reduce waste and CO2 emissions.
Millbrook Bed Co has long invested time and resources into finding sustainably and locally sourced materials, using timber from only FSC managed forests, and repurposing millions of plastic bottles each year into mattress construction. New sustainable measures introduced this year include, partnering with The Planet Mark to achieve net zero carbon targets across all aspects of the business, and achieving a recognized sustainability certification to measure the company's carbon footprint, which will be improved by 2.5 percent each year in order to retain the certification. Through The Planet Mark, the company will also make a yearly donation to the Eden project and one acre of saved Rainforest via Cool Earth. Further to this, the company is making a commitment towards switching all mattress packaging to plastic made from sugarcane and recycled plastic, which is 100 percent recyclable.
As Ross adds: "We are utilizing 75 years of experience in creating mattresses for perfect sleep, while constantly working towards a more sustainable future, without compromise on comfort or quality. For many years, our focus has been on sourcing sustainable, natural fabrics and fillings, with sustainability driving both our corporate responsibility and customer scrutiny. We now have partners to work with to help us do our bit to tackle the climate emergency. Sleeping soundly requires peace of mind, and our customers can rest easy knowing we have an environmentally responsible approach to making mattresses, because we believe sustainable sleep is the future."
It's clear that Millbrook Bed Co works with people in mind, and that's because its people work with it in mind. Describing itself as 'very much a family firm', it speaks to the shared goal of Millbrook Bed Co's employees, as well as the motivational nature of its company culture, that many skilled mattress and divan makers have followed their parents and grandparents into the company. For the company's 750-person team, its excellence and high reputation is a matter of personal pride. Millbrook Bed Co cites this pride and dedication as possibly the most significant factor in attaining the supreme quality and finish of each bed. It is no surprise, therefore, that thanks to its people, Millbrook Beds Ltd. was amongst the first pocket sprung bed companies to achieve the British Standard of Quality assurance (BS 5750).
It has been 75 years since the establishment of Millbrook UK, and throughout that time the company has ensured longevity, class and comfort in each of its products. Millbrook Bed Co has an unwavering dedication to its goal of creating sanctuaries for self-care and genuine rest in a busy world. With recent innovations in company structure and sustainability, alongside pre-existing successes in terms of quality and reputation, it is clear that Millbrook Bed Co should certainly not be slept on.
Millbrook Bed Company
www.millbrook-beds.co.uk
Products: Luxury bed frames, upholstery and mattresses