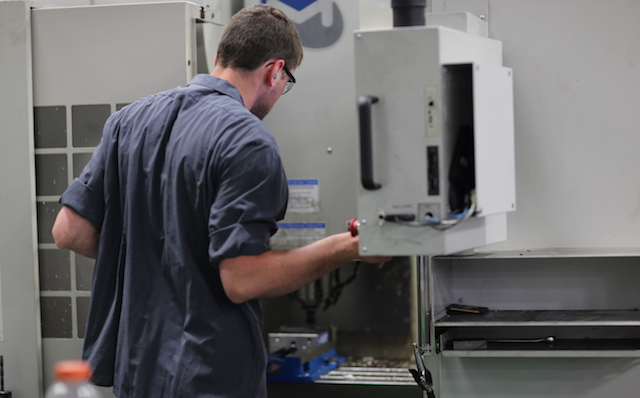 Technology has been a part of Milltronics USA's DNA since its beginning. The company was founded in 1973 as Industrial Information Controls and specialized in using microprocessors to build CNC controllers. During its first 10 years, it transitioned from becoming a control maker to an electronics manufacturer by integrating its control boards directly into machines.
By 1993, Milltronics was developing its own machine tool packages and earning a reputation for reliability and innovation. In addition, it was among the first companies to put linear rail technology on equipment.
The Milltronics name has long been a highly regarded brand in the CNC technology field, making it a desirable acquisition target. "Milltronics' claim to fame is having the easiest to use control," General Manager Elias Pavlakos says.
In 2015, CNC machine and tool company Hurco purchased Milltronics and brought in a new management team, which included Pavlakos. The new team has embraced its subsidiary's legacy and doubled down on its strength in control technology and dependability. "Those are the things we wanted everyone to focus on post-acquisition," he adds.
Both companies share similar backgrounds in PC-based controls, but Milltronics and Hurco pitched their products to different types of customers. Both Milltronics and Hurco controls feature conversational programming as well as G-code for running CAM Programs. But in conversational mode the Milltronics control helps the operator learn G-code as programs are written while Hurco operators never even sees it. Additionally, Milltronics product portfolio includes many styles of open bed tool room mills and lathes not offered by Hurco.
The separate customer bases and different types of machines meant there was only modest overlap in product lines when Hurco bought Milltronics. Still, there were some opportunities to take advantage of economies of scale and secure better pricing from shared suppliers. "The big positive to Milltronics is that the management team is not new to the manufacturing industry," Pavlakos says. "The purpose of the acquisition is to get value out of the brand and let the brand address the market sectors it's suited for."
Milltronic's slogan is "Let's invent," a theme the company has put at the forefront for the past year-and-a-half. "We basically looked at trying to reevaluate the platforms we have," Pavlakos says.
Ahead of 2016's International Manufacturing Technology Show (IMTS) in Chicago last September, the company introduced a new controller and new control feature called Milltronics Shop View. The feature allows customers to remotely access their machines to view data such as spindle hours and ensure it is running properly while Milltronics handles all the IT infrastructure and data flow. The innovative system enables small and medium-sized customers to use the same kind of technology as larger manufacturers that are focused on Industry 4.0 and the Internet of Things. "We're again making technology accessible to the Milltronics customer," Pavlakos says.
The innovation doesn't end with Milltronics Shop View. In the short time the new management team took over Milltronics introduced a whole new product line of vertical machines (VM) and rebranded and reengineered several other machine lines including In-Line Spindle (IL) and performance belted 50-taper machines (XP)for job shop, metal cutting, automotive, medical and aerospace  manufacturing.
The company's new controller runs on a Windows 7-based platform and is designed to be easier for customers to integrate into their shops. Beyond the familiar user interface of Windows, the controller also features a 15-inch color LCD touch screen, much more memory and storage and dual-core processor, making for fast and responsive inputs and motion control.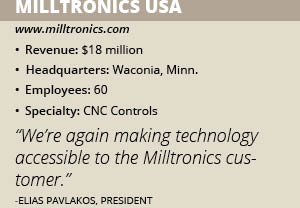 Maintaining Quality
Milltronics sells its controllers and machines through a network of distributors, all of which provide full support and training for the equipment. That customer support is further supplemented by the company's in-house engineers, who can be dispatched to clients as needed. Pavlakos believes manufacturers appreciate the setup because they have local access to the distributors' service teams, reducing downtime and ensuring their machines operate as expected. "I think it's been pretty promising that as we've introduced the new models and machines we've watched our distribution network grow," Pavlakos says.
The majority of Milltronics' customers are located in the United States but the company also sells to manufacturers in Canada, Mexico, Latin America, Europe and Asia. In all, more than 12,000 Milltronics products can be found in factories worldwide.
The service Milltronics and its distributors offer on the post-sale side is matched by the quality it puts into manufacturing. The company maintains a 100,000-square-foot facility in Waconia, Minn., which houses its manufacturing, sales, engineering and service division. Because the machines are all engineered by Milltronics, the company controls the entire process and can specify the components it uses.
The company looks for reliable partners such as Yaskawa America, the world's largest maker of AC inverter drives and motion control systems. Yaskawa America has been involved with Milltronics for more than a decade and Pavlakos says the supplier makes a reliable and lasting product.
Beyond quality, the speed of suppliers such as Yaskawa America also adds to the perceived value of Milltronics' machines. The likes of Amazon have trained people to expect faster order delivery. Milltronics is under the same pressure as every other manufacturer to turn equipment around quickly, even custom equipment.
To achieve that speed, the company produces an inventory of base models and then allows customers to add capabilities through a set of standardized options. In most cases, Milltronics can ship a standard machine right away or customize a product with options and ship it to the customer for installation within a month of ordering.
Embracing Upgrades
Ease of use has been Milltronics' mantra since its beginning, but the company is preparing to elevate that idea with its next innovation: ease of upgrading. Because it is already marrying engineering with the controller, Milltronics can design controls that can incorporate new technologies. Customers will no longer be stuck with what they purchased at the time of sale. Pavlakos likens it to how better software can improve a smart phone's capabilities over time. "For the useful life of that hardware, as innovation comes up why shouldn't the customer take advantage of that?" he asks.
"My goal is always to try to improve the performance on the control," he adds. "I'd love to give a customer an upgrade and let them produce on the same hardware and improve their through put without a loss in quality of their parts."
That kind of forward thinking represents not only the company's customer-focus, but also its vision for the direction of the industry. Processes and efficiencies continue to boost the United States' manufacturing output, even as fewer people are needed to do those jobs.
Every new CNC machine Milltronics sells is like a long-term commitment from the customer to support its product and make efficiency improvements throughout its lifespan. "Being able to have a customer purchase a Milltronics machine tool is an insurance policy against obsolescence," Pavlakos says.