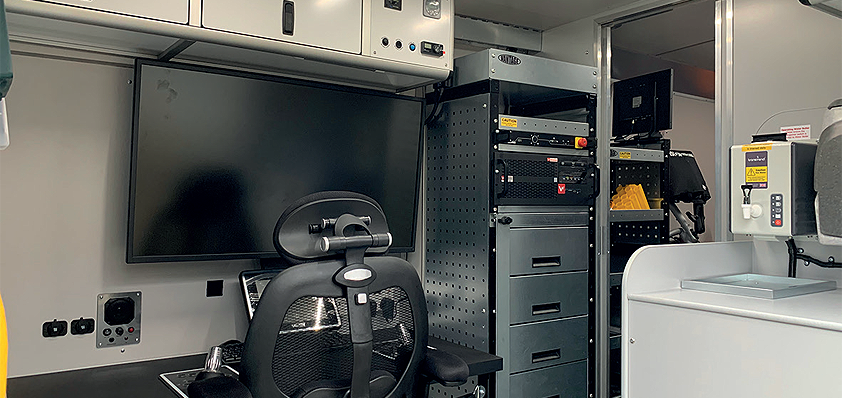 A determined pursuit of growth
A company that maintains a top-notch standard of service, MIS Conversions Ltd has made remarkable expansions and the end is nowhere in sight
In Doncaster, there is 88,000-square-foot of production space housing up to 700 vehicles at a time under the name of MIS Conversions Ltd. This warehouse is equipped to offer a first-class service that caters to all conversion requirements, with the ability to provide a full design and build a service that guarantees the light commercial vehicle (LCV) conversion that its clients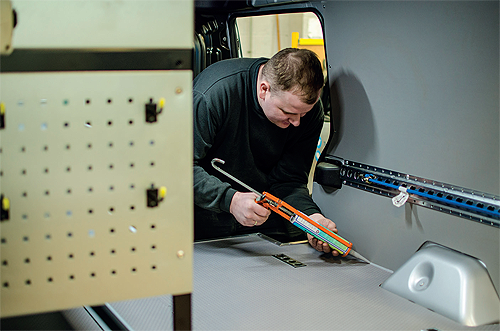 receive is of the highest quality. Sharing his thoughts and knowledge on how this state-of-the-art facility was able to grow into the powerhouse it is today, we chat with Joe Warner, the company's Sales and Technical Director, about MIS Conversions progress since its inception in 2006.
The company started as a small third-party tracker installer with two stakeholder investors. They went on to occupy their first workshop in 2010 when they were approached by a large racking provider in the UK to install some racking. "That is how we transitioned into the industry. Since then, the company has been able to promote itself onto bigger premises, so our first workshop was initially 4000 square feet and had room for about two or three vehicles, and then after about 12 months we took possession of an adjoining building, which was around 8000 square feet with about five vehicle bays. Then, around six to eight months later we took the final adjoining building, which put us into about 12,000 square feet of production space," Joe informs us. It was only five years ago that the company moved onto its current premises, which represented an impressive 30,000-square-foot upgrade from the previous 12,000, making it able to buy its own in-house print shop to offer vehicle livery and signage services.
Part of the success that has led to such expansive growth, according to Joe, is owed to the company's ambition to prioritize retention and agility. "We've still got our first ever fleet customer that we won nearly ten years ago, which is quite unusual. Then I'd always say another massive factor is agility. We're not owned by a bigger corporation and we don't have a massive board, so we can make changes very quickly if needed," Joe shares.
These key drivers have therefore helped the company secure a considerable range of projects. "About four years ago, we won the Yorkshire Water fleet where we were contracted to install our in house-produced Vantage Systems racking. We also completed a large consultation piece with Yorkshire Water; we worked with their drivers, to redesign some specifications to get departments into smaller vehicles to try to reduce CapEx for the company while also aiming to reduce overall emissions by running a smaller vehicle. We've also done some more specialist conversions for them such as complex CCTV vehicles, which have seated desk areas, microwaves, kettles, a large computer set-up, and in the rear cranes for safely dropping specialist camera equipment into the drainage network. That entire project was quite an extensive bespoke build that we offered them," says Joe.
In mid 2017, the business received monetary support from Lloyds Banking, which allowed it to buy approximately £600,000 worth of sheet metal manufacturing equipment to produce Vantage in house. At that time, the racking was being manufactured by a third party, and MIS needed further control and agility by bringing in in house. In addition, it has partnered with Anglian Water and has been awarded part of the Environment Agency's fleet in which it has built multiple dropside and tipper bodies to serve various different divisions throughout the organization. "We also supply and install all of the sign writing in-house for the majority of customers we build vehicles for, as well as in-life support so if a vehicle has issues or it's in an accident and it needs replacement signage or parts, we can take care of that," Joe explains for us.
From the detail required of these projects, it is not difficult to see that the company excels in the fleet conversion field, and Joe notes that there are a few pivotal traits that help set the company apart from its competition, particularly its determination to offer a more customer-focused experience. "Our team is really focused on trying to meet very tight time scales and be as reactive as possible. Obviously as a company grows naturally, the trend is to start slowing down, but we're trying to stay as agile as we possibly can. I'd say one of the biggest differences from
us is – and I'd be pretty confident in saying this – we're the only racking and body builder that manufactures all its own racking and bodies in-house within the UK," highlights Joe.
Having said this, the ability to provide quality service for its customers would not be possible without curating a company culture that is driven to see the company succeed. "I'd rather internally promote our employees than take on new higher members of staff. Unfortunately, that's not always possible, especially if we are moving into new arenas and we need people with knowledge that we don't have in house. As far as I'm concerned, it's getting people with key knowledge and expertise in areas where we don't necessarily excel at currently and giving them the support that can drive us forward, so we just try to surround ourselves with like-minded, self-driven people who are really excited about pushing MIS to the next level," shares Joe. He goes on to explain that the company's mission is to strive towards better and bigger goals and to instigate a disruption in an industry that has been traditionally set in its ways for too long. "All the players that are in this sector are now as big as they've always been to some respect, so we're just trying to do things differently and bring as much in-house as possible. I try my utmost – if I deem it financially plausible – to bring it in house, and do it ourselves because I'd rather employ people here and expand the company's abilities."
For Joe, it is imperative to develop the business in new areas and as a team they pull together to ensure they strive towards a common goal that puts the company at the top of its industry. "I feel like our staff can physically see the growth we are experiencing, we just aim to keep putting massive amounts of money into reinvestment as often as we can to try and push everyone in the company onto the next level," he continues.
Moving into 2021, Joe has his sights set on maintaining the pace at which the company is growing. "We have just taken a further 32,000 square foot of production space but we can't get complacent," he says. "We have to keep our eye on the ball, and to keep doing what we're doing because it's working and our customer base like the products and what we do."
A company that is built on expert industry knowledge and prides itself on bringing trustworthy services, MIS Conversions is equally as positive about the future as it is about its past. "I think in a dream world, even if we stay as we are now, I'd be very happy but if we can get anywhere close to doubling in size in the next five years or so, I think that's achievable," Joe concludes. Considering the company's history of remarkable expansions, this goal definitely sounds feasible.
MIS Conversions Ltd
Services: Vehicle conversion and body building specialists
https://www.mis-uk.co.uk/