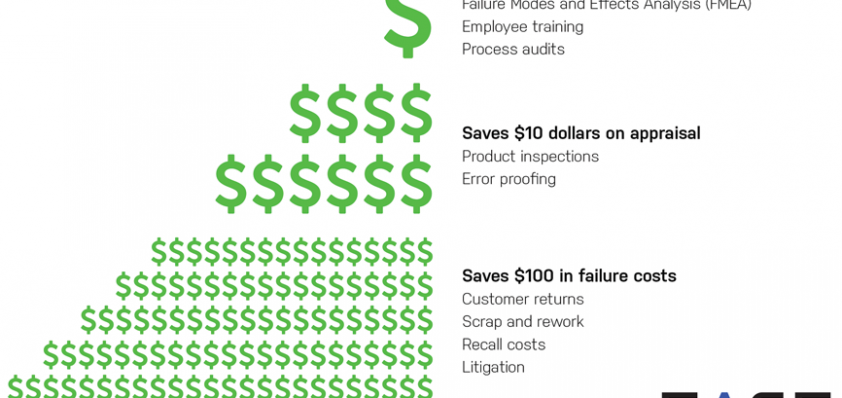 Neglecting quality can have a huge effect on manufacturers, especially when it comes to meeting quality management objectives. And what many leaders fail to realize is that quality could cost them greatly both in terms of stunting revenue growth and their ability to lower the costs associated with raising quality levels.
An LNS Research report, which surveyed more than 500 manufacturing executives, investigated which financial and quality management objectives were most important to business strategies. Unsurprisingly, growing revenue was identified as the top financial aim for execs with the goal of growing their businesses, whilst cutting costs associated with quality was top of the list when it came to quality management objectives. This highlights manufacturers' increasing desire to cut costs, while continuing to increase revenue through providing exceptional products.
One surprising insight, however, was that few executives selected both reducing cost of quality and revenue growth as their most important goals. Instead, the survey revealed:
Those who said revenue growth was most important put other quality management objectives above cost of quality
Those whose top-quality management objective was reducing cost of quality put other financial objectives above revenue growth
This point reveals a fundamental error in thinking on the part of manufacturing leaders – one that may actually prevent them from achieving their quality management goals. For example, with manufacturers that are looking to cut costs on their quality management may end up paying more as objectives aren't enforced and defunct products are put on the production line than require remakes and recalls. Here we look at the true connection between cost of quality and revenue, and how manufacturers can leverage the 1-10-100 rule to improve performance.
Going hand in hand: the links between quality and revenue
Every pound saved on the cost of poor quality adds directly to bottom-line profits. What is also true is that reducing cost of poor quality also enables revenue growth.
The reason is that when you're making fewer bad products, you're wasting fewer resources on scrap and rework. Those resources shift from producing defective products to manufacturing additional good products that are able to increase your growth.
For instance, let's look at what happens if a company is able to reduce production defects by even a modest amount – say ten percent. Not only are there direct savings from reducing cost of quality, which can run into the millions or more for the average company, there are indirect benefits that unlock revenue growth, including:
Increasing productivity by manufacturing more units at the same cost, freeing up time for operators to make good product as opposed to reworking defectives
Increasing production capacity by manufacturing more good product with the same materials and equipment
Higher sales due to improved customer satisfaction and reduced customer churn
These improvements represent the flip side of opportunity costs of poor quality – they're the opportunities you could be capturing when you don't pay to produce or fix defects.
Upping quality doesn't always mean putting hands in pockets
According to experts at McKinsey, only a small number of companies ever reach the level of maturity where they can truly say quality is the basis for their reputation. One interesting point they note, however, is that organizations with the most advanced quality practices aren't necessarily spending the most on quality.
As it turns out, the key to making the right investments is to prioritize those actions that are most effective at reducing quality problems. From a strategic standpoint, there's no question that those actions should focus on defect prevention. In turn, reducing defects in products is ultimately going to up reputations, thus increasing revenue.
The 1-10-100 Rule: How to make it work for everyone
The 1-10-100 Rule can provide a helpful guidepost when it comes to measuring the effectiveness of quality enhancing processes. A concept that is central to the Total Quality Management (TQM) philosophy, this rule shows that quality costs increase in order of magnitude as you move from prevention to detection to correction (and beyond).
The key take-away here is that prevention is a relatively low-cost, high-impact way to reduce quality costs, and ensure optimum production capacity. Companies that understand this front-load their investment in high-leverage activities such as:
Assessing potential failures in product design or manufacturing processes with failure mode and effects analysis (FMEA) and process failure mode and effects analysis (PFMEAs)
Using a layered process audit platform to verify that controls are in place for high-risk PFMEA items
Implementing process improvement programs that help build a culture of quality
The partnership between quality and revenue growth is one that cannot be separated. And whilst on first glace it may seem like you need to make large investments in order to improve quality, in reality there are a few, inexpensive methods of increasing quality across the board. By making the right investments and focusing on those towards the top of the 1-10-100 Rule pyramid, it is possible to increase quality levels, and brand reputation, as well as reducing the opportunities for recalls and defective products.
It is clear that companies can either prioritize quality from the very beginning or be forced to pay for it later down the line. What is more, not paying for quality essentially hands your competitors an advantage. And with the sector now gaining momentum after multiple Covid shutdowns, there has never been a more critical time to ensure your production line is better than the competition's. So, by making the right choice you can stay ahead of the competition whilst making sure your reputation continues to grow.

Eric Stoop
Eric Stoop is CEO at EASE, the innovative mobile platform that helps manufacturers simplify how they administer, conduct and respond to plant floor audits. With best-in-class support for layered process audits, safety, 5S and more – EASE drastically reduces labor costs and delivers insights that ensure audit programs drive real business value.
Leading automotive, aerospace and manufacturing organizations around the globe depend on EASE's enterprise scale, expertise and customer-centricity.
www.ease.io