Joining forces
Operating across the US and Canada, Mission Ready Solutions has equipped itself with a sterling reputation of protecting the armed forces, and, buttressed by its four subsidiary businesses, the company continues to service the defense industry with unparalleled reliance
One of North America's leading providers of essential products and services for defense, security and protective agencies, Mission Ready Solutions (MRS), has been loyally serving law enforcement, the military, and government departments since 2009. Speaking with Buck Marshall, President and CEO, and his colleagues at MRS, we learn about the impressive impact the company, and its subsidiaries are having on the defense industry.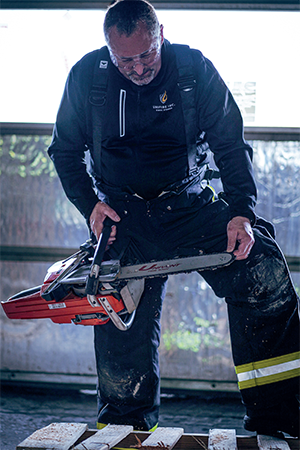 "The beauty of our business model is whether we deal with a pandemic, natural disaster, conflict, or a war anywhere in the world, we will provide a solution. Through our innovation and manufacturing, we proactively partner to bring cutting-edge technology to law enforcement officers, firefighters, first responders, and warfighters. That confidence in our ability to react to current events is what keeps us on top," says Marshall. Historically, the core businesses that make up MRS have revolved around fire-fighting equipment, special operations, warfare, and personal protective equipment with a focus on personal body armour. However, more recently, MRS also added a wider PPE offering to its portfolio in response to the Covid-19 pandemic as a demonstration of the company's reactive capabilities. "Our typical customer base is focused on the US government but also state and local governments, owing to the fact that we have intimate knowledge of government contracting," he adds.
Joining him in the conversation is the CTO of Unifire, Inc., MRS wholly-owned subsidiary, Francisco Martinez, who jumps in to add that the business operates under their motto 'one company, one team, one direction' despite being a microcosm of smaller businesses, namely Unifire, Advanced Tech Rescue, Protect the Force Manufacturing, and Protect the Force (PTF). The motto reflects that ensuring a common objective is key to the success of each company under the MRS umbrella. "Of course, each business is essential. PTF for example, enables the research and development as well as the manufacturing of a number of ground-breaking products, while Unifire, on the other hand, provides the sales and services for the government. PTF has a number of intellectual property efforts where we have established key items, one of them being the ballistic combat shirt, and these are items that are ground-breaking and items that will transfer into the first community or enforcement type of industry," says Martinez.
Skip Church, Unifire and PTF's President, continues to share more about the business's manufacturing capabilities and the infrastructure it takes to make these items possible. "Currently we own approximately 40,000-square-feet divided between our two locations. Unifire can be found in Spokane, Washington, and PTF in Jacksboro, Tennessee. Complementing this, we rely heavily on our partner vendors as well. We have a nationwide group of manufacturers that we join forces with to give us great flexibility, and our ability to ramp up and produce a large variation of products.
"Internally, we have been investing in upgrading our manufacturing abilities to remain ahead of the curve and accordingly, we have installed crucial software to assist with our operations. We're utilising the latest computer design software, system pattern making, and we have automated digitizers and nesting software to help us gain higher efficiency in our manufacturing. All that, combined with our machinery and software packages, enables us to save money and deliver quality products to our end customers," shares Church.
As he reflects on how far the business has grown, Mr. Marshall is incredibly proud of the working culture embedded in MRS, and how this culture has supported the company in achieving its success. "The backbone of Mission Ready, which includes our subsidiaries and our vendor network of 500-plus partners, has always been the people and this falls directly into the culture we have created; it is fundamental to all of our achievements. Ours is a culture that rests on honesty, integrity, teamwork, and the responsibility to do this job well," he says, adding that the leadership team has done tremendous work to improve communications.
"We broke down the barriers that were preventing us from communicating correctly by honing in on our 'one company, one team, one direction' philosophy. This cultural shift brings us greater success with vendors and customers who feel more confident in working with us.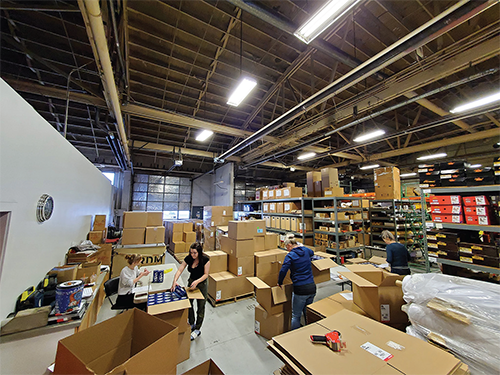 Further adding to the note about our vendors, it may be a deal or relationship that gives us a little bit of a boost when competing on opportunities, it could be in finance terms for repayment and knowing that we will represent their brands correctly. It is all very important. Externally, we have to keep our vision geared towards our customers, to ensure that they know they can pick up the phone and call Skip, Fransisco, myself or any of our leaders and have a conversation to find solutions. That is critical to our success," Marshall expresses.
Mr. Martinez explains that MRS is constantly communicating with the government to provide the requirements to its vendors and pass on the correct information. "We have a number of vendors that we select precisely, and we educate them on what the government really needs from both the technical side and the contractual side. US Government contracting is difficult and cumbersome; it requires loads of knowledge, which is why we have a contracting team that is second-to-none, and is a significant part of why companies that otherwise would like to invest in a contracting group and a technical group, look at us and see an easy platform that can get the job done," he says.
Dominic Gray, who shares his expertise as Director of Corporate Communications, believes that the key is delivering the right message to the right audience and to ensure that MRS has tailored itself to appeal to each of its business's respective audiences.
In accordance with Dominic's sentiments, this year the business has spent a significant amount of time and resources rebranding its name through website updates and a social media expansion and awareness campaigns. "The main goal is to create a unified brand that ties all of our companies together when we talk about the business and allow us to advance our strengths without losing the connective tissue that holds us all together, and we believe that this has significantly enhanced the customer experience but also made us accessible to investors and shareholders who continue to be top of mind for us," he expresses.
This year has also been significant in some of the developments happening for MRS, such as being awarded the Blanket Purchase Agreement by the United States Defense Logistics Agency Troop Support Clothing and Textile Supply Chain as part of the agency's response to support Afghan refugees. "On the topic of the BPA," says Skip Church,"this is a really great example of our company's ability to respond urgently, and has made us a go-to for the US government. We were contacted by them to assist with the Afghan refugees project and in less than a week we had moved from inception of an idea, to the Blanket Purchase Agreement award. For this requirement, we relied heavily on our valued partners to quickly identify the product, realize current inventory status, and provide the government with the ability to acquire these items in preparation for an unplanned need. We loved the challenge of working on that project and demonstrated our capability to react to the customer requirements with a very robust network that wecan rely on to tackle any problem that the government throws our way," Church informs us.
Moving forward, the team has an even greater inventory of plans in store that Fransisco Martinez is keen to share. "In our pipeline right now," he begins, "we see a number of opportunities that are coming to fruition as we speak. Regarding the clothing and visual equipment, we have the cold weather clothes that we are beginning to see an uptake in, and we are also looking at riot control gear. Coupled with that, to keep up with the next generation, we are also developing artificial intelligence to incorporate into sensing devices via the fabrics. We are also seeing more opportunities moving along the Department of Defense. For example, the army may not be buying the quantum magnitude that they have been, but we are seeing the navy and the air force expanding, so we've begun to reallocate resources to go out into those marketplaces," he says.
On a longer-term scale, Mr. Marshall concludes our discussion by highlighting that the unpredictability over the past year has only encouraged the business to excel in its agility. "Our products and services can be applied worldwide, and we want to see these practices being adopted across the world to keep frontlines safe. We have an incredible team, board of directors, and vendor network that we work with daily to improve our connections, solutions and innovations. It amazes me every day to see what our people are capable of, and see the real potential of our companies and products and where we can go in the future. I believe with the products and the people we have we can be a player in every sector in the world. Whenever and wherever there is a need, we are ready to provide a solution," he says.
Mission Ready Solutions
www.mrscorp.com
Services: Providers of defense agency solutions