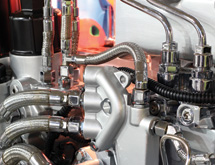 Mitchel & Scott Machine Co.
When a company has been in business as long as Mitchel & Scott Machine Co., it becomes keenly aware of the need for appropriately timed and researched investment in new technologies, the power of a solid reputation and the need to be versatile enough to ride the cyclical ups and downs of the economy.
Founded in the midst of the Great Depression, Mitchel & Scott Machine Co. is celebrating 80 years of providing high-quality manufacturing craftsmanship. The company has grown and thrived over the last eight decades thanks to its vertical integration, equipment diversification and extensive employee experience.
Today, what started as five employees working in a very limited space consists of 190 employees manufacturing precision-machined components, with a focus on diversified, high-performance metal substrates and complex geometries for a variety of industries.
Experience and Expertise
The company's longevity means that it counts on employees with extensive experience in their fields. "Because we've been around for such a long time, our engineers have been with us, on average, 20-plus years," explains Matt Boyd, director of sales. "There is a lot of product knowledge and processes there."
The company's product knowledge extends not only to engineers, but also to technicians and metallurgists. Mitchel and Scott has a team capable of taking a project from prototype to completion, meeting all of the customer's market requirements and accomplishing the process within the budget established.
Mitchel & Scott's track expertise is evident in its customer loyalty. "Our largest customer, Cummins Engines, has been with us for 80 years," Boyd says. "Our 10 primary customers have been doing business with us for the past 20 years." The company's expertise extends to a variety of industries: agriculture, construction, defense, diesel engines, HVAC, hydraulic, industrial, power generation, transportation and many others.
Strategic Partnerships
One of the strategies Mitchel & Scott uses to keep its customers satisfied is to form strategic partnerships with them. "We do not job-shop one or two parts for our customers," Boyd explains. "We try to develop long partnerships to do business for a long time."
It has had such partnerships with different companies to produce diesel power engine components. For more than 75 years, the company has been the global leader manufacturing diesel engine components. "Eighty-five percent of our business is the diesel high power truck market," Boyd explains. The company's components are used to power a variety of diesel engines, from Indianapolis 500 engines to marine engines to power generation applications.
Automotive Industry
The company's manufacturing capabilities and adherence to ISO 9001-2008 standards – with tight control for specifications and part repeatability for high volume runs – makes it uniquely suited for a variety of industries, but Mitchel & Scott is working to grow its market share in the automotive industry. "Our goal is to grow our automotive clients between 30 and 40 percent," Boyd says. "The projection for this year is 19 percent, but we expect to continue growing. We have all the qualifications needed for that industry."
The fact that the automotive industry has been growing stronger in the last year has made that industry more attractive for Mitchel & Scott. Boyd notes that a partnership with an automotive manufacturer would be mutually beneficial. "We have invested toward the automotive industry and have equipment dedicated to specific product development [for that industry]," he explains. "We don't bring with us any baggage with legacy parts."
Boyd also points out that the company has put in place some key elements to absorb the expected automotive growth. At the company's headquarters in Indianapolis, Mitchel and Scott has been working hand in hand with its machine supplier to prepare the equipment from a tooling and process standpoint. "We have invested in automation to handle and manage the high volume of work and we also trained about 15 employees for that new equipment," Boyd says. "The primary benefits we've seen so far are increased speed, cycle reduction and overall higher precision."
Mitchel & Scott's proprietary manufacturing and finishing technologies give its customers the ability to manufacture products that otherwise would be too costly or that would not be feasible to manufacture using the standard manufacturing methods. "The only thing we outsource is plating," Boyd notes. "We don't use any secondary suppliers; we can offer all manufacturing services within our own facilities."