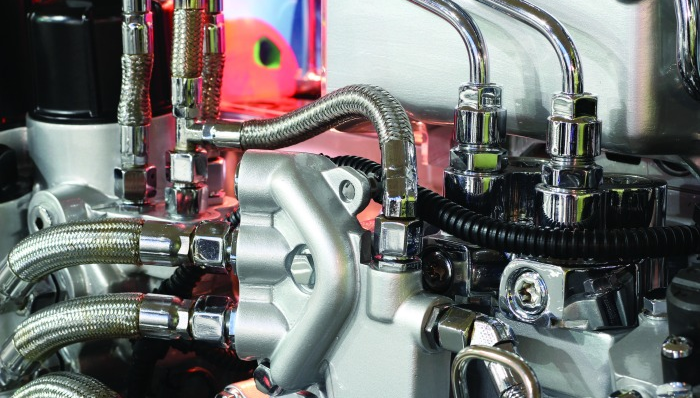 Mitchel & Scott Machine Co.
Mitchel & Scott Machine Co.'s dedication to craftsmanship and quality has guided its operations for more than 80 years. The company has grown and thrived throughout its history thanks to its vertical integration, equipment diversification and extensive employee experience.
The company, founded in 1933 by Saben Mitchel and John Scott along with five employees, today employs a staff of roughly 200 people. Michel & Scott manufactures precision-machined components, with a focus on diversified, high-performance metal substrates and complex geometries used in a variety of industries.
The company's longevity means that it counts on employees with extensive experience in their fields. "Because we've been around for such a long time, our engineers have been with us, on average, 20-plus years," the company says. "There is a lot of product knowledge and processes there."
Mitchel & Scott's product knowledge extends not only to engineers, but also to technicians and metallurgists. The company has a team capable of taking a project from prototype to completion, meeting all of the customer's market requirements and accomplishing the process within the budget established.
The company's track expertise is evident in its customer loyalty. Many of Mitchel and Scott's largest customers have been doing business with it for the past 20 years. The company's expertise extends to a variety of industries: agriculture, construction, defense, diesel engines, HVAC, hydraulic, industrial, power generation, transportation and many others.
Strategic Partnerships
One of the strategies Mitchel & Scott uses to keep its customers satisfied is to form strategic partnerships with them. "We do not job-shop one or two parts for our customers," the company says. "We try to develop long partnerships to do business for a long time."
Mitchel & Scott's partnerships include working with different companies to produce diesel power engine components. For more than 75 years, the company has been the global leader
manufacturing diesel engine components, and such components make up the vast majority of its business, it notes.
The company's components are used to power a variety of diesel engines, from Indianapolis 500 engines to marine engines to power generation applications. "The Mitchel & Scott brand is a name trusted for its commitment to engineering, innovation and quality by providing customers with the most advanced internal component diesel engine technology," it says.
Mitchel & Scott's certifications and commitment to quality make it uniquely qualified to take on work in various sectors. The company is ISO 9001 and ITAR registered.
"We believe control, inspection and responsibility are essential to assuring the accuracy in precision component manufacturing," it says. "We exercise this responsibility through dynamic training of our employees, total commitment to Six Sigma and 5S Lean systems and continuous improvement of our quality management system.
"We are committed to building quality value added partnerships with our customers by consistently providing quality products, optimized processing, innovative solutions, and on-time delivery," Mitchel and Scott adds.
Value Added Services
The company offers a wide range of manufacturing and secondary operations including grinding, honing, thermal deburring, hard turning, induction hardening and steel shot blasting. In addition, the company offers vibratory finishing, straightening, heat treating, assembly and kitting services.
Mitchel & Scott's value added services also include a vendor-managed inventory program (VMI). "Our VMI programs provide great value because they enable our customers to maintain control over supply and have a defined level of safety stock on hand at Mitchel & Scott to satisfy short term spikes in sales demand," the company says.
The company's VMI programs include direct interaction between its master planning team and customers. This enables both the company and its customers to coordinate production and product delivery based on forecasts. "Many of our customers have established a partnership with us to package, inventory, and ship their products on demand so they can devote their own space to what they do best," it adds.
Mitchel & Scott's build-to-print services allow it to optimize its shipping and delivery of products. "Having one shipment from one facility reduces freight charges, as well as leads to fewer rush orders needed," the company says. "We can assemble to order, or on a blanket order basis for faster turnaround. Our customers receive complete, inspected assemblies or sub assemblies only when they need them, which frees up your cash requirements for other priorities.
"Just-in-time delivery also reduces the amount of inventory which you've already paid for from sitting on the shelves for weeks," the company adds. "We may also be able to reduce employee costs by issuing fewer purchase orders and having fewer phone calls to expedite shipments. With less routine assembly required, our customers' employees can direct their energies to the heart of their business."