Mizuho OSI created and developed the specialty surgical table market and is the market leader in developing products for specialty surgery and patient positioning. The company's product portfolio of specialty surgical tables for spine and orthopedic surgeries, as well as a range of general surgical tables and disposable and reusable surgical patient care products, are built with the patient's experience and outcome in mind.
"The mission of our company is to understand the needs, and exceed expectations of our global healthcare customers. We provide innovative solutions, enhancing patient outcomes, through investment in our people, processes, and services," Vice President of Operations Kevin Thorne says. "Our division has a very deep product portfolio that specializes in an orthopedic-type hip or spine surgery that is very procedure-specific. We are the market leader by a significant margin."
The Moore family founded the company in 1978, initially calling it Orthopedics Systems Inc. (OSI). The Andrews Spinal Surgery Frame was OSI's first operating room product and was developed in collaboration with Dr. E. Trent Andrews and introduced in 1980. OSI focused on orthopedic fracture surgery, spinal surgery, and sports medicine during the 1980s, and in 1992, OSI introduced the Spinal Surgery Table.
The table featured the first use of carbon-fiber composite materials in the structural members of an operating table. This construction allowed nurses to easily manipulate the table and provide a radiolucent surgical platform where x-rays could pass through the table to provide a clear image of the patient. In 2008, Mizuho OSI introduced a more sophisticated version of the product called the Axis Table System.
In 2002, Tokyo-based Mizuho Ikakogyo Co. Ltd. acquired OSI. Today, Mizuho OSI offers a wide variety of highly specialized surgical tables for spinal, hip and knee replacements and orthopedic trauma surgery, as well as tables for comprehensive imaging. The company is the nation's second-largest supplier of over-bed traction equipment and offers an extensive line of patient-care and pressure management products to hospitals and clinics around the world.
"We created the Hana table, which actually pioneered the anterior approach for total hip replacement," Thorne notes. "That's just one of the products we market that makes us the leader in the space."
Fulfilling the Need
To remain the market leader, Mizuho OSI develops and maintains long-term relationships with surgeons and operating room personnel to get a better understanding of the whole surgical process. By doing so, the company discovers ways to control and manipulate the body to allow surgeons greater access. "We work very closely with experts to develop better, faster and more efficient platforms and continuously improve our product offerings," Thorne says. "We produce a product that has the greatest experience for the patient in terms of reducing surgery and improving recovery time."
Manufacturing the latest in specialty surgical tables requires a thorough understanding of the clinical need and a core group of doctors and influential people in the orthopedic industry as consultants. "We have worked closely with people in the industry for many years, focusing on their needs, challenges, and problems to determine what their hopes and aspirations are for the market," Thorne says. "What problems do they have today and where do they envision the healthcare market in the future?"
Once a need is determined, Mizuho OSI will compare price points, features, and benefits to its competition and couple that with the vision of its customers – the doctors and nurses who will be using the equipment. "We bring in health care providers to get their feedback," Thorne notes. "It's not just the voice of the customer but the vision of the customer that we are trying to embody into the design specs and produce a product that is unique."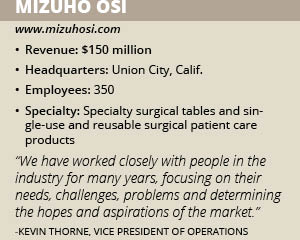 Quality First
Mizuho OSI focuses on quality over quantity. "It's more important to get it right and to put something out there that's unique and well accepted," Thorne says.
Depending on the project, Mizuho OSI can develop and manufacture a new piece of equipment within a few months to a couple of years. "I've embedded key members of the manufacturing team in with the research and development team that live and breathe design with the engineers, the marketing team, and clinical experts," he says. "They are in there right from the first phase and concept development, talking about ways to realize this product vision. It's wonderful to have the greatest thing out there, but if we can't build it, it won't make a difference."
Mizuho OSI is ISO 13485-certified to design and manufacture medical devices. "That's the foundation driving what has to get done and the minimal level of requirements," Thorne explains. "How we implement that might be unique from what others do. First and foremost, we have a strong commitment to our employees. We have an attitude here that people are the most valuable company asset and we do what we can to keep them engaged and productive."
That people-first philosophy carries over into Mizuho OSI's relationships with its suppliers. "We may not have contracts with all of our suppliers, but have more intense relationships with the ones we do," Thorne notes. "They can do things that are superhuman. These guys can change and adjust to market changes and provide material to us. If I have a push-out, for example, they take and hold it because they know we are good for it."
Because every manufacturer struggles with non-linear demand, treating people right ensures they show up to meet the challenge. "In the fourth quarter of 2016 we did substantially more than the previous three, and our last month in 2016 was the best in the history of the company," Thorne says. "The operations team has a can-do attitude. They did what was requested of them, including working overtime to get the work done. The level of dedication and low level of complaint is something I find amazing."
Lean Operations
Mizuho OSI is transitioning away from a push-based system where a forecast model drives production in the factory regardless of whether there is an actual market need. The company began in late January to change its operation to a pull-based system where it will only manufacture products based on work orders.
When the first two product lines were converted to the pull system, Mizuho OSI reviewed the entire manufacturing process and reduced lead times from six weeks to two-and-a-half days. "You do something called value stream mapping where you look at the process from end-to-end. Every time you touch something it should add value and move to the next step," Thorne explains. "We walked through our entire manufacturing sequence and if it didn't add value asked, 'Why do I do it?' We eliminated everything we could."
This year, the lean initiative of eliminating waste will become engrained in Mizuho OSI's culture as the company transitions to become an entirely on-demand pull-based system. "We anticipate reducing the total amount of manpower required and reducing inventory I have to keep in stock," he adds. "Our targets for this year are 10 percent reduction in labor, 5 percent reduction in material cost and a 25 percent reduction in inventory we are holding."
Although Mizuho OSI plans to reduce the manufacturing workforce, the company has made a strong commitment to its employees by publicly stressing that it will continue to grow because of the improvements it is making, Thorne says. "The goal is to double the capacity we have measured in revenue and not change the footprint on the floor at all."
Operational Shifts
Mizuho OSI has invested in small machine shops over the years and allowed machining jobs to move overseas but plans to overhaul its machining facility and do more with the higher-speed technology available today. "We are bucking the trend of outsourcing and offshoring, and instead insourcing and onshoring," Thorne says. "We want to move things internally where it makes sense."
The company also plans to move from a hierarchical to self-directed work cells in its manufacturing facility. Mizuho OSI's goal is for its operations team to take signals from the market regarding what needs to be done instead of waiting for a manager's direction and solve issues that arise without going to management. "Something that has driven me crazy for years is that the guy who is touching the problem knows what to do 90 percent of the time, but isn't empowered because it might exceed the dollar value decision-making power he has."
Moving forward, Mizuho OSI will work toward empowering every employee to solve problems and make decisions on the floor – with controls put in place, so no financial harm comes to the company. "Empowerment is a beautiful word, and most people think about the freedom it gives them," Thorne explains. "When you educate your employees in terms of the responsibility it now comes with, it's not a freedom of choice, but rather the responsibility at the lowest possible level to make the best decision for the company."