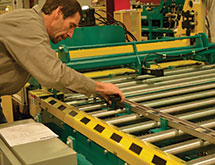 MKT Metal Manufacturing is a pure OEM, located in York, Pa. Primarily, it caters to the construction industry as a direct supplier to mechanical and sheet metal contractors, most located within a 250-mile radius of its facility.
Customer demand requires MKT to run two shifts in its rectangular and spiral shops. "Our manpower
is our No. 1 asset," Ken, President and CEO explains.
"Our success is because of our workforce," he adds. "York, Pa., is a great place for manufacturing. It is because of the work ethic of the labor [here]." In fact, York is a major manufacturing region in the nation.
MKT was established in 2004 by partners Ken Brown, Mike Sunday, Troy Rentzel, and Frank Kottcamp. Since then, Kottcamp has retired. Three of the partners were employed by a prominent mechanical contractor prior to establishing MKT. "We had the idea we could break off and become a true OEM," Brown recalls. "Rather than a potential competitor [to our clients], we are an actual supplier.
That's the way the industry seems to be morphing away from contractor-based manufacturing. To a degree, that is "inviting the fox into the hen house." We have risen up as a pure manufacture which is not threat to contractors."
In the past decade, MKT has achieved rapid growth of its production capabilities. In 2009, MKT started its spiral shop. All spiral production and inventories is managed in a 10,000-square-foot facility separate from its 15,000-square-foot rectangle shop. In 2010, air filtration systems were added to the welding stations and plasma tables to ensure cleaner air for their employees. Last year, MKT purchased a new 56,000-square-foot facility that houses all operations in the same building. The new facility has helped MKT increase production and provided the ability to better satisfy growing demand.
Brown says business conditions are great in the York area. Plus, "We have no boundaries," he adds. "We have shipped across the country and overseas to Dubai and Afghanistan." MKT has also provided duct to contractors such as URS Corp. who serve the U.S. Department of Defense and other state and federal agencies.
The MKT team knows in order to satisfy the customer, it must understand the industry. "We operate in pure chaos," Brown jokes. "We design and build our production schedule based on factors in the industry such as construction schedules and weather." Brown explains, in many other manufacturing operations a company might take an order for 80 widgets, it then produces and deliver the 80 widgets. MKT, on the other hand, must deliver to meet contactor's schedules. Although, MKT is faced with production and delivery challenges the company overcomes them with constant communication. "Everyone knows what is happening," Brown explains. "The right hand knows what the left is doing. Communication is key to be successful in our industry. Construction is a very dynamic environment."
How has MKT Metal Manufacturing achieved so much in the past 10 years? "I think a lot of it is our management," Brown says. "It's a first-generation ownership; we have passion and vision. We strive not to be the biggest, just the best." Brown says the MKT management team "leads from the front, we are involved in day-to-day operations and provide a lot of energy that the rest of the company follows." MKT's achievements are the result of the four principles the company was built upon:
> Reduce business overhead – MKT strives to help companies eliminate shop overhead by manufacturing materials so the focus remains on the field.
> Manufacture and distribute – Brown explains that the contractors prefer purchasing products from a supplier rather than a competitor. MKT focuses on manufacturing and distributing products as well as assisting with measuring, minor installation and duct welding.
> Optimize production – MKT helps companies keep work in house by supplying straight duct while they produce fittings. This allows companies to take advantage of the speed, economics, and consistency of MKT's factory automation.
> Original Equipment Manufacture – As an OEM, MKT is able to cut out the middle man to save companies more money.
New Markets
MKT is expanding beyond its traditional HVAC industry, "The company is in a great position to enter new markets because we have become more efficient, digitized, and software-driven." Brown explains. "We are now moving into specialty metals," Brown says. This new involvement includes providing parts for pharmaceutical, institutional, food processing and other manufacturing sectors. MKT is capable of manufacturing products such as lab tables, exhaust hoods and stainless steel panels. "People are surprised at the sophistication of MKT's operations," Brown says. "We have converted dingy, dark rooms [of the industry past] to a well-lit, CNC-driven manufacturing process."