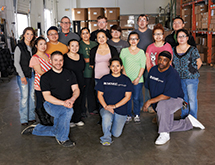 MME Group's priorities are its employees first, customers second and profits third.  "The people drive customer satisfaction and satisfied customers drive profits," President and CEO Bob Archambault says. "We have been able to grow significantly and without adding overhead and management."
Founder Don Chlebeck had a passion for mold making and the tool and die trade, so he started the Vadnais Heights, Minn.–based company in 1974 as Minnesota Mold & Engineering. From the momentum of Minnesota Mold in 2000, Archambault and his partner Brian Bussmann developed the full-service contract manufacturer into MME Group. "I started as an employee and am now the principal owner," Archambault says. "We took the company from under $1 million in sales and today we are approaching $20 million in sales."
The company specializes in cleanroom contract manufacturing, silicone molding, two-shot molding, complex sub-assemblies, engineering and Asian sourcing, and continues to add disciplines to its portfolio.
Valuing its People
In 2004, MME Group began expanding and Archambault says he and the other owners were advised to bring in professional managers to run the company. This approach was tried on three separate occasions and each time it failed. The company's sales were shrinking under the new leadership, so the owners took the company back by replacing all of its senior management and creating a new leadership model.
"Everyone including the owners work in the day-to-day business and we empowered the people who are on the floor level to run the company," Archambault explains. "It's been a phenomenal turnaround in the last 18 months." The new model gives employees a voice that is heard by company leaders and has made MME Group a better place to work.
Most new employees are hired at the company only if a current employee refers them because this is the way to build continuity and teamwork. Those hired are screened heavily for personality profiles along with cultural fit as the main attributes.
A great deal of time is spent molding its employees because MME Group is dedicated to promoting from within versus bringing in outside managers, an approach that has failed in the past. "That's a large part of who we are and people are constantly being groomed, challenged and asked to do more," he adds. "We have a very young, hungry and strongly driven crew of people running the company. We are thriving and growing like crazy."
Honest Solutions
To enhance work areas, MME Group spent the end of 2013 making improvements to its facility. Inventory carousels, along with additional new material handling racks and equipment were added to improve flow and inventory controls.
New injection molding presses were added and several presses were strategically repositioned to optimize workflow and make room for a new assembly area. Molding presses and material delivery equipment were inspected and meticulously cleaned from top to bottom. The entire production floor, including its cleanroom floor, was cleaned, resurfaced and epoxy coated.
In its newly renovated facility, MME Group offers vertically integrated solutions to ensure it can complete a number of different services, which Archambault believes keeps customers coming back. "When a customer comes here and we get going on their project, our objective is to become part of their company," he adds. "Customers come to us to help them get a product to market and we provide them vertically integrated solutions or provide pieces of the solution."