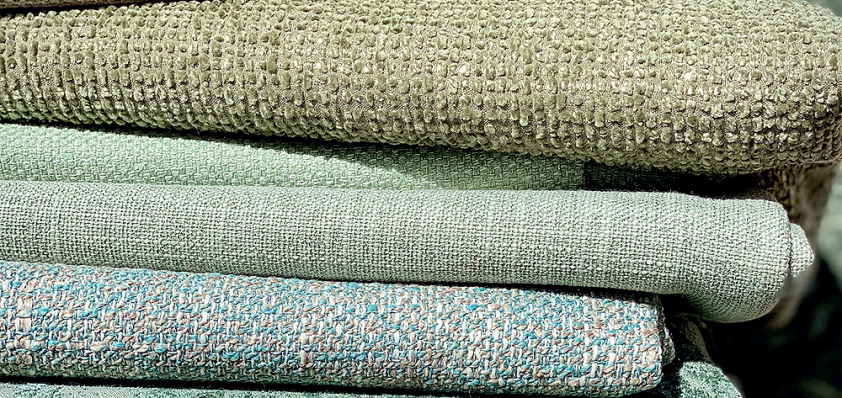 A material world
Having evolved from a part-time business in Halifax into a leading upholstery fabric expert turning over $30m a year, Mobus Fabrics is now focusing its attention on improving efficiencies, building the brand and becoming a benchmark for excellence
Originally buying yarns from Italy and India, and undertaking the weaving in the UK using local suppliers, upholstery manufacturer Mobus Fabrics experienced significant success in the first seven years of its existence. Then in 2001 four UK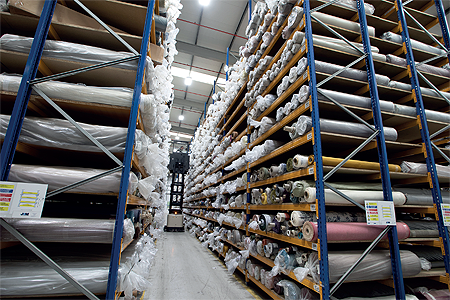 dyeing suppliers ceased trading, and with that turn of events Mobus reassessed its options and decided to look at buying finished goods from China.
"In 2003 Mobus launched its first collection from China and grew slowly in the first few years," said Lee Paxman, Sales Director, as he takes up the story. "In 2008 Mobus invested in a China-based Fire Retardant (FR) finishing plant – Mobus Sian – which was established to offer a credible Fire-Retardant finish to sell to Chinese furniture factories importing furniture into the UK."
That establishment of close links with China proved pivotal to Mobus, and today it operates with two sourcing teams based there, as well as a sales team and the FR finishing plant. "We regard all parts of our operation as different asset centers, where each team has responsibility and has the opportunity to grow," Lee commented. "Our primary sourcing team has been with us since we started working in China. They are a wonderful group and we are all good friends. Like the rest of our suppliers, we consider them as partners who are equally responsible for our success," noted Lee.
The Chinese Finishing Plant was very successful indeed and 2015 saw Mobus invest in a new plant in the country to offer better quality finishing, a greater variety of finishes and increased capacity. In fact, such has been the success of Mobus' Chinese venture that its growth in cross trade direct from China was acknowledged in 2017 with a Queen's Award for International Trade, which also recognized the company's growth in exports from the UK.
This success was swiftly followed by a management buyout in 2018. "This gave all directors an equal share in the company, and Fabricsallowed the company founder Mike Presley to retire but stay on with a reduced shareholding as non-exec director and still have some involvement in the company he created," added Lee.
The flurry of activity that started for Mobus in 2003 finally culminated in January 2020 with the relocation of its head office from Elland to Brighouse. "We received the keys on the 3rd Jan 2020," noted Lee, before going on to highlight just how significant this move was. "We have changed our processes so that all inbound stock arrives at our site (we used to have direct deliveries to UK FR finishers). We now batch plan the finishing and work on a stock system rather than a just-in-time supply base. This is already improving service levels and giving much greater processing and working efficiencies.
"We have created stock classifications for every product; each classification uses different stock routings to reduce handling and improve efficiencies. We have also changed the outbound processes so that we consolidate more shipments, reduce packaging and shipping costs."
Thanks to this astonishing growth journey, today Mobus is able to offer a wide range of fabrics specifically designed and engineered for the UK upholstery market. "We offer all fabrics with the UK Fire Retardant (FR) finish, which we can supply from the UK or from the finishing plant in China. All fabric is tested and certified to ensure full compliance with full traceability and due diligence," noted Lee. "We invest with our key partners in new designs, create our own color lines and work with UK retailers to offer bespoke ranges."
Mobus prides itself on working closely with customers and retailers within the product development cycle, as in Lee's words: "It always helps us focus on styles we are missing in our collection, and helps us identify emerging colors which have become increasingly important to consumers."
This product development capability also keeps Mobus up-to-date with important trends, and an area to watch is fabrics with a more environmentally-friendly pedigree. "Recently we have developed a new type of finish with our chemicals and finishers, which is a greener alternative to the old Deca-brominated FR systems," Lee revealed. "This new chemical will launch at the end of 2020 on the Mobus Eden, which is a new 100 per cent recycled polyester velvet. But I don't want to give too much away now!"
The launch of the Eco range also coincides with the rollout of an enhanced social media presence and advanced website that is currently in development, as well as images of a new distribution center, testing laboratory and development center, all of which will help to promote the future direction of Mobus Fabrics.
"Eventually we plan to move all our collection onto the Green-FR finish and drive forward with other eco-friendly products," Lee continued. "We will also invest in the development and testing teams to improve our quality and due diligence even further.
"We have recently consolidated our Chinese operation so all our purchasing, QC and sales teams come together under one company. This consolidation will give us a platform to expand our Asian market presence further. It will also give a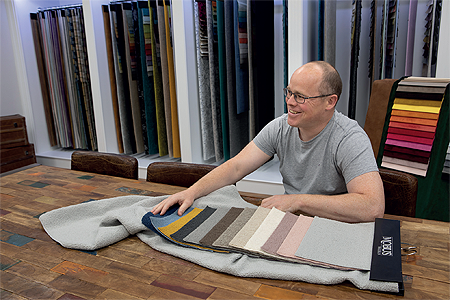 foundation to open up other export markets around the world, many of which we are still actively seeking distributors for."
Having such close ties to China has created a multitude of opportunities for success for Mobus, however, it also meant that effects of the Coronavirus pandemic hit the business earlier than many in the UK, and the challenges that followed required the business to pull out all the stops to meet orders and keep performing up to customers' expectations. "The outbreak for Mobus started at the end of January, when we were made aware of the pandemic and the subsequent China lockdown. The lockdown extended the Chinese New Year holidays by another four weeks, leading to huge stock shortfall on many top selling collections.
"The China lockdown then coincided with our move and put our sales team under huge pressure. At that stage, some of our customers were unaware of the severity of the issues and felt the problem was ours to resolve as we were buying from China. As the severity of the outbreak hit the UK media and impact to supply chains was more clearly understood, customers became a little more understanding. We were working 12 to 16 hour days to support our customers, re-work priority lists, allocate stocks and support our suppliers with weaving and dyeing plans," Lee highlighted.
"We then hit a period of calm between China re-opening and Europe going into lockdown. In that period, we shipped 19 containers of fabric (circa 600,000m) but sadly, as it started arriving, the UK went into lockdown. We also had a huge order book with our suppliers who had invested heavily, but we had to stop all future shipments leaving China."
Team spirit
Understandably, the impact on the business of these circumstances has been huge: "Like most people, our outlook swung under lockdown from really negative to positive and back again," Lee admitted. "As a board of directors, we had a conference call every day at 10am and collectively picked our way through the issues. We had a skeleton warehouse team to unload the containers and complete the move to our new site. We moved our head office and while working from home we prepared a full stock plan, categorized stocks and set up the warehouse routings and procedures.
"The cash flow impact on the industry has been a real challenge. However, with the support of HSBC and commitments from suppliers and customers, we have managed. We have pushed all our customers for payments so we could keep making payments to our suppliers – the flow of funds at such a time was critical to keep the supply chain alive and ready for the hopeful bounce back."
Thankfully, Lee was able to report that since the return to work at the end of May, sales have steadily grown and are definitely moving in the right direction. "We offered open cancelations to all our customers and rather than fighting cancelations we understood the full supply chain had to realign and reset. We also gave bulk processing commitments to our UK finishers so they had the confidence to reopen and take staff back off furlough. This helped restart production for the sector and keep our stock plan ahead of demand. We hope to post a break-even year and if the bounce back continues we hope to even post a small profit."
From speaking to Lee, the contribution that the staff made to Mobus' efforts to maintain its standards throughout this time cannot be underestimated and he declared that 'the people are what make Mobus the company it is.' Going forward, he hopes to add more people to the team, which still features eight of the original ten members that joined in 2009. "The culture of Mobus is fun, but hard working, with a strong emphasis on the team and we collectively look out for each other and our partners," Lee added. "We have a high staff retention rate in all areas of the business, from directors to warehouse, and I would really like to thank our team for their hard work, as well as our partners both up and down the supply chain and the support services. Mobus is on an incredible journey and its success is down to the people we work with."
Mobus Fabrics
Products: One of Europe's leading upholstery fabric manufacturers
www.mobus.co.uk