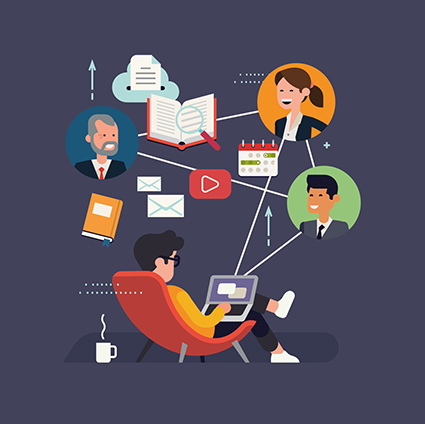 At the onset of the pandemic, a monumental shift occurred, and the manufacturing industry found itself at a crossroads. Many companies had been focusing on support for legacy systems while trying to retain talent as many employees moved into retirement. There was a widening gap between those gaining benefits from digital transformation, and those negatively impacted by Covid-19 because they were behind on the maturity curve.
Although these challenges were felt universally across all industries, the manufacturing world has a unique set of problems that add additional volatility for CIOs to contend with, making the job both scary and appealing. Manufacturing organizations were unprepared for the shift to remote work, the need to produce goods with fewer people due to illness, and solving supply chain uncertainties.
In order to be successful in a new workplace dependent on interactive tech and collaborative solutions, there are four trends that manufacturing executives and IT leaders need to be on top of.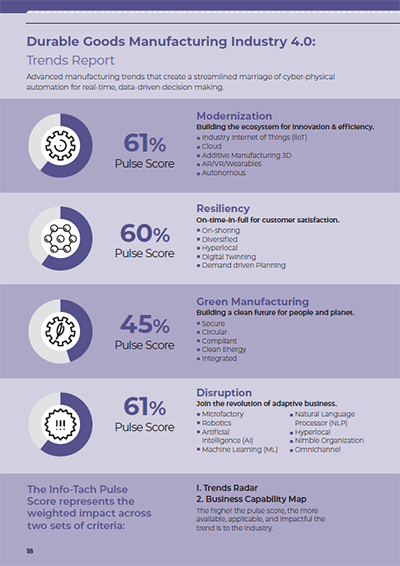 Modernization and Industry 4.0
Historically, manufacturing has carried a stigma of being a harsh work environment, including technology stacks that have lagged behind other industries, constrained IT budgets, and a slow recovery from the pandemic. The typical manufacturing business is cost-conscious and lacks advanced IT skills, with weak IT/OT convergence. The new generations of workers expect automation, which can't be delivered without a sound strategic modernization plan.
Currently though, many manufacturing operations still require high numbers of staff to be physically on location, even though they may be able to leverage technology to offer more employees the ability to work remotely. This starkly contrasts with other industries where employees traditionally needed to work from the office but have now developed methods for ensuring quality production while offering hybrid work.
For manufacturers to thrive in the Industry 4.0 age will mean melding together the old and the new: an in-person environment with more integrated automation and IT solutions. Not only will this allow the organization as a whole to keep up with the pace of innovation, but the day-to-day lives of employees will be greatly improved by giving them more flexibility.
Disruption and rapidly capturing market share
Manufacturing businesses are traditionally slow to adopt new technology, but the industry's technology adoption rate has increased rapidly since the onset of the pandemic. As the number of connected devices is projected to grow exponentially in the near future, manufacturing businesses can no longer afford to be complacent and need to shift from slow today to fast tomorrow.
Manufacturing CIOs need to investigate strategic foresight, a methodology that clarifies what is happening in the organization's external environment and guides them toward meaningful solutions. This methodology identifies signals that enable the organization to identify market shifts and attach themselves to the waves of change with specific strategic initiatives and the context that will lead them toward success.
Resiliency and a continuous supply chain
Micro-factories and intelligent systems enable new and niche players to become relevant and disrupt incumbents rapidly. The story of the software company in a garage is now a manufacturing startup in a garage, which is close to the customer and highly technology-centric.
The pandemic has taught an important lesson: the importance of a diverse and blended supply chain, combining on-shore and off-shore capabilities. During these times, buffers and safety stock planning become vital.
The pandemic has caused a significant change in the roles of manufacturing executives, which are now in a state of turmoil as markets have become increasingly more volatile. An IT leader in the manufacturing space needs to be a technology thought leader and a master communicator, ensuring that the business clearly understands the importance of a business-wide technology transformation. Focusing on keeping the lights on with 20–30-year-old applications and equipment leaves the door wide open for them to be disrupted by the competition.
Kevin Tucker
www.infotech.com
Kevin Tucker is Principal Research Director and the Manufacturing and Supply Chain Industry Lead in the Industry Practice at Info-Tech Research Group, one of the world's leading information technology research and advisory firms, proudly serving over 30,000 IT professionals. The company produces unbiased and highly relevant research to help CIOs and IT leaders make strategic, timely, and well-informed decisions. For 25 years, Info-Tech has partnered closely with IT teams to provide them with everything they need, from actionable tools to analyst guidance, ensuring they deliver measurable results for their organizations.