The modern way
As the largest steel tank manufacturer in the United States, Modern Welding Company approaches its 90th anniversary bolstered by some of the industry's most advanced production capabilities
Less than a year from now, in 2022, Modern Welding Company (Modern Welding) will celebrate its 90th anniversary. After nine decades of continuous success, the milestone will offer the organization and its people an opportunity to reflect on the achievements and longevity of one the manufacturing industry's true innovators.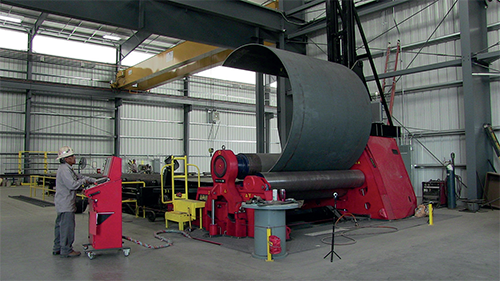 Established in 1932, Modern Welding started life as a welding repair shop in Owensboro, Kentucky. The timing was perfect. As the Great Depression left many Americans with limited cash and resources, demand for repair work – as an alternative to purchasing new products – grew, and consequently, Modern Welding flourished.
Strengthened by a string of acquisitions, Modern Welding grew quickly from the 1940s through to the 1970s, with the business performing increasingly more structural work for the coal industry as well as activities for hydrocarbon fuel storage. Decades later, in 2021, the company is the largest steel tank manufacturer in the United States.
Boasting a huge and varied product range, Modern Welding's core offering includes ASME pressure vessels, aboveground and underground storage tanks, water and grease filtration systems, structural steel, mine support arches, and custom steel plate fabrication. Additionally, the firm's sister business, Modern Supply Company, provides quality industrial and welding supplies, gases, and general equipment.
"We have a long and vibrant history at Modern Welding," explains Corporate Business Development Manager, John Loucks. "We have really drilled into different markets and industries over the years, from hydrocarbon fuel storage tanks, to ASME pressure vessels, to structural packages. We do a lot of unique customer projects, a range of different jobs, and we are always willing to tackle new challenges – that is really what helps to set us apart from the competition."
Supported by subsidiaries nationwide, Modern Welding operates from eleven US locations, stretching from Florida to California. "Collaboration is key," John says. "Our subsidiaries often work together on large jobs to reduce lead times and streamline the delivery and installation processes. The strategic positioning of our subsidiaries allows us to have a nationwide footprint and assist our customers, no matter their location."
Modern Welding's newest facility is its Modern Custom Fabrication plant in Fresno, California. Admired across the industry, the site is one of the most advanced of its type in the world.
"Our California facility is very cutting edge," John confirms. "We've moved a few miles away from our previous site in Fresno and built the brand-new location from the ground up. It's a state-of-the-art facility with top-of-the-line equipment. In collaboration with manufacturing suppliers, we looked carefully at our production process and the result is a very streamlined, very efficient, well laid-out operation."
Customer relationships
By continuously updating and upgrading its capabilities, Modern Welding has been able to remain at the forefront of product development and technical innovation in the manufacturing industry for nearly a century. Investment in the latest technology has proved especially fruitful of late.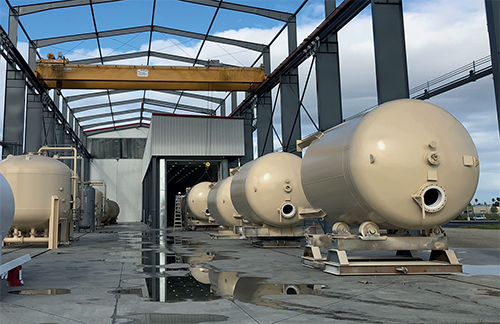 "We are always looking to utilize new software and find innovative methods to improve our fabrication processes," John reveals. "We understand the importance of updating our technology and staying ahead of the curve."
On a more personal level, Modern Welding also invests time and money in strengthening relationships with its customers. According to John, establishing better connections starts at leadership level and feeds down into the processes and practices of each of the company's subsidiaries.
"Our relationships with customers are very professional," John asserts. "We look at each of our subsidiaries carefully – from the sales team to the technical department – to ensure that each location is in-sync and that they work seamlessly with our clients. Responsive and quick to react, our teams are always on top of change orders and customer requests. Everyone works together to ensure that the customer is happy. At the end of the day, client satisfaction is the ultimate goal."
The unity for which Modern Welding has become famous proved particularly important during the Covid-19 pandemic. In spite of the challenging circumstances, the business, well-acquainted with the benefits of strong teamwork and communication, not only survived, but thrived.
"Things have obviously been very difficult lately because business is best done face-to-face, but we have effectively utilized various social platforms to stay in tune with one another and with our clients," John reports. "Our subsidiaries always collaborate efficiently with one another, but from a teambuilding standpoint, we have done a great job working through projects and helping our customers in a time of need. We've performed exceptionally well considering the situations that have arisen."
As we head deeper into the second half of 2021, Modern Welding continues to push the envelope in terms of progressive, pioneering product development. As popular as ever with its clients, the company recently received approval from Underwriters Laboratories as a manufacturer of UL-142 Rectangular Tanks up to 14 feet tall.
"We had been testing a very large rectangular fuel storage tank and, upon completion of the test and acceptance by Underwriters Laboratories, Modern Welding is now the only manufacturer in the US that can build a 14-foottall rectangular storage tank," John states. "It's quite an accomplishment for the business and another example of the way in which we are always brainstorming and innovating in every plant and with every technical manager. We all want to improve our products and that will remain a focus throughout the next decade."
Next year, in 2022, when Modern Welding turns 90, the company might reminisce for a moment upon its triumphant past, but the firm's mission will remain the same; Modern Welding's quest for market-defining innovation continues.
"There is always something interesting and unique going on at Modern Welding. It's a great place to work," John declares. "Going forward, our team nationwide aims to improve our processes and come up with new forwardthinking product lines, built for the future. The Covid-19 pandemic might still be around, but we understand that if we keep communicating well between the plants and making sure that everyone is on the same page, then we will continue to make quality products that help our customers."
Modern Welding Company
www.modweldco.com
Products: Steel tank manufacturer