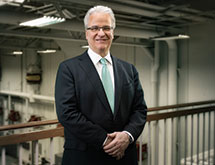 During his six years at the helm of Modine, Thomas Burke has guided the company through extremely challenging and, in the past few years, encouraging times. His proudest achievements, however, go beyond leading the company out of very low spots during the 2008-09 recession, introducing new products or entering new global markets.
"I feel a sense of confidence when I see a team focused on our principles come together," he says. "I'm always pleased with the new products we introduce and with our ongoing research, but when our team comes together, it provides the company with a prevailing focus that we can benefit from all the time."
Burke, a former executive with Ford Motor Company and Visteon – a parts supply company spun off from Ford in 2000 – joined Modine in 2005 and has served as its CEO and president since 2008. At his previous companies, Burke gained familiarity with Modine's thermal management products from purchasing its parts and licensing its technology for Ford vehicles.
Founded in 1916, Modine manufactures heat exchange components such as radiators, condensers and oil coolers as well as a highly respected line of building HVAC final products including unit heaters, rooftop ventilation units and chillers. Its products are used in light-, medium- and heavy-duty vehicles as well as in heating, ventilation and air conditioning equipment, off-highway and industrial equipment and refrigeration systems.
"What we do best is address difficult heat transfer conditions and problems and bring solutions to our customers that have a very challenging application in the markets we serve," Burke says, citing small spaces with significant amounts of heat generation as an example. The company  works directly with its customers to understand their needs and then, whenever possible, uses its existing product platforms as "building blocks" to provide solutions.
Modine's customers also look to it to provide high-quality, state-of-the-art solutions at a competitive price. "The business-to-business world in the vehicular sector, whether automotive, truck or off-highway, is a very competitive one," Burke says. "Our customers depend on many different suppliers to provide products that meet their technical needs. They're looking for proven field performance, proven delivery and ongoing customer support and expect us to bring them the latest technology."
The company's manufacturing capabilities include stamping, fabrication, forming, assembling and braising. "We are fully vertically integrated in the manufacturing processes on our core products," Burke says.
Modine purchases more than $140 million worth of aluminum for its products each year. Other materials used in the company's components include copper and stainless steel.
Survival Planning
Burke first mobilized his executive staff and manufacturing team shortly after taking his leadership position in 2008, when the company faced a significant challenge as a result of a drop in sales and stock price resulting from the global recession.
The company formed a "war room," and gave its executives the task of creating a plan that would allow it to emerge from the recession as a stronger, more focused company.
A four-step plan for the company emerged from its strategic planning sessions. The first step of the plan involved rationalizing Modine's portfolio and focusing its efforts on the market segments in which the company had the greatest competitive edge. "We had a large product line," Burke says. "We wanted to see which of our products were the strongest, best performing and most valued in their markets."
Once that was complete, the company entered the second phase of its plan, which involved realigning its manufacturing efforts around its new product portfolio. At the time, the Racine, Wis.-headquartered company operated 42 manufacturing facilities; today, Modine operates 27 manufacturing facilities around the world, Burke notes.
The third phase of the four-point plan involved reducing $80 million in expenses and operating costs. This included staff and service cuts, including the sale of a company airplane.
After setting its product and staff priorities, the company entered the final phase of the plan: capital allocation discipline. This included reducing its capital expenditure budget from $100 million to $60 million while reducing its debt. "We now find ourselves in a much stronger position from a balance sheet perspective," Burke says.
Modine executives regularly communicated with employees throughout the plan's execution. This included weekly business meetings, weekly updates to the company's board of directors, a monthly CEO newsletter and quarterly meetings with employees.
Goals for Growth
With its operations back on more solid financial ground, the company last year established a new set of four priorities that it calls "enduring goals." These are:
> Reaching a 10 percent compounded annual growth rate;
> Achieving a 15 percent return on average capital employed;
> Building a balanced and diverse business model; and
> Becoming the fastest-improving company in its industry.
The company's diversification strategy allows it to continue to grow in certain sectors when others are not seeing growth, Burke notes. "Right now, the off-highway segment is down globally, but we're benefiting from strong truck and automotive markets, which is offsetting that loss," he adds.
Internal Improvement
Modine's focus on continuous improvement in its manufacturing and administrative processes is helping it meet its fourth enduring goal. "The faster we can improve our processes and plants, the better off we'll be in the future from a competitive standpoint," Burke says.
The company's internal improvement discipline, known as the Modine Operating System (MOS), improves both administrative functions and manufacturing operations, providing a framework for the use of lean practice and other improvement tools.
Built on five long-standing global commitments and structured to help achieve the enduring goals, Burke says MOS brings together improvement principles and leadership behaviors to engage and guide Modine team members in the use of three key concepts: the improvement pattern; target process conditions, or the ways the company wants a process to work; and the mentoring pattern, which guides and teaches the improvement pattern.
"One of the things that makes us strong is our depth," Burke says. "We have the most knowledgeable people in the world, who develop heat transfer products and processes. We want to make sure we provide opportunities and an environment that allows us to recruit and retain people who share in that focus."
International Growth
Modine is looking to new locations and markets to achieve its goal of annual growth. In October, the company secured a contract with Chinese commercial vehicle manufacturer China Anhui Jianghuai Automobile Co. Ltd. (JAC) to produce cooling modules. Production is anticipated to begin in 2016.
"Modine is one of the most trusted heat transfer names in the global commercial vehicle market and we are very honored to be able to support JAC, one of China's premier domestic truck manufacturers," Scott Bowser, Modine's Vice President – Asia, said in a statement. "This is the first major award resulting from our strategy to diversify Modine Asia's business, which established its reputation in China serving multinational customers in the off-highway market."
Founded in 1964, JAC produces a wide range of light-, medium-, and heavy-duty vehicles for sale in China and around the globe.
The contract will allow the company to expand its presence in Asia, where it operates five manufacturing facilities in India, Korea and China. "That region is our least developed in terms of tenure and size," Burke says. "We're continuing to grow there, and expect that the economic growth in China and India will help us."
The JAC contract closely follows another significant international growth opportunity. In February, Modine's U.K. subsidiary, Airedale International Air Conditioning Ltd., acquired Barkell, a custom air-handling unit manufacturer in northern England. The acquisition added air-handling products to Airedale's existing HVAC offerings. "This allowed us to strengthen our portfolio and broaden the markets we serve," Burke says, noting that the company's U.K. business is focused primarily on data center cooling. "Because of this acquisition, we can provide a more complete system to our customers."
Modine continues to seek acquisition and partnership opportunities both overseas as well as in North America. This includes potential expansion into markets adjacent to those it currently serves, such as power generation, Burke adds.
Community Enhancement
Modine's internal philosophy of continuous improvement extends beyond its manufacturing facilities. "We're always helping to improve the conditions and environments of the areas where we live and work," Burke says.
Many of the company's employees are involved in community activities, including volunteering in schools or homeless shelters. On a corporate level, the company supports the community through the Modine Manufacturing Company Foundation, which it established in 1995.
"The mission of the foundation is to aid in the development of strong, vibrant communities," the company says. "Through direct grants, the foundation creatively and thoughtfully acts as a champion for the communities in which Modine operates."
The foundation focuses on four areas:
> Education, including university science and technology training programs as well as elementary, middle school and high school programs designed to help students develop and maintain an interest in math, science, technology and business;
> Arts and culture, including supporting museums, orchestras, theaters and ballets, as well as the sponsorship of concerts;
> Civic and community programs;
> Health and human services, including programs that promote wellness or enhance quality of life.
"The foundation engages in grant making that reflects the basic tenets, beliefs and philosophies of Modine companies, which are characterized by our global commitments of applied innovation, global competitiveness, financial integrity, responsible relationships and corporate citizenship," the company says.