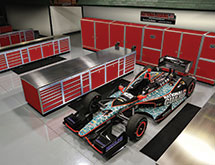 Moduline Modular Aluminum Cabinets
A story that began in rented space in Whitman, Mass., nearly 30 years ago eventually led to the creation of Moduline Modular Aluminum Cabinets. Moduline grew out of the foundation laid down by Gill Metal Fab (GMF), a complete precision sheet metal fabrication and manufacturing company founded in 1988.
"We pretty much started with nothing, doing various work, acquiring some accounts and adding different pieces of machinery," owner Paul Gill says. "We basically did any type of work, from frame fabrication to precision sheet metal. The aluminum cabinetry that is Moduline first came out about 15 years ago and grew from there."
Quality and Innovation
Now based in 25,000 square feet in Brockton, Mass., GMF has grown into a multi-million-dollar sheet metal shop that employs 30 people. GMF also provides engineering, programming, design and precision welding services, and it has high-volume production capabilities, prototype and small-run expertise. Its machinery is state-of-the-art CNC manufacturing equipment, and the company supplies precision sheet metal and welded parts to many industries including electronics, communications, computer, lighting, semiconductor and vacuum.
GMF's goal is to manufacture high-quality components for its customers, on time and within budget. The company has become well known for excellence in workmanship and top-notch service. Its innovative spirit is what allowed it to become the home for manufacturing the Moduline Aluminum Cabinet line.
The company manufactures the high-quality and high-style Moduline garage storage cabinets, trailer cabinets and industrial storage cabinets, as well as aluminum and stainless steel countertops. Moduline products include aluminum storage cabinets, drawer unit tool cabinets, countertops and accessories.
"Moduline cabinets were initially focused on car racing applications and garages. Then we started advertising and selling more of the product line into more market sectors," Gill says. "We've grown to service military contracts, NASA, various government agencies and municipalities. We still do a lot of work for car enthusiasts, dealerships and specialty vehicles."
Gill and his team have established a strong marketplace for Moduline products by doing everything from attending trade shows to engaging in outbound sales efforts. At the same time, the Internet age has sent many customers in Moduline's direction. Repeat customers and word of mouth are also responsible for Moduline's continued growth.
"We've grown the brand a lot over the last 10 years or so, and many people now know the product," Gill says. "We work with customers to understand what they need. We have a standard product line, but we can also produce many different custom configurations, especially in the specialty vehicle and specialty cabinetry spaces to suit a specific application."
Continued Adaptation
Moduline regularly invests in its product line and manufacturing capabilities. In 2013, the company introduced the Moduline QuikDraw single-action latch system. It is designed to be so easy to use that it can be opened with one finger, even if the user's hands are full. When closed, the drawers stay securely latched with no worry of them coming open accidentally, even when they are used in mobile applications.
The QuikDraw latch has a host of key features such as the dual, independent latch mechanisms on both ends of the anodized handle. This feature is unique because it doesn't take up valuable drawer space, leaving all that extra capacity for tools, parts and equipment. Its high-impact construction ensures that it is built to last and operate effortlessly.
In addition, Gill says the company has invested in top-of-the-line CNC equipment and automation solutions. "Our vision is to become even more automated through software and state-of-the-art machinery," he says.
As necessary, the company will consider everything from investing in a larger facility to bringing in new equipment. However, Gill says the biggest focus must be on people.
"Our people are the key asset we can build," he says. "We will train anyone who has a willingness to learn."
Moduline will continue to succeed as a product line because the company is versatile. By working in multiple market sectors, Moduline avoids becoming too saturated in one market. The company always has opportunities in the pipeline and looks to stay true to its commitment to American-made innovation.
"We are always adding new features and products," Gill says. "We believe in taking a very consultative approach. We make products that we believe in, and we are problem-solvers for our customers."