Scandinavian style
Moelven ByggModul is the Scandinavian wood processing group's Nordic representative, responsible for producing industrial-made wood building models and products for the construction industry
For more than 100 years, Scandinavian industrial group Moelven has been producing socially beneficial and sustainable building materials and systems for the construction industry. Using sustainably maintained spruce and pine – which it also sells for processing in other industries as well as using it in its own products – Moelven produces a wide range of wooden exterior and interior products such as walls, flooring, wood panelling, glulam, building modules, and flexible office solutions, as well as bioenergy. Today, the group has 36 different production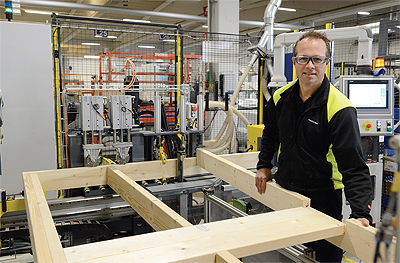 companies spread across 45 sites in Norway and Sweden, as well as sales offices in Denmark, Germany and the UK.
Moelven ByggModul represents the Nordic region's leading producer of industrial-made wood building modules, and has helped to deliver more than 120,000 to the construction market to date. With 600 employees divided across six production facilities in Sweden and Norway – in Kil, Sandsjöfors, Säffle, Torsby, Moelv and Hjellum – as well as a contracting operation, the company produces 6000 modules per year, which ultimately provide houses, chained houses, apartment buildings, and permanent and temporary buildings within schools and kindergartens, student housing, hotels and residential accommodation, office spaces and combination buildings.
The benefits of choosing the company's wood building modules are numerous, and include short construction times, a predictable economy of scale – Moelven ByggModul provides a fixed price for the entire construction project – and good control over the whole production process, during which it oversees the work of professionals from other disciplines like plumbers and electricians. Choosing wood modules also brings with it vastly superior environmental benefits over other materials such as concrete.
"Concrete manufacturers represent our biggest source of competition, and it is those companies that we are working hard to take market share from by extolling the advantages of working with us," explains Moelven ByggModul's Technical Manager, Lars Hartman. "For example, unlike those producing buildings in concrete, the units we produce are predominantly finished within our own factories. This means we can kit out an entire building, including the kitchen, bathroom, fixtures and fittings, prior to its transportation to site. This typically results in the reduction of lead times by up to one third compared to concrete construction, which allows our customers to get a faster return on their investment."
Turning to Moelven ByggModul's manufacturing capabilities, it is important to first note that Lars comes from an automotive industry background, during which time he gained invaluable insight into applying efficiencies across different production processes and best practices when working with the likes of Volvo and Saab. Stepping into his role at Moelven ByggModul, it was quickly decided that the company needed to become, what Lars calls, more industrialised.
"We began this strategic move by initiating small improvements in the production process, and the positive results of this led us to embark on a multi-million-euro investment programme," Lars details. "One of the biggest achievements of this endeavour was the use of Lean production techniques to carry out a complete rebuild of one of our production lines, a process which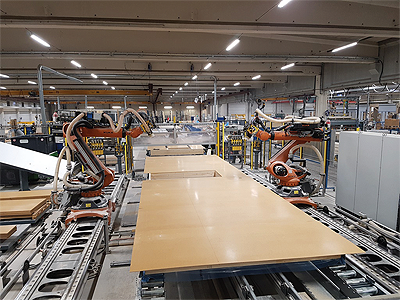 took less than two years to complete. At the heart of this project was the goal to go from being a handicraft manufacturing operation to a highly automated one, a transformation which has seen us increase our daily output of modules from 14 per day to almost 50.
"Along with an increase in production capacity, the adoption of automated robot technology has also provided us with important further improvements in terms of quality and consistency. Given the nature of our work, which involves a lot of heavy lifting and often creates large volumes of dust and other particulate matter, using automated solutions also means our employees minimalise their involvement with such things, thus improving their health and safety in the workplace."
With the upgrade of one production line complete and already reaping significant rewards, it is perhaps only natural that the company already has plans in place to gradually replace lines in its other Swedish facilities with the same automated solutions, beginning in 2020. "At the same time," Lars adds, "we will continue to look at our products themselves and seek out new ways in which we can improve them further still."
While the Nordic market in recent years has not been immune to the economic challenges facing all businesses across the wider region, a strong order book, multiple quotations out with prospective clients and a clear plan for production development in the years ahead, means that there is lots of room for optimism at Moelven ByggModul. "When we compare our financial results, alongside our module output and client feedback, we believe we are clearly among the very best manufacturing companies in Sweden today," Lars proclaims. "Although concrete buildings can currently be built higher than wood modules, this is something we are working to address and we can now build up to six storeys high. This is a big positive step forward and we will work to increase this in the future. Bearing that in mind, it remains imperative that we continue to push through greater efficiencies across our operation, retain our competitive pricing structure and further advertise the massive environmental benefits of our wood products as we compete more heavily with the likes of the concrete industry."
Moelven ByggModul AB
Products: Industrial manufactured wood building modules