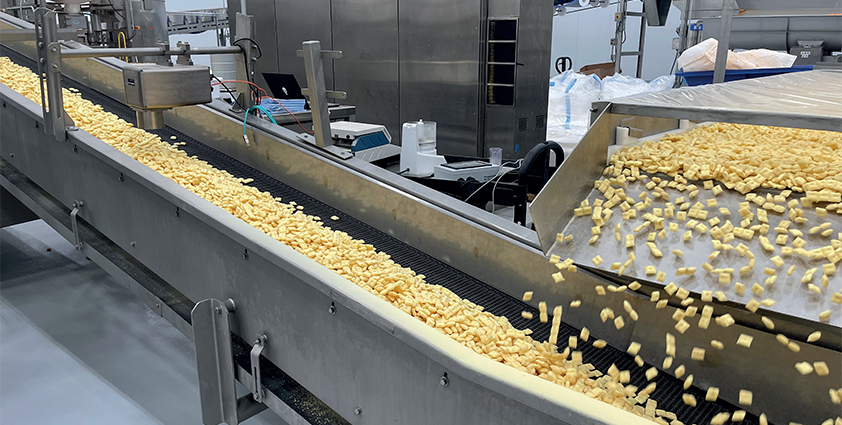 A true measure of success
Regular readers of Manufacturing Today will be familiar with the expertise and superior products of MoistTech Corp (MoistTech), but for anyone new to the business it's worth recapping its capabilities.
Manufacturing a range of on-line sensors and at-line instruments for moisture measurement and real-time process control for numerous applications, MoistTech supplies solutions that can deliver instant, non-contact moisture analysis of manufactured goods to ensure the accuracy and quality of the final product.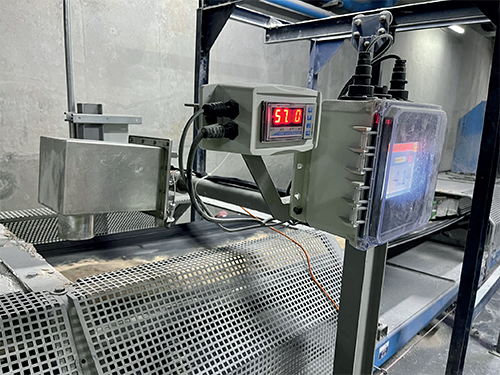 Utilizing NIR Technology, which is a state-of-the-art, fast, non-destructive method of measuring and controlling moisture content, MoistTech is able to deliver multiple benefits to its clients – ranging from product quality monitoring, increased plant efficiency, lower energy costs and less waste, to precise dryer control, lower costs and higher accuracy. Instant ROI, low-to-zero maintenance and process optimization can also all be achieved through a MoistTech solution.
Furthermore, the technology has the ability to monitor thickness, coat weight, oil, and fat/protein content along with other elements that absorb NIR light, and that means it is applicable to a wide range of sectors and disciplines, including adhesives, biomass, chemicals, coatings, food, forest products, minerals, renewable energy, textiles and wood products.
Clearly MoistTech sensors and systems bring several advantages to a client's production line – but there is also another factor that sets them apart, as Sarah Hammond, Marketing Manager at the company explains. "MoistTech's technology stands above the competition as the only sensor that is guaranteed to never drift or lose its calibration over time. When this happens in other technology, valuable time, money and energy is spent testing the sensor and re-calibrating it – sometimes on a monthly or even weekly basis. With a MoistTech sensor, they are pre-calibrated prior to shipment directly to the customers' samples. Once received, a plug-and-play operation creates a closed loop process within minutes. Our sensors also do not require any external displays and all technology parts are contained within the sensor itself. All data can be linked back to a PLC or PC, depending on customer preference."
She also added a few further benefits associated with its offering, which include lead times, advanced sensor design, consistently updated software, backwards compatible systems and the ability to withstand harsh environments and temperatures.
While it already supplies a comprehensive portfolio of options including its 3000 Series Online, Moisture Balance Systems, At-Line Laboratory range, Specialty/Custom Sensors, and Moisture Sensor Accessories, the team at MoistTech constantly innovates and adds to this offering. "We are always looking at ways to improve the products we offer and get customer feedback on their processes to do so," confirms Sarah, before revealing an exciting new development. "Without giving away any company secrets, we are rampingup our ability to increase the engineering side of things to incorporate more modern technology into the products over the next three-to-five years. Maintaining the ability to co-exist with sophisticated facilities and flawlessly tie into their systems to create a consistently managed process is essential for both us and the customer.
"We spend years developing new products and testing them both in-house and in the field prior to release, which gives us the ability to stand behind them all with 30-day performance guarantees. Constantly learning of new applications and production processes allows us to incorporate different ways of quality improvement, reduce human error and increase ROI and overall plant efficiency – a well-run plant creates less waste, energy usage and more."
Having mentioned new products, Sarah goes on to discuss the company's Linear Belt-Driver Slide – a product launch that was approaching the last time MoistTech was featured in MT in mid-2021. Given the timing, and the effects that the pandemic was inflicting on manufacturing at that time, she notes that the product's introduction to the market has been more gradual than previously planned. "Thanks to a few Covid delays affecting some production with our suppliers, we have softly launched the Linear Belt-Driver Slide this year with approximately a dozen customers to date," she divulged. "We are planning a full launch of the product by this fall with website updates and announcements via multiple outlets."
The benefits seen by the customer of the Linear Belt-Driver Slide (LBDS) are certainly worth promoting, including as they do the ability to read the moisture and/or thickness across the entire line of production, either with multiple sensors affixed to the linear slide in permanent places or used as a traversing system with one or more sensors. "In some applications such as converting, film and plastics, it is necessary to know the moisture and or thickness of the product across the entire web versus applications such as food, wood or tobacco where spot point measurements are more widely used," Sarah adds. "Easily incorporated into a production line, the LBDS can be an immediate asset to the production line in reducing human error, increasing plant efficiency and product quality."
MoistTech intends to debut the LBDS at upcoming trade shows to increase exposure and awareness of the new technology, as well as showcase the product across other platforms – be sure to look out for the MoistTech stand if you are attending an event!
Continuing on the topic of trade shows, Sarah highlights that this approach one that MoistTech intends to exploit in a new drive to increase its presence in the food and mineral sectors, and to expand internationally. "We will be appearing at a few new tradeshows this year to increase our presence and get in front of new audiences – bringing our yearly total to nearly 35," she said. "This will showcase our sleeker designs.
"We have discovered some shows, both state side and internationally, that we have not previously explored and we believe these will help us expand into those sectors," continues Sarah. "We are actively searching for well-established, niche representatives in various parts of the world to add MoistTech sensors to their line of products that will help us grow in the right places. We partner with very few companies, as the correlation as well as audience, needs to be precise for the relationship to work. MoistTech has also sought out new publishers in the both the food and mining sectors to help increase exposure and bring new audiences to the MoistTech website.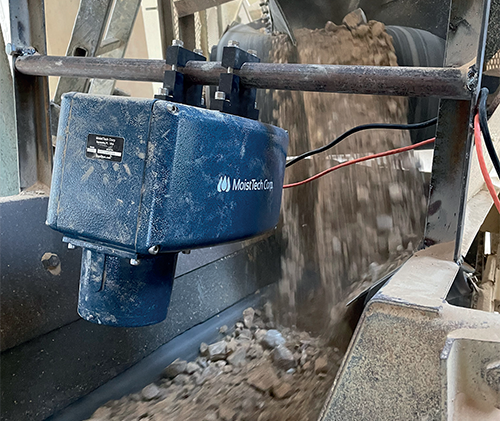 "Educating companies and plant managers about the importance that moisture measurement and control can have on final product quality is crucial – such a small piece of technology can have really beneficial effects on multiple areas including waste and energy."
As Sarah touched on the specific issues of waste and energy, it naturally led to the wider topic of sustainability, and she notes that this is always on the agenda for both MoistTech and its customers. "As our teams visit customers and learn of new applications or even new processes, it gives us the ability to adjust our sustainability program to best incorporate our technology and products with each customer," she says.
"As a team, we consistently utilize feedback, new ideas, technology advancements and more to determine what, if any, changes can be made to either our product or our process to ensure we are always providing optimal feedback and support to our customers. Long-term goals and strategies to grow the company are always in the works and being improved – we encourage customers to reach out to us with success stories, case studies, improvement suggestions and more through our marketing department (marketing@moisttech.com) to continually provide a communication path for improvement opportunities. With so many applications utilizing MoistTech for moisture measurement and control, the upgrades and advancements are endless and ever changing within each facility."
This clear communication and dedication to sharing and collaborating has also stood MoistTech in good stead when facing the supply chain disruptions that the market has experienced thanks to the pandemic. The philosophy was also bolstered by a proactive approach to inventory management. "Minor adjustments in supply chain factors have helped us stay on top of order processing and stick to a strict deadline with customers," Sarah notes. "A lot of price increases from suppliers have caused challenges for MoistTech that unfortunately have to be passed on to the customer, but we attempt to absorb as much as possible and not allow the client to feel too many effects. Continuous knowledge of our customer base and its needs allows us to stay ahead of the game and although we don't anticipate another pandemic, we certainly know the risks involved in not having great suppliers that communicate well and often."
The 'continuous knowledge' to which Sarah referred in fact extends back all the way to 1975, when the company was founded. She gave immense credit to the success of the business to company founder and director John Fordham, who sadly passed away last summer. "John was one of the original patent holders, along with colleague Roger Carlson, of NIR technology used in moisture measurement in manufacturing settings. John set the bar as high as it could be with MoistTech and continually kept the competition on its feet with frequent advancements and the best possible customer service support. He is truly missed throughout the company and moisture sensor world, but always fondly remembered."
MoistTech remains in very capable hands, with current President Adrian Fordham continuing to steer the company in the right direction. He will also be driving the company's strategy to grow the team both in sales and engineering as well as increasing the MoistTech presence across the globe.
As it approaches its 50th anniversary, MoistTech remains on its path of offering great customer support and service and continued production with minimal delays, while also looking for growth where possible. "Continuing to pursue the food and mining sectors of production will be key, as well as implementing new strategies for marketing, increasing our reach," confirms Sarah, as she looks to the future. "We will be continuously finding ways to get in front of new customers and showcasing our applications is at the forefront of our plans.
"It is possible that over the next three-to-five years we will see some new designs come from MoistTech, staying with our promise to utilize state-of-the-art advancements and seamlessly incorporate our products into the customer's process," Sarah concludes. "Our priority will always remain that we ensure ease of use and the low to zero maintenance features that are key in performance and that allow the maintenance/production team to utilize as 'plug-and-play'."
MoistTech Corp
www.moisttech.com
Services: Moisture measurement and control technology