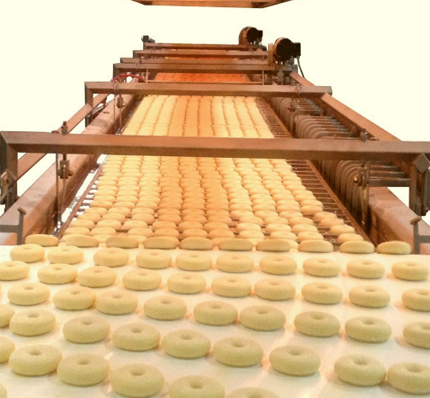 When you bite into a tasty doughnut, you're not likely to think about how the breakfast treat was made. But designing and manufacturing industrial bakery equipment have been Moline Manufacturing LLC's sweet spot for the past 70 years.
The Duluth, Minn.-based company makes a wide range of equipment used throughout the industrial baking industry. It counts General Mills, Pepperidge Farm, Nestlé, Aryzta, Dunkin' Donuts and Tim Hortons among its clients.
The Signature Product
The fourth-generation company was started in 1945 by Harry Moline, who began his career as a baker. "He turned his skills to equipment manufacturing," President Gary Moline says of his grandfather.
Those skills led Moline to invent the scrapless hexagonal rotary doughnut cutter, which became the company's signature product.
The machine is used for cutting yeast-raised doughnuts. The cutter delivers the maximum food product from a sheet of dough while minimizing the amount of scrap dough, Moline says. Today, the hexagon is featured in the company's logo.
Rotary cutters offer an economical way for producers to add high-speed automated dough cutting to their manufacturing capabilities, and allow them to make products with uniformity of shape, size and weight, Moline explains.
Over time, Moline Machinery expanded its product line into sheeting and dough-processing systems for industrial and commercial. In 1972, it was acquired by the Pillsbury Company, which moved its manufacturing operations to the Moline manufacturing facility. Integration with Pillsbury broadened Moline's international presence and added the industrial frying line, which continues to be manufactured by the company, Moline says.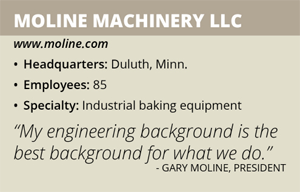 In 1991, Moline Machinery bought the company from Pillsbury and once again became privately held. Four years later, Moline Machinery purchased the industrial product line from Donut Corp. of America, increasing marketshare in the industrial doughnut equipment business.
Moline's father, Don, served as a general manager when Moline Machinery was owned by Pillsbury and led the company after the relationship between the companies ended. Moline took over as president in 1995, 11 years after he joined the company. He says his background as a mechanical engineer has been invaluable to him. "My engineering background is the best background for what we do," Moline says. "It commands respect."
Moline's father had a financial background, but he left a lasting impression on his son. "My dad really impressed upon me the importance of relationships," Moline says. "He used to say, 'Nothing happens until somebody sells something.'"
The fourth generation of the family joined the company when Moline's three children decided to work for the business. The trio work in different capacities and likely will form the leadership when Moline retires, he says. His son, David, works in sales and marketing, while his other son, Dan, is a mechanical engineer. Moline's daughter, Lisa, is an accountant for the company. "All my children had other jobs," Moline says. "They are very interested in keep this thing going. We're well-positioned to get into the fourth generation."
Staying Competitive
The industrial baking equipment market is a niche industry, but Moline Machinery faces significant competition, including several well-established European-based companies, Moline says. "European companies from the very beginning have been export-minded," he says.
Moline Machinery remains competitive by maintaining good relationships with long-time customers. "We try to add value and take care of our customers," he says. In addition to its North American clients, Moline Machinery has customers in Spain, France, The Netherlands and England.
The company makes a variety of equipment including raised doughnut production systems and sheeting lines for various types of dough, as well as production lines for cookies, bread, biscuits, bagels, tortillas and flatbread. Clients' demands for different types of machinery change as the market shifts. "The food industry is incredibly trendy," Moline says.
Moline Machinery's services are not limited to the design and manufacture of baking equipment. The company maintains an 18,000-square-foot testing facility that features automation technology that is fully integrated into the facility for complete analysis of all tests. In addition to full production-scale sheeting, laminating, bread and sweet goods systems, the facility also provides multiple mixing, proofing, baking and frying platforms, as well as walk-in coolers and freezers for product storage.
Customers can send in ingredients and their own equipment to perform product evaluation, formulation and equipment process testing. Once testing is completed, a written report is sent to the customer documenting the process and results. "It becomes a real partnership at that point," Moline says.
The Future
Moline has no plans for major expansion or adding facilities, but says his children might choose to take the company in a different direction. "For now, our growth will be organic, internal development," he says. The company would consider an "acquisition that fit," he adds.
While family members will lead the company into the future, Moline Machinery looks to area trade schools for electricians and other skilled tradespeople, as well as the University of Minnesota Duluth for engineers. "We have a great business," Moline says. "Duluth is a good community with good access to labor."