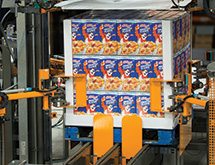 Mollers North America believes in going above and beyond customer expectations when it comes to the designs of the systems it provides. "In a way, we over-engineer our systems," says Tom Wagner, vice president of the Grand Rapids, Mich.-based equipment manufacturer. "Our approach is to overachieve and exceed performance requirements, which makes our systems more reliable and sustainable to the end customer."
As an affiliate of global manufacturer Mollers Group, Mollers North America is able to leverage its parent company's more than 65 years of experience in designing and manufacturing equipment. The Mollers Group was established as a designer and manufacturer of palletizing systems for the cement industry, which required machines that could accommodate heavy products at high production rates within a harsh and abrasive environment.
Although the company today has diversified to serve many industries that produce significantly lighter goods, the heavy-duty designs of its systems remain. In addition to designing and manufacturing palletizing systems, the company is also a leading provider of unit filling and load unitization equipment.
Mollers North America's nearly 40-year legacy of designing well beyond functional requirements, improves its systems' performance and life-cycle. "It's typical to see our systems in service for 25 to 30 years," Operations Manager Craig Johnson says. "In fact, we still have several systems that are well over 35 years old and still in service."
In recent years, Mollers North America has significantly expanded its customer base beyond its traditional core of building products manufacturers to include consumer products manufacturers. Diversification was a main goal for Wagner, who joined the company eight years ago after previously serving as an executive for Unilever.
Pursuing consumer product manufacturers such as the makers of food, beverage, cleaning supplies and paper products has enabled Mollers North America to realize double-digit growth through these difficult economic times. "I wanted to pursue these growth markets because they're relatively recession proof – they're linked to a growing population base," Wagner notes. "We have been able to align ourselves within growth industries while maintaining our core customer base." Since 2008, Mollers North America has grown its business by over 40 percent, enabling it to hire 31 new employees.
Leveraging Proven Technologies
Mollers North America's growth within the consumer products industry led it to develop its latest equipment offering. This year the company is introducing an automatic corner board placement system, which automates the process of placing four corner boards and top and bottom caps onto a pallet of goods.  After the boards and caps are placed, the machine places a stretch-hood over the load securing it to the pallet.
Corner boards, caps and stretch hood provide additional protection to goods during the distribution and handling process, preventing damage that could render the goods unsellable. The system is targeted to companies that sell into the club retail channel, which includes Costco and Sam's Club. These companies merchandise goods in pre-built display units, which allows customers to pick products directly from the display, eliminating the need for the goods to be removed from packaging before stocking.
The development of this system began three years ago after the company observed that one of its customers, a large consumer goods manufacturer, was placing corner boards with top and bottom caps manually. That customer had long used Mollers stretch-hooding machines to secure and protect its loads. "We have produced stretch-hooding machines for more than 30 years," Wagner says. "With this new system we are able to leverage one of our proven legacy technologies and add to it, offering a new automated solution to address a customer need."
The unique patented design includes many functional features to automatically accommodate a wide range of load sizes through a single corner board system. The corner board magazine has a carousel design, allowing for multiple magazine cartridges. Each magazine includes tool-less adjustability, allowing for differing corner board sizes to be sourced from a single carousel. Four pivoting corner board placement arms transfer corner boards from the magazine onto the load. Placement is fully automatic, and can be accomplished with a "trained mode" or "discovery mode."
The corner board system reflects the company's corporate focus on customer-driven innovation. "When I assumed the leadership role here eight years ago, I inherited a strong, established business with a solid customer satisfaction culture," he adds. "It's exciting to see how this customer focus is evolving into new customer-driven innovations."
The company has earned the loyalty of its customers. "One great measure of customer satisfaction for us is the fact that, on a year-to-year basis, over 80 percent of our project work is for repeat customers," Wagner says.