Every step of the way
With unrivalled development and process expertise in plastic componentry, Möller has been an integral part of the global automotive industry for decades
The Möller Group can trace its roots right back to 1730 when the eponymous family started to trade and process copper in Warstein, Germany. A process of evolution and development ensued throughout the industrial revolution, which saw Möller adapt and change with the times, determining what the markets demanded and producing the right materials accordingly. As such, throughout its history the group has manufactured products from copper, leather and rubber before moving into plastics during the first half of the twentieth century. It is in plastics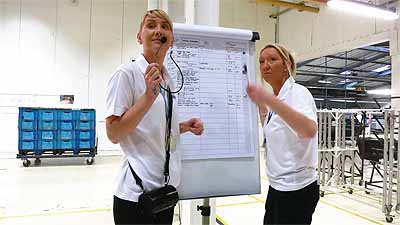 where today's group is internationally renowned with leading expertise in both hard and soft plastic.
At present, the group splits into three separate business units, MöllerTech, MöllerWerke and MöllerFlex, each focused specifically on automotive, functional and flexible applications respectively. With the international automotive industry as strong as it has ever been, MöllerTech is a perfect example to illustrate the global strength, production efficiencies and growth strategies that define the group as a whole.
The business unit is acknowledged the world over for its expertise in the development and production of plastic parts within the automotive industry. Curiosity, passion and ability are the values that set Möller apart in the market and are what has driven the innovation and commitment necessary to deliver bespoke and tailored products for individual customer solutions. As such, the company has forged deep and long-standing customer relationships with some of the world's largest and well-respected manufacturers.
With such a strong presence within the sector it is no surprise that the company currently operates from nine key sites across the world. In Germany, Romania and the USA, the company is focused on developing products and solutions alongside customers, whilst production facilities are located in Germany, Great Britain, the USA and China. A range of technical services is promised at each site, ensuring MöllerTech provides the best service and product solutions to meet the varying needs of its customers.
Innovation undoubtedly sits at the heart of Möller's market proposition, and actively requests that its customers challenge it with complex engineering problems and demands. The company prides itself on the knowledge and experience of its engineers and technicians in being able to take on ever-challenging projects and provide the best possible solutions. Numerous examples from over the years exist to demonstrate the firm's position at the cutting edge of plastic components for automobiles, many of which have helped clients deliver lighter, stronger and cost effective vehicles.
In the 1950s for example, MöllerTech delivered the world's first plastic dashboard for the Borgward Isabella, and in 1954 came up with the idea to manufacture a rear door for Daimler out of Duroplast, sparking a relationship that stands to this day. In 1972, it also invented the plastic radiator grill, which can be seen on the majority of modern day vehicles, and in 1995 developed an innovative blow-moulded plastic solution for Smart's dashboard. More recently in 2006 it helped Audi replace its metal backrest with a plastic solution and in 2008 it delivered the first complete interior trim made from plastic for the Mini Clubman.
Being able to maintain such an innovative position in the market is supported by an extensive range of processes from surfacing, flocking, backing and lacquering, through leather covering, module composition, foaming and deep drawing, to punching, riveting, stapling, gluing and stitching amongst many other high-end capabilities. However, this current capacity is not limited, and every day MöllerTech engineers are working to bring new products, methods and materials into production to improve working processes and overcome new challenges. In fact, over recent years the company has registered over 250 patents to facilitate this and solidify its competitive position in the market.
Continuous improvement exists as the guiding principle within all of MöllerTech's design and manufacturing facilities, with Kaizen acting as its core philosophy. By regularly questioning its own working methods and rediscovering new ways of operating all the time, the company has been able to develop its own version of Kaizen called TotalSyncro, whereby all business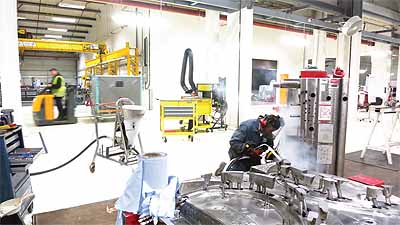 departments within the firm are open to this optimisation process.
Indeed, a closer look at the company's manufacturing plant in Wales shows this process of continuous improvement in action. MöllerTech Ltd in the UK is currently busy implementing a new Kaizen Roadmap, which has involved big changes within the facility that has increased overall efficiency by 40 per cent. During February 2016 it also began work on a new TotalSyncro 48 initiative, which will see the combination of three assembly halls compress into one, reduce inventory levels across the plant, and increase productivity in order to achieve a time of order to time of delivery of less than 48 hours.
The success of the kaizen activities within MöllerTech Wales has resulted in several awards received in the last two years, such as the 2014 & 2015 EEF business efficiency regional award winner, where MöllerTech went on and was awarded national winner for business efficiency in 2014 and national runner up in 2015, and in 2016 the plant has been nominated for a European Lean Award within the automotive industry where the final result will be known in November 2016.
The values that drive MöllerTech's ongoing success are clear to see. It is an unwavering commitment and passion to overcome the biggest challenges its customers from across the world's automotive industry can pose. No job seems to be too big or complicated to take on, and an ability to develop innovative formulations, solutions or manufacturing processes seems to be commonplace during a day's work for its engineers and technicians. Undoubtedly, as car manufacturers continue to search for new solutions and concepts to deliver quality, reliable, cost effective and desirable products to consumers around the world, MöllerTech looks set to remain central to the sector for years to come.
MöllerTech Ltd
Products: Specialise in the development and production of plastic parts for the automotive industry