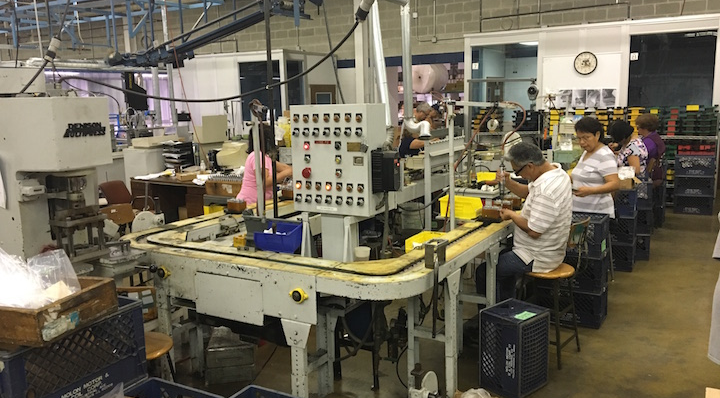 For more than 60 years, Molon Motor & Coil Corp. has been providing engineered solutions for power transmission applications in many industries. Founded by Earle F. Moloney, the company is one of the nation's premier privately held manufacturers of custom-designed fractional horsepower motors and gearmotors.
Molon's legacy stretches back beyond the creation of the company. The Moloney family name had been a leading force in American manufacturing since Raymond T. Moloney founded Bally Manufacturing Corporation in 1931. It became the world's largest manufacturer of gaming equipment and created the first electronic slot machine.
Another Moloney creation, Bally Vending, developed the first freshly brewed coffee from a vending machine, and Moloney's Lion Manufacturing produced the first remote-controlled television. In the 1950s, E. F. Moloney Sr. and R. T. Moloney Sr. oversaw the development of components such as relays, solenoids, switches and transformers. Additionally, the Apollo space program of the 1960s used the Moloney family's Comar Electric Company's electrical components to great success.
Then, Earle F. Moloney founded Moloney Coachbuilders in 1968 and pioneered the long wheel-based limousine industry. Moloney was the first to crash test a Cadillac limousine to illustrate the safety of the company's manufacturing methods. An offshoot of Moloney Coachbuilders, Moloney Armor Corp. developed high ballistic standards for armored security vehicles, including serving seven U.S. presidents.
"Molon's history dates back through the Moloney name, and our position has always been that quality is our future," Vice President Bill Kennedy says. "That is an ongoing theme. All of the Moloney heritage in manufacturing has led to Molon, and a large commitment to quality has been there all the way through the company's history."
Present Success
Today, Molon – which is owned and operated by Chairman and President Earle F. Moloney – specializes in custom engineered AC and DC gearmotors for medium- to high-volume applications. It can also service customers with low quantity or short lead-time requirements with its line of standard products. Molon's custom products are sold to OEMs globally through a network of sales representatives, while its standard products are available throughout North America via a network of stocking distributors.
Molon's products are used in applications such as vending machines, commercial restaurant equipment, medical equipment, appliances, valves, pumps, fitness equipment and office products. Its motors are designed for use on a diverse array of gearboxes to meet a wide range of customer requirements.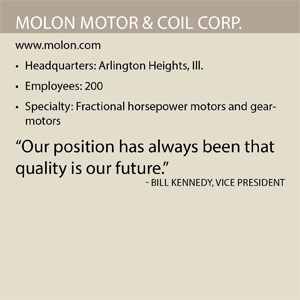 "Our customers have to be able to trust their vendors, and it takes time to build that trust," Kennedy says. "We earn that trust through the service we provide. The ability to make engineering refinements is key for the OEMs, so we need to be responsive to meet their needs. Once you have that trust, you can grow your business together. Relationships are kept through performance."
As an example, Kennedy cites the food and beverage industry, which he says is like any industry because there is much diversity in the market and relationships matter. When Molon provides a customer in that industry with a motor, pump or other component, they need to be able to count on it to work.
"Our product is judged by what happens beyond the manufacturing process. The customer has an end-user they have to serve, and that motor has to work for the customer so they can sell their products to their customers," Kennedy says. "We have to make sure we are giving them the best quality so they can serve their customer and provide them with quality. It is like a chain reaction, and a lot of our success stems from growing business together."
Continuing Quality
Innovation has always driven Molon's development. The company looks forward to developing custom-engineered designs for customers at its design, engineering, fabrication and final assembly facilities, located in two facilities in the Chicago area. Molon regularly invests in improvements to its plants and production processes, which have allowed it to build vertically integrated manufacturing capabilities that can provide customers with reduced product costs and considerable reductions in lead times.
"Automation has been a big investment area for us, and we think it has given us a competitive edge and helps us take marketshare from offshore manufacturers," Kennedy says. "Much of our production is automated, and that helps us develop and test products and live up to our UL and ISO certification requirements. Customers work closely with us and we learn about their needs so we can understand how best to help them as a valued supplier. Listening to customers and learning from them helps inform our decisions, such as having a secondary backup line to ensure continued production for the customer."
Relationships with suppliers are also important for Molon. Kennedy says Molon has personnel overseeing vendor supplier relationships, noting that the company has a robust vendor-selection process that includes vendor audits.
"They have to meet qualifications for us just like we do for our customers," Kennedy says. "They visit us, and we visit them. We assess them, we develop supplier profiles, and there are many steps they have to go through. With purchasing and procurement, we have processes that let suppliers know what we need, and we track performance. When we have selected our vendors, we focus on building good relationships and constantly assessing performance."
As the company progresses into the future, it can point to a long history of technical innovation and responsiveness to customer needs. Molon has been recognized domestically and internationally for its innovative approach to motor design, on-time performance and high quality standards. In the years to come, Molon plans to continue to demonstrate its commitment to providing products and services that can enhance the success of its customers.
"You never know what is around the corner, so we try to grow naturally and not try to be everything to everyone," Kennedy says. "We are not focused on selling products at the lowest price. Quality is what is most important. There are many challenges facing us, such as offshore manufacturing with lower labor costs and pricing. But we believe in the American-made concept and putting quality and relationships first. In addition to putting more into the products we make, we put even more behind them such as the Moloney heritage, reputation and the Molon name."