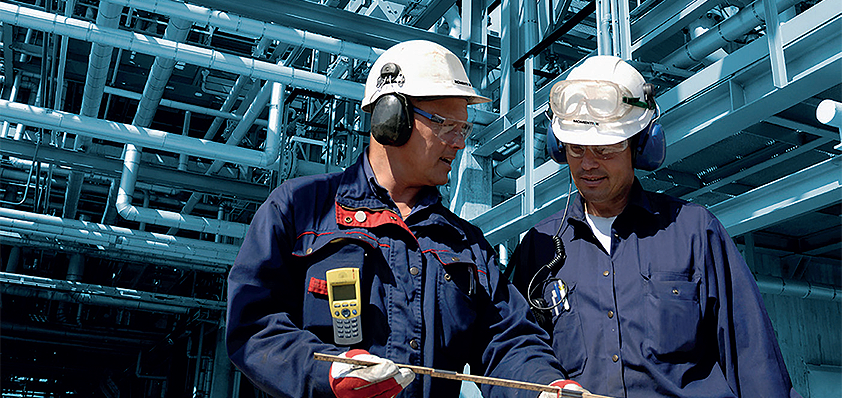 Momentive Performance Materials
Solutions for a sustainable world
Momentive Performance Materials (Momentive) produces and supplies high-performance silicones and specialties solutions to essential industries, including agriculture, automotive, aerospace, electronics, personal care, consumer products, building and construction, as well as those producing medical devices, health care applications, and life-saving equipment
Provider of silicones and advanced materials 2020 will go down as the year where manufacturers faced unheard of challenges, and the world was changed forever. Responding to the outbreak of Covid-19 required company leaders to utilize their experience and encourage and inspire staff to go above and beyond on a daily basis. This was a test for all manufacturing professionals, but maybe one more than most – Sam Conzone, who took on his new role as President & CEO of Momentive Performance Materials, Inc., in April 2020, just as true scale and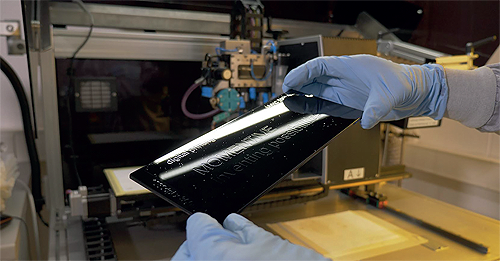 potential devastation of coronavirus really started coming to the fore. Drawing on his previous 12 years with the company in a variety of roles, as well as his various former positions delivering both growth and sustainable innovation, Sam and his team have worked tirelessly throughout this crisis to keep Momentive's employees around the world safe and its operations running. It was a privilege for Manufacturing Today to speak to Sam about the business not only creating products people interact with every day, but fin ing solutions to create them more sustainably.
"Headquartered in Waterford, located in upstate New York, Momentive is one of the world's largest producers of silicones and silicone derivatives," Sam began. "We are a multibillion-dollar advanced materials company that produces high-performance silicone and specialties products that play a role in improving quality of life from the time you wake up in the morning until the time you go to bed at night."
From dusk to dawn
With 80-plus years of experience in research, development, and production of silicone materials, Momentive has a legacy of developing the first-ever commercial silicone processes and products.
"Our vast product portfolio is composed of many advanced silicone solutions, allowing us to serve many industries including automotive, aerospace, electronics, personal care, consumer products, building and construction, as well as specialized industries such as specialty fluids, silanes, and additives."
It is clear from Sam's words that the activities of Momentive span an incredible range of areas and touch the lives of millions of people across the world.
"You would be hard pressed not to have an interaction with our products on any given day," he said. "For example, in your home, our electronic materials enable the mobile device that rings your smart phone's alarm in the morning. We provide personal care additives that enable silky smooth hair when you take a shower and the advanced skin care products that help you to confidently start your day. Our specialty silicones enable the disposable contact lens that you put into your eyes, and we continue to develop additives for contact lenses that enhance comfort and wearability.
"In addition, we enable the intricate and high-speed labeling of packages that you receive from shopping online through our release coating products. Our agricultural additives enable farmers to more efficiently produce the food that finds its way to your table for breakfast, lunch, and dinner. When you are done with your day and go to bed you can be about 50 per cent certain that the comfortable foam mattress you sleep upon and the rigid foam insulation that keeps your home warm in the winter were both enabled by Momentive polyurethane additive technologies.
"In the cars we drive, Momentive has hundreds of products that enable sustainable automotive/e- mobility, that enable automotive light-weighting, range enhancement, and electronic functionality all while enhancing the visual driving experience.
"Our products enhance the brightness and beauty of navigation screens through optical bonding," he continued. "We help reduce the weight of vehicles as our hardcoatings enable plastic to replace glass in various exterior applications, and our NXT™ tire additives allow enhanced fuel efficiency by reducing rolling resistance."
In 2020, Momentive's products became critical in the fight against Covid-19. The company's elastomeric products are used in testing kits, vials, and ventilators, and are integral enablers of the biopharmaceutical equipment used to invent and produce vaccines Adding to that, Momentive's products are literally being used out of this world. Recently, it launched high temperature adhesive and sealants that are enabling the next frontier of space travel. With each product, the company is delivering on its commitment to create a more sustainable future.
"We facilitate some of the most sophisticated and energy efficient buildings in the world through our broad offering of construction sealants and coatings – for example, we sell water resistant, silicone roof-coatings that sustainably allow roof repair versus replacement," said Sam. "This eliminates thousands of tons of unnecessary waste landfill additions each year."
Culture of meaningful growth and innovation
This vastly wide-ranging scope of products and applications takes significant resources to create and maintain, and as Sam pointed out, the company never stands still – continuous improvement is at the heart of what it does.
"We are technology and innovation focused, with 3,400 patents serving high-growth applications. We are constantly innovating," he said. "So, for example, we recently launched world class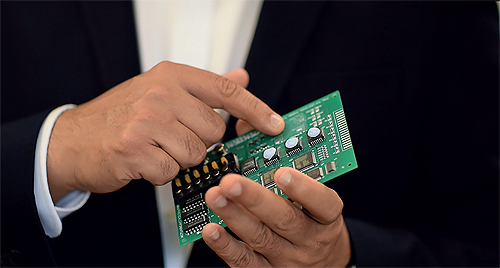 thermal interface materials that are extremely efficient at extracting heat from electronics. These products enable 5G telecommunications substations to bring us faster communications."
Momentive has set aside $40 million of investment to focus on electronic materials growth, and as Sam revealed, this involves new assets at its Waterford, NY, USA; Ohta, Japan; Nantong, China; and Seoul, Korea production sites. "These new assets will allow us to expand our production and supply of products for advanced electronics, e-mobility, 5G/Telecommunications, and advanced aerospace applications," he said. "We are in the engineering phase at Waterford now and expect project completion by the end of 2022."
These sites all form part of the Momentive network, which includes more than 40 locations in 20+ countries around the world, serving a diverse customer base of more than 4000 customers in more than 100 countries. Sam and his team are always evaluating opportunities for profitable growth. This is reflected in the company's recent acquisition of KCC Corporation's silicones business. The acquisition increased sales by more than ten percent and roughly tripled the business' overall sales exposure to Korea.
"Korea is a hub for innovation especially related to electronics and automotive applications," said Sam. "We see significant growth synergies and are already working on a multitude of product development opportunities with some of the biggest Korean-based international companies."
Leading with sustainability and inclusion
Momentive's 40-plus locations around the world span from urban to suburban to rural. Nevertheless, the company has strong relationships with the diverse local communities surrounding each. As a result of its active corporate responsibility programs, Momentive is continually evolving partnership and projects to support those who could use extra support.
"It's a core part of our culture to give back and be involved and we are proud of the local efforts we are able to support," Sam commented. "Last year, most of our activities were Covid-19 focused. We provided PPE, masks, and meal donations to our front-line workers in our communities. However, throughout our footprint, we support our communities through blood drives, food drives and many other charitable initiatives. When natural disasters hit, we support our communities with donations."
Momentive also plays a role in cleaning its local communities through recycling programs and clean up days; participating in Junior Achievement programs in local school districts; and coordinating activities to support local non-profits. "I am personally looking forward to being a mentor in the upcoming Junior Achievement Titan program where high school students compete as CEOs," said Sam."
"In our Itatiba, Brazil, location our team does an incredible amount of outreach working on recycling, and last year, sponsored an orphanage painting initiative," said Sam. "In Waterford, our Engage committee hosts dozens of activities including a Revolutionary Run, Polar Plunge and cleaning up and repairing a local baseball field."
In fact, the concept of 'cultural impact' is one of Momentive's strategic pillars, and forms part of its mission and Environmental, Social, and Governance (ESG) methodology.
"In 2020, we launched Vision 2025, which is the strategic plan that will drive our progress over the next five years," Sam said. "We strive to become a stronger and more successful global silicone and specialties company by creating Solutions for a Sustainable World starting with Our People and Enabling Our Customers through our three strategic pillars of CULTURAL IMPACT, OPERATIONAL EXCELLENCE and PROFITABLE GROWTH."
To fulfill this mission, Momentive has established aggressive ESG goals that include increasing its gender diversity and innovating products that solve customers' sustainability challenges, and reducing its impact through operational excellence at both its sites and throughout its supply chain.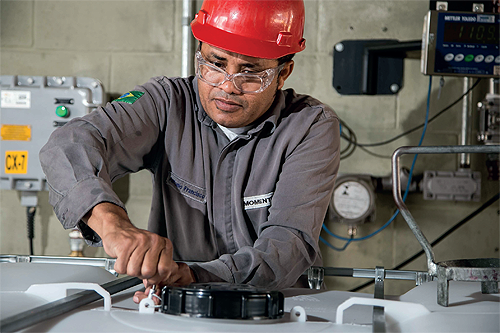 "By 2025, we aim to increase our gender diversity 50 per cent, and see 75 per cent of new product sales deliver sustainability improvements," said Sam. "Our goals for reducing impact through Operational Excellence include reducing greenhouse gas, energy, and waste by 25 per cent; focusing on obtaining 50 per cent of our electricity from renewable sources; and reducing our water consumption by ten per cent. Finally, we are aiming to achieve a Platinum EcoVadis supply chain score by 2025. This industry-trusted standard, awarded to the top one per cent of global companies, demonstrates the authentic, lasting impact of our commitments as a global citizen and business partner."
This latter point brought Sam onto the topic of supply chains, and the importance of forming collaborative, supportive partnerships with clients and supply chain partners.
"Our pipeline of growth is achieved by what we call 'Earned Growth'," he explained. "This is all about collaborating with our customers to enable solutions that improve the lives of people around the world. Pick any application I described at the beginning of this interview and any one of those started with customer intimacy and the desire to enable a better end product, such as a more comfortable contact lens or a more fuel-efficient vehicle.
"Our researchers and application development engineers work closely with our customers and their customers to ensure our new products have the technical attributes that enable success. We do this with speed, customer intimacy and the excitement in knowing that what we do with our customers can have a positive impact on society."
The Future: An empowered team creating a sustainable world
The synchronicity required to maintain these symbiotic relationships is heavily reliant on the skills and efforts of the Momentive team, and Sam agreed that without its people, the business would be 'nothing'.
"For us, our strategy starts with our people and flows through our three strategic pillars," he stated. "We are intensely focused on developing talent and reinforcing behaviors that are linked to our core values of innovation, safety and sustainability, customer centricity and integrity."
Naturally, this people-first approach became even more prominent during the Covid-19 pandemic, and Sam emphasized that Momentive takes its responsibility to keep its people as safe as possible very seriously.
"We have been aggressive in our actions to keep our people and operations from being impacted by the virus," he said. "We are an essential business that provides critical materials for components that enable a wide range of medical devices, health care applications, and life-saving equipment used to fight and treat this pandemic.
"All sites are fully operational and have activated crisis response teams, which are prepared to address multiple scenarios. We have succeeded so far, with almost no operational interruptions, we have minimized the number of positive cases internally through social distancing and education and we contributed to our communities by donating 100,000's of pieces of PPE. Some of these donations were made during the early days of the pandemic when masks were scarce.
"We, as everyone else, continue to monitor developments regarding the Covid-19 coronavirus outbreak and vaccine distribution. Our main goal continues to be ensuring the safety of our employees and suppliers while minimizing the impact of the virus on our customers."
With 12 months at the helm of Momentive under his belt, and the vaccination program giving hope for the world, Sam is looking forward to the year in front of him. Momentive has a pedigree of more than eight decades of experience in its industry from which it can continue to grow, and bolstered by its new Vision 2025 strategy, the business is in a strong position to continue creating its vast range of innovative solutions for a sustainable world.
Momentive Performance Materials
Services: One of the world's largest producers of silicones and silicone derivatives
www.momentive.com