Masters of their kraft
Embedded across the entire packaging and paper value chain, and with sustainability at the heart of everything it does, Mondi has earned its leading position as a manufacturer of industrial and consumer packaging solutions
With revenues of 7.10 billion euros and underlying EBITDA of 1.48 billion euros in 2017, it is clear for all to see why Mondi is a global leader in packaging and paper. Employing some 26,000 people across more than 30 countries, it is responsible for offering over 100 innovative and sustainable packaging and paper products that can be customised into more than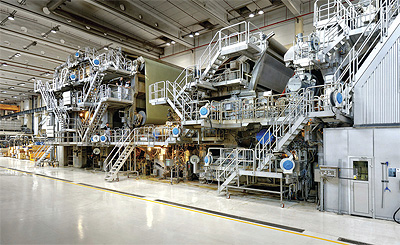 100,000 solutions. Fully integrated across the entire value chain, Mondi's reach and expertise extends from the management of forests and the producing of pulp, paper and plastics films, to the development of effective packaging innovations.
"The fibre packaging and paper world of Mondi encompasses a number of key areas, among these being speciality and sack kraft paper, and containerboard," begins Markus Gärtner, Mondi's CEO of Fibre Packaging/ Paper. "In the case of the former, Mondi is the leading global manufacturer of kraft paper, with our speciality products capable of meeting all manner of requirements, from industrial applications to retail shopping bags, while our sack kraft paper portfolio includes brown, white and PE-coated paper grades for valve and open mouth industrial bags. Meanwhile, we are among the top international suppliers of virgin and recycled containerboard, and within this category, we also supply tailored corrugated box solutions." Mondi's end customers include the likes of global building materials business LafargeHolcim, high street retailers such as Benetton, and e-tailers such as Amazon.
When it comes to the strengths that have defined Mondi and its success over the years, Markus is keen to highlight several that he believes have been key. "I believe that our presence throughout the entire value chain is absolutely indispensable to the business, as it gives us things like ease of access to wood supplies, while Mondi's powerful procurement network across the continent provides us with a route to the leading sources of fibre material," he details. "Secondly, the operational efficiency of the business is a major strength, with Mondi operating in the lowest cost quartiles of the industry's cost curve, and thus driving its high profitability margins. Last, and by no means least, we have our R&D capabilities, the importance of which cannot be overstated."
Turning the conversation swiftly to said R&D activities, Markus splits these into two broad categories – product development and process development – the successful mix of both allowing for Mondi to remain at the forefront of efficient paper making by introducing technological advances into its processes. "Beginning with the product development aspect," he explains, "we have dedicated labs across all areas of our business, each of which is supported by technical customer service teams that form the link between our scientists and our customers. They assist in translating the specific application needs of the customer into the technical specifications that allow our scientists to create new grades of paper that fulfil certain requirements.
"Then, from a process development perspective, our labs also help to develop technologies that make the task of manufacturing fibre packaging and paper products more efficient, without compromising on quality. For example, one innovation that our people have created involves the injecting of water at very high speeds in the early stages of the paper making process between the different fibre layers that form a single sheet. This helps to increase the strength of the paper, thereby producing products that require less fibre content but retain the same properties that our customers demand."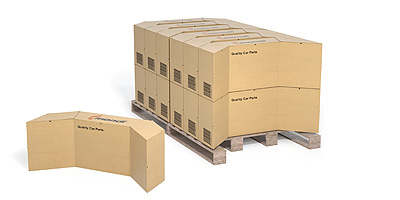 The partnerships formed between Mondi and its customers have resulted in countless, tailor-made solutions being developed throughout the years. For example, Mondi has worked closely with several European car manufacturers to create bespoke and award-winning packaging solutions for car parts. This has helped streamline logistics and reduce waste. "Together with said customers, we begin by gaining a detailed understanding of what the end application of the kraft paper or containerboard will be," Markus continues. "This will determine a range of variables such as whether the product needs to be water resistant, its printability properties, its rigidity, and its sustainability properties.
"To give you an example, major retail chains are very much in the spotlight today as the demand for sustainable solutions for product packaging continues to increase. As a result, a number of major international players have approached us in recent years to manufacture for them a credible, sustainable alternative to plastic bags in the form of a paper bag made with a high degree of recyclable content. At the same time, these bags needed to be capable of supporting images, graphics and high-quality logos. Thanks to the efforts of our people we are able to satisfy such requests, making Mondi the largest provider of paper for retail bags in Europe today."
With such market-leading products also comes industry accolades and attention, which were there in abundance in December 2018, when Mondi was recognised with an unprecedented eight awards at the WorldStar Packaging Awards. The competition acknowledges the best ideas, innovations and technologies in the market, with the judges looking for sustainable solutions to packaging challenges, demonstration of enhanced user convenience and reduced material waste. All of the winning products possess robust sustainability credentials, including the BarrierPack Recyclable – a 100 per cent recyclable, flexible plastic laminate pouch, which is now being used by a major British supermarket for its own-label washing detergent. Meanwhile, other products, such as the Glass7Box reduce waste through the creation of a universal packaging solution that can accommodate different products, in this case seven different types of wine glass.
The phrase 'sustainability' comes up frequently when discussing Mondi's activities, with it touching all aspects of the business. "Sustainability for Mondi really begins with the raw materials that we begin the whole paper making process with," Markus states. "We focus on sourcing as much FSC™ or PEFC™ certified wood to use as possible, and we are committed to not harvesting more trees than those that can grow in their place.
"Another big area where sustainability is vital is in our use of energy. In recent times, we have made a number of important investments in our plants and infrastructure to become ever-more energy efficient, central to which has been the adoption of best in class recovery boiler technology. With these boilers, we use the by-products of the pulping process to re-generate process chemicals and simultaneously generate power. This has resulted in some of our plants becoming completely energy self-sufficient, with some even providing energy to the local power grid. This is all the more striking when you consider the size of our operations at some of these large plants."
Coming off the back of a successful 2018, the focus going forward for Mondi's operations revolves around three main themes – safety, operational efficiency and commercial agility. "The number one focus for us will always be the health and safety of our employees," Markus says. "From there, although we already believe that we excel when it comes to operational efficiency, we also know that there is more that we can achieve. Having fully embraced Lean Manufacturing, we are confident that the next phase of manufacturing excellence will come in the form of digital transformation and the use of Big Data, which is why we have launched a strategy here at Mondi to embrace this in order to further improve our efficiencies in the future. Thirdly, we will continue to remain agile in responding to the changes and macro-economic uncertainties being felt across the industry, as doing so quickly is more important than ever if you are to stay ahead of the competition."
Despite said uncertainty, Markus is confident that there is a wealth of opportunity out there for Mondi, with various factors starting to align that he feels will initiate further growth in the markets that the company serves. "Sustainability will only increase in importance in the years ahead, and that will drive the use of EcoSolutions over non-sustainable alternatives. At the same, e-commerce continues to play an important part in the growing demand for products such as our corrugated box solutions," he highlights. "These two elements alone make this an exciting time for Mondi and its Fibre Packaging operations."
Mondi Group
Products: Innovative and sustainable packaging and paper solutions