Carrying the load
Montracon is the leading manufacturer of commercial vehicle trailers in the UK with the widest range of trailers and semi-trailers in Europe
In 1977, a niche trailer production company began operating from Belfast. Initially producing tandem axle flat platforms, skeletals and box vans it would go on to become Montracon, one of the leading manufacturers of commercial vehicle trailers in the UK and home to one of the largest product portfolio of any European trailer manufacturer. Marketing Manager Dean Ridgill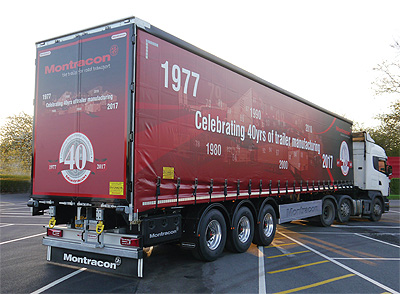 has clear views on how the company managed to achieve this: "Over the years we have developed from humble beginnings through strategic acquisitions and innovation, developing a wide range of products in both the ambient and refrigerated sectors. We manufacture trailers made to order in fully equipped factories in Doncaster, Market Weighton and Newtownabbey, Northern Ireland," he explains.
The three main locations are crucial for the operation in different ways, Doncaster is the head office, which specialises in curtainsider and box van trailer manufacture and all variants, along with refrigerated trailer chassis construction. On top of this, the base also offers support functions such as the sales and marketing division, purchasing, material control, parts and supply in addition to its production capacity.
Manufactured in a purpose-built plant at Market Weighton, Montracon refrigerated trailers and cold stores have forged a fine reputation for strength and durability. To ensure build strength and reliability, all of Montracon's refrigerated panels are custom-built on site. In its Irish base in Newtonabbey, Montracon creates bespoke and supersize non-bodied ambient trailers up to 15.6 metres in length. It is here that the steel frames are cut to customer specifications by skilled operatives using state-of-the-art plasma cutters.
Peter Wright, Production Engineering Manager, is keen to emphasise that there is a uniformity across the three bases: "Doncaster adopts the same manufacturing principles as that of its sister location in Ireland," he insists. In addition to this the company has also got a purpose-built repair centre near York. This is designed to cope with superficial damage, major repairs, full second life refurbishment for vehicles and it also liaises with insurance companies and assessors. Services on offer at this location also include paintwork retouches, comprehensive livery service and body refurbishment.
The Doncaster site received an additional boost with a £4.2m investment in a semi-automated shot blast and paint facility alongside upgraded production processes with a view to doubling output by 2018: "This will allow for improved production efficiency, steady growth, reduced environmental impact as well as resulting in a better standard of health and safety for our workforce," he details. While this investment in new technology is encouraging, Peter also believes credit is due to the people behind the machines, whose 40 years' worth of experience have been vital: "Our production excellence has always been founded on solid engineering principles, with quality, reliability and longevity being the company's underlying values."
A wide range is one of the biggest advantages that Montracon can offer, although Dean is quick to point out that the breadth of options is not the only reason that clients come back: "A nominal 3500 trailers a year can be quickly 'flexed' to suit market demand and model mix. We can offer variants including curtainsiders, flat/platforms, skeletals, box vans and refrigerated trailers. Laterally the range has broadened to include steel and aluminium bodied tippers, and three and four axle machinery carriers," he elaborates.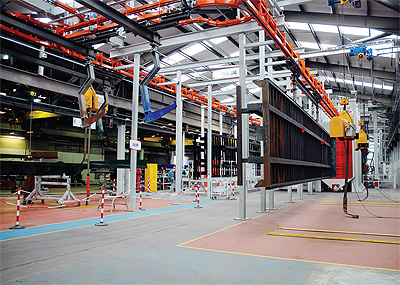 The company supplies everyone from major high street brands, supermarket chains, large-scale logistic operations as well as owner operated fleets and self-owned vehicles: "New sales remain buoyant with supermarkets looking to replenish their fleets through 2018. In 2017, we introduced the MT45 machinery carrier semi-trailer, designed to shift everything from access platforms up to excavators, quarry loaders and other heavy equipment. Introducing this new model has seen our market share in this sector increase to 11 per cent, doubling our figures from 2015," Dean happily confirms. Another recent area for growth for the company was in the rigid market. While previously most of the rigid bodies that it produced were refrigerated bodies it has now introduced a fully galvanised bolt together curtainsider and dry freight box: "We have built over 200 in the last 12 months at 18 and 26 tonne Gross Vehicle Weight (GVW) and will be introducing a 12 tonne GVW curtainsider range soon," he states.
This is encouraging news as the company celebrates its 40th anniversary: "With the new investment in Doncaster we will continue to increase our production capabilities. Our aim is to ramp up sales in 2018, targeting a 30 per cent increase on this year," he predicts. While an increase in the amount sold is encouragement for the sales reports, Dean believes that there are also wider benefits for the industry: "We are conscious of lead time within the industry and are eager to bring it down. Going forward if we can maintain an eight-week rolling lead time then more businesses will come," he believes. Dean is very clear about how the organisation will move forward: "The industry wants our products and we have to make sure that the capacity is there to deliver. Montracon has a reputation for building a product that lasts, longevity has always been a major factor when choosing us."
It would appear that its clients agree with Dean's views, with Sumo UK praising its customer service approach: "Instead of the sharp intake of breath and shaking of the head we received when outlining requirements in some quarters, Montracon sat down and worked with us," they gushed. Dean definitely has faith in the service that the company provides, with recent results backing up that belief. If all goes to plan and it targets are met as he predicts, then the company will continue to carry the needs of its clients for some time to come.
Montracon
Product: UK based trailer producers