Back with a bang
Moores Furniture Group is full speed ahead to regain its stature as one of Britain's top kitchen furniture manufacturers, following a management buyout in 2017
A Renaissance spirit has made itself at home at Moores Furniture Group in the last four years. The eminent kitchen manufacturer has traditionally been recognised as a business that possesses an endless capacity for stirring the market with new products, chiefly thanks to the fruitful relationships with its suppliers it is known for establishing. After a couple of challenging
years following the 2007-08 economic recession, it was decided that a change had to be brought about and it fell squarely on the new CEO's shoulders to devise a viable action plan that would restore Moores to its former glory.
When he joined the business in April 2015, Steve Parkin not only took to rebuilding the company's relationships with its supply partners, but he also shifted the organisation's priorities. He emphasised the need to create products of a much higher quality and target the higher end of the private sector, all the while establishing robust installation support and customer service structures.
"Back in the day, the business was primarily involved in the public sector, which it was supplying with a cheaper type of kitchens. When I came in, I quickly realised that we had to establish a stronger presence in the private sector and get more involved in the construction and retail markets," Steve remembers. "This change of direction, as well as the heavy investments we have made in expanding our customer service and installation capabilities, are the foundations on which we have built our success ever since."
It did not take long before Moores turned the corner. The last two years were marked by considerable year-on-year growth – in 2018, the company's turnover went up 25 per cent, while last year, it rose by another 33 per cent, reaching the £70m mark. In the meantime, the business underwent a management buyout led by Steve himself and financially backed by Hilco Capital. "Had it not been for Hilco, we would not be where we are today. We are incredibly proud of our investor and extremely grateful for the support that we get," he remarks.
With the opening up of the retail sector for Moores, the company managed to secure a partnership with Homebase and now its kitchens are being sold across the retailer's chain of stores. In addition, the rejuvenated relationships with its supply partners have made it possible for the business to regain its positions with regards to product development. Consequently, Moores launched its Roux Kitchens range in conjunction with the popular British chef, Michel Roux Jr. at the start of 2019.
"The Roux Branded range falls into our highest-class category, ahead of the Affinity and Definitive ranges," Steve points out. "It has got all the best internals, finishes, accessories and surfaces that we could find in the market, and really offers something different to customers, in terms of design. We have incorporated several smart and original components into the range, which have given the kitchen a much different look from what you would standardly get. For instance, we have paid attention to how hinges operate, utilising soft-close hinges. The same applies for the effect we wanted to create with our drawer boxes where we aimed to maximise space availability via innovative internal solutions.
"It is hard to define individual major innovation in kitchen designs, but it is ultimately the compilation of many incremental improvements which can create the next generation of kitchens," he continues. "Efficient space utilisation, as well as the use of lighting are incredibly important for the end user. It is one of their principal requirements to have their storage space maximised, because, whether you like it or not, houses tend to be getting smaller and not bigger. Furthermore, the kitchen is one of the few areas in a home where, if you want to refresh it, you can completely wash away the old style and bring in a contemporary look and feel that is warm and exciting, and delivered via textures, colours, and, indeed, lighting."
When discussing the types of requirements that house builders and retailers have, on the other hand, Steve singles out the demand for consistency in product quality and easy, efficient fitting. "Getting things right first time is paramount. To us, a product is not just the physical elements of a kitchen. Design, delivery and installation are other key elements of the product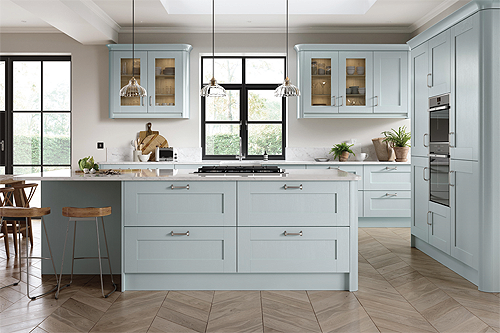 proposition. This is why we have made investments in our customer service capabilities."
Making Moores' kitchens perfectly every time and maintaining the high level of craftsmanship takes pride and expertise, two of the company's values. Moores has made sure that it employs the most skilled professionals. As the kitchens are largely handmade, the company tries to recruit the best in the industry, while also benefitting from the experience of many team members some of whom have spent decades in their respective roles.
"We also do a lot of training, taking our people through different skill levels and helping them to progress in their career," Steve explains. "What is more, we like to take on apprentices whenever possible, to train and develop them, so we can guarantee the future of the company. Then, overseeing the work of our staff, are our quality control teams. We have a very detailed quality assurance programme and do a lot of testing of different aspects of the manufacturing process where we abide by various industry standards to ensure that we achieve the quality product finishes we aim for at all times."
Alongside developing its people, Moores is also committed to continually investing in its factory. A few years back, the business introduced a new spraying technology to its manufacturing unit and, later this January, a £500,000 investment in its sawing capabilities will be completed. Further on in 2020, a new truck fleet and a new boiler are also expected to be brought in, for the sum of £3m each.
"It is a thrilling journey we have been on since 2015 and the TRI Turnaround of the Year award we won in 2019 is a testament to the resurgence we are experiencing," Steve states before briefly sketching out Moores' ideas for the years ahead. "Ultimately, we want to continue with our market share recovery. The growth in the past two years has been phenomenal and by focusing on two key areas – new build and our partnership with Homebase in retail – we believe, we will continue to post strong results. In the meantime, we want to constantly evolve our proposition and get better all the time with our products and the customer service we offer. If we carry on in the same spirit, I can definitely see us become a £100m business within the next three years."
Moores Furniture Group
Products: Kitchen furniture manufacturing