A can-do attitude
Innovative design and a tireless approach to development are the hallmarks of Moravia Cans; a manufacturer of sustainable aerosol cans for some of the world's biggest brands
The long and storied history of Moravia Cans began in 1962 when the company was established in former Czechoslovakia as a manufacturer of tubes and aluminium aerosols. Moravia's journey towards becoming a market leader, however, did not truly commence until the early 1990s, when the business was privatised and started development as a supplier to the wider European market. Having moved to focus solely on the production of monobloc aluminium aerosols, Moravia now produces cans for most of the world's best-known organisations, including Unilever, Procter & Gamble, and Henkel.
"The development of the company has been an interesting story," Managing Director Martin Boaler states. "The first years post-acquisition were about consolidation, but, over the last 20 years, we've invested well over 120 million euros in the expansion of the business and its technical capabilities. We've expanded from two production lines to ten production lines and, built our sales progressively so we are now approaching 100 million euros. Unusually, for a supplier from a low-cost manufacturing base, in that time we have also become the acknowledged technology leader and product leader in our market segment."
In many ways, Moravia has revolutionised the design of modern aerosol cans. Martin suggests that concepts such as Deep Full Body Shaping and patented 360° Embossing have added to high quality printing to allow the production of customisable cans and a wider variety of brand and product design options. "We now have the ability to create a larger range of products, with much greater differentiation in shape and printing. This enables much clearer brand recognition around the package itself and very effectively combats counterfeiting."
As Martin alludes to, research and development has played a defining role in Moravia's success over the years. It is a large part of what has enabled the company to transform itself from a small, localised, business, with limited international presence, into a globally recognised organisation at the forefront of pioneering technology development.
"We've always focused on pushing the market forward," Martin asserts. "We've developed and brought to market most of the industry firsts in aluminium aerosols and we maintain most of the leading product positions. We understand what we do and what we can offer versus our competition. We've got where we are by a relentless focus on finding ways to add value to the customer's proposition and we will continue to do that. I think the secret to the company's success is this kind of clear-sighted sustainable development. It's in our DNA."
An example of this way of thinking is the company's continuing move to ever lighter weight products, manufactured by the existing impact extrusion process, but further enabled by patented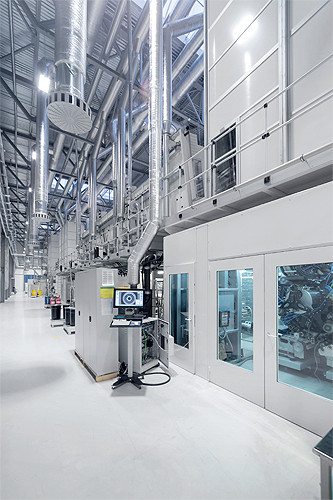 alloys and production technology. Moravia's sustainability focus is now further supplemented by the use of the Draw and Wall Iron process (DWI). "Impact extrusion begins with a disk shaped slug of aluminium, and there are limitations to how much lightweighting can be achieved from this base," Martin explains. "DWI on the other hand, is the process by which all beverage cans are produced and starts with a much thinner coil of aluminium. The detail of the production process is different, but it enables the use of a higher quantity of recycled material and it also allows us to take more aluminium out of the product, while maintaining the structural integrity."
The lightweighting advantages afforded by Moravia's alloy developments and new manufacturing processes will not only benefit the customer financially but are another key development in the organisation's relationship with the growing sustainability agenda. "We have always had a focus on sustainability," Martin declares. "The less material you use, the less energy you require to produce your products, and that energy saving increases with recycling. Lightweighting and recycling have always been part of our product development focus. Moravia Cans' products, on an item for basis, will always be lighter than the competition, and often significantly so."
As a member of the Carbon Disclosure Project, Moravia's sustainability programme consists of a wide-encompassing range of environmental measures, from zero waste to landfill targets, to the installation of low energy heating and lighting throughout its facility. However, it is the inherent light weight and recyclability of Moravia's product that continues to drive the company's sustainability agenda.
"Aluminium, fundamentally, has a great recycling story," Martin claims. "Every tonne of aluminium that has ever been produced is still in use today. It's either being continually recycled, or it is still in place as part of more permanent construction. Aluminium is continuously recyclable, and unlike many other materials that also claim to be 'recyclable', it is 100 per cent recyclable directly back into the same product that you started with."
There's no mistaking that Moravia has always been ahead of the curve in terms of its approach towards sustainability and recycling, and as consumers become increasingly eco-conscious, the company is well prepared for the future.
"The consumer increasingly understands that there are better or worse packaging solutions," Martin says. "As far as recyclability goes, I would say that steel is not bad, and both glass, and corrugated paper are reasonably good, but aluminium is the best. And all of these materials have significant advantages over plastics, and especially over multi-layer barrier products. We have always had a key focus on sustainability, and I believe that, going forward, the fact that our products benefit from lightweight, reusable, recyclable materials and technologies will be an increasingly important differentiator for us in the market."
Moravia Cans
Products and services: Manufacturer of aluminium aerosol cans