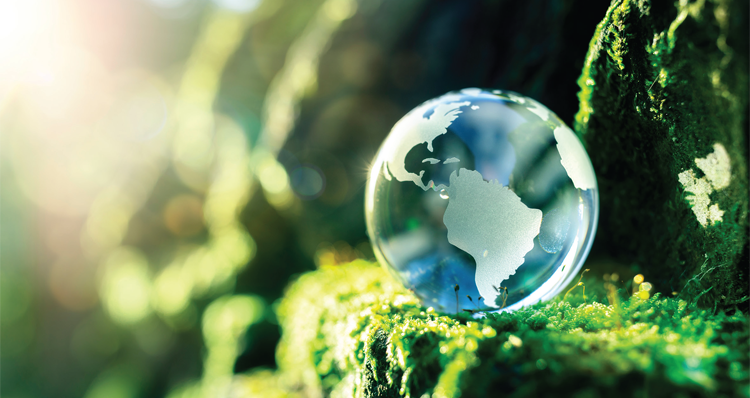 Is your enterprise committed to mitigating climate change? Are you reducing energy-intensity and pivoting to renewable sources of energy? Do you carry out carbon capture, storage and recycle materials in your factory?
Big Manufacturing is caught at the cross hairs of energy-intensive processes. Manufacturers need to be mindful of the financial and social implications as well as the potential risk of their environmental footprint. When a business recognizes its shared responsibility and accountability, it can chart a roadmap for purposeful engagement with constituents.
The industrial sector contributed to 23 percent of the energy-related CO2 emissions globally in 2019, according to the International Energy Agency. But the two other contributors i.e., transportation and power generation, are already ahead with initiatives to reduce their contribution with electric vehicles and renewable power respectively. It is a question of time before industries overtake power generation in emission, maybe transportation too one day.
According to US Energy Information Administration's outlook for 2021, , the industrial sector will overtake power generation in CO2 emission before 2030, if crude oil prices remain high this decade. Business leaders need to act fast. Toyota, for example, has advanced its target for zero-carbon factories globally by 15 years, from 2050 to 2035. The levers it plans to use are onsite power generation and new technologies for processes like painting, coating, and casting.
Define the agenda for skill development
2010 onwards, many manufacturers started to take increasingly firm steps towards sustainability. However, sustainability now transcends the green quotient to embrace an Environmental, Social and Governance (ESG) agenda. ESG covers a broad spectrum of issues that were earlier excluded from sustainability programs. Resource depletion, energy consumption, air and water pollution, and hazardous waste discharge are environmental concerns; while social issues include workplace safety, equality, diversity, and welfare of local communities.
John Elkington referred to it as the 'triple bottom line'. Enterprises need to progress beyond the traditional bottom line or their profit and include the environment and the society in their focus. Social equity is the human capital, to prepare the people for the demands of the future, both for their employability and for the industry to benefit.
Today, good corporate governance demands investment in human capital. Manufacturers should foster an inclusive and diverse workplace. In addition, they should cultivate skills for future generations by supporting STEM learning programs at schools and universities. The value of sustainable science needs to be reinforced in young minds through competitions and campaigns. In this regard, leading manufacturers, such as ThyssenKrupp, offer apprenticeships and internships in sustainability to technology and business school students. The Learning and Knowledge Development Facility has identified the following four work tasks as part of its Green Skills index: i) engineering and technical, ii) science, iii) operation management, and iv) monitoring skills.
Enterprises should convert social responsibility into an opportunity for integrating sustainability with the company ethos, business model, and operational strategy. The Ford Motor Company is an outstanding example. It uses sustainable fabrics in vehicles and recycles paint fumes into fuel at its Michigan Assembly Plant.
The impact of environmental and social responsibility goes beyond performance and regulatory compliance. A proactive approach to societal and economic challenges rewards manufacturers with consumer trust, loyalty, and long-term profitability. During the Covid-19 pandemic, the John Deere factory in Mannheim, Germany, ceased production for two weeks to improve employee safety. Among various innovative safety solutions, clips to fix face shields to caps were produced using 3D printing. John Deere published the 3D printing specifications online, for free.
Digital technology creates an integrated ecosystem, which helps manufacturers address strategic requirements across ESG parameters. Organizations can implement sustainability initiatives based on the interplay between risk, reward, cost, and net value, leveraging technologies like AI, ML, and predictive analytics. Moreover, digital solutions provide actionable insights for risk mitigation as well as active engagement of stakeholders.
Monitor risk indicators using technology
To embed sustainability into the business, manufacturers need to assess risk factors and mitigate them decisively. Digital tools are useful to establish tangible goals for a 'net zero' carbon footprint and quantify value contribution across societal issues. Notably, binding targets and long-term goals drive operational excellence and uncover business opportunities while mitigating risks at source. Reuse and recycling enabled Toyota to reduce non-regulated waste by 96 percent across its manufacturing plants in North America.
At the ground level, ESG needs to adhere to plant-specific criteria. It should address employee wellbeing, improve energy efficiency of buildings, pivot to a circular economy model for waste management, and ensure sustainable land use among suppliers. Johnson Controls International (JCI) leads by example. The company has committed to develop net zero carbon communities by leveraging technology. Customers are provided digital platforms to minimize energy consumption across their infrastructure by analyzing it in real time. At a management level, JCI's sustainability council trains suppliers to adopt best practices for environment-friendly operations.
Engage with stakeholders proactively
Collaborative effort is a prerequisite for the success of sustainability programs. No organization can do it on its own. For instance, to embed sustainability into the product lifecycle, manufacturers should ensure that suppliers of raw materials use natural resources responsibly, reduce the use of virgin plastics, sub-contractors manage waste ethically, and local communities support recycling.
Global manufacturers need to engage stakeholders across the value chain – customers, suppliers, employees, shareholders, trade associations, and partners – to realize positive outcomes from social initiatives. As a first step, they should communicate the ESG vision and the business plan with employees. Next, they should adopt comprehensive mechanisms to reskill and train employees to achieve sustainability goals. Stanley Black & Decker has created nine employee resource groups with 75+ global chapters for members to share ideas. The groups collaborate with external partners for community engagement and innovation.
An engaged workforce is more alert to potential threats and violations, be it in accounting, sales or investor relations. Scorecards can be used to encourage participation, monitor individual behavior, and reward green advocates. Besides mitigating risks, co-opting into sustainability programs maximizes awareness and transforms participants into brand ambassadors. The Nissan Motor Corporation partnered with the Urban Green Lab, a nonprofit organization, to launch a unique Environmental Education Program for schools in Tennessee, USA. A curriculum on sustainable living and waste prevention has been introduced as part of the program.
Sustainability and profitability are not mutually exclusive. Technology solutions support inclusive practices to minimize the environmental footprint and safeguard the interests of constituents. Technology helps manufacturers drive green operations as well as sustainable growth. Although, however mature the technology, humans skilled in the usage of these technologies continue to play a role in the identification of impactful use cases and in their implementation.

Jasmeet Singh
Jasmeet Singh is Executive VP and Global Head of Manufacturing at Infosys, a global leader in next-generation digital services and consulting. it enables clients in over 50 countries to navigate their digital transformation. With nearly four decades of experience in managing the systems and workings of global enterprises, it expertly steers clients through their digital journey by enabling the enterprise with an AI-powered core that helps prioritize the execution of change. It also empowers the business with agile digital at scale to deliver unprecedented levels of performance and customer delight.
www.infosys.com