Morgan Innovation & Technology
Making a positive difference
With a passion for innovation at its heart, Morgan Innovation & Technology (Morgan IAT) is ramping up its efforts to provide its clients with a complete manufacturing operation that will support the creation of the medical and commercial equipment of the future
Since 1987 – the year it was formed by Howard and Sue Clarke – Morgan Innovation & Technology (Morgan IAT) has been driven by a desire to make a positive impact upon the world by designing, developing and manufacturing innovative products for the medical and commercial industries. Providing a professional, innovative service throughout the entire lifecycle of a product, Morgan IAT utilises its 'Innovation 2 Income' ecosystem – consisting of R&D, manufacturing, commercialisation and funding – to give its clients the best chance of getting their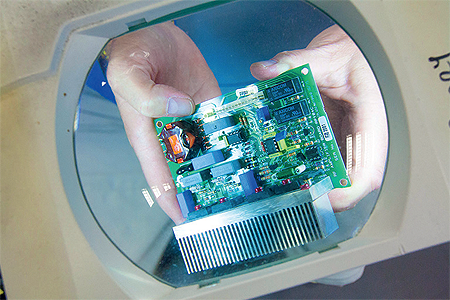 products to market.
Over the last several years, Manufacturing Today Europe has documented several key events in the company's history, including its 30th anniversary in 2017 and the launch of its MIAT Prize competition in 2018, which was established to identify and support the next generation of world changing innovators. Speaking once again with Chief Executive Officer, Nigel Clarke, at the beginning of March 2020, he is happy to discuss the efforts made by the company in 2019.
"2019 was a very good one for Morgan IAT," Nigel begins. "Among the highlights, we experienced the continuation of strong working relationships with several American companies, and the winning of what will ultimately be our largest ever development contract, which we hope to be able to speak more about at a later date. In the meantime, our export activities remain a big part of the business, with the United States remaining our biggest partner, however we are also making great strides in developing products for the UK market, which we hope will ultimately be franchised out on a global scale."
Last year was also another successful one for the MIAT Prize, with the winner being announced as Robert Paterson of the company ORB, for his Smart Mouthguard creation, designed to prevent the misdiagnosis of sporting head injuries. Also among the finalists was Peter Astbury from Astinno, who presented to the judging panel his idea for a smart bracelet, dubbed Grace, that has been designed to support women experiencing hot flushes. By tracking temperature, pre-empting when a flush is about to happen, and reducing body heat via a localised cooling mechanism at the wrist, the device works to counteract symptoms including sweating, shortness of breath and a reddening of the skin.
"As of the start of 2020, we initiated an Innovate UK grant with Astinno to help fund
the development of Grace through the course of this year," Nigel explains. "Working in conjunction with project partner Loughborough University, the overall aim of this initiative is to demonstrate the technical and commercial feasibility of Grace ultimately by creating prototypes and later validating performance."
A number of Morgan IAT's own product innovations also continue to progress steadily towards launch. "One of note is our CombiPod Thermostation, which is a contrast therapy unit used in the treatment of sports injuries and in the field of physiotherapy," Nigel adds. "The result of a contract awarded by Thesis Technology Products, the CombiPod is currently involved in clinical trials and we expect to see it launched commercially during the latter stages of 2020.
"Elsewhere, we have also been working closely with a company called TrueInvivo to develop a micro silica detector array and automated reader, with the aim of improving the accuracy and safety of radiotherapy treatment worldwide. This product is currently progressing through regulatory testing with a view to a 2020 launch. Furthermore, we have recently begun developing an asset tracking device in partnership with a company based in Fareham, and we continue to move in a positive direction with the development of our anti-snoring device prototype. The latter we hope to be running small user trials with this year, ahead of a potential commercial launch in the near future."
Away from individual product development, a major push for Morgan IAT in recent years has been its ongoing drive to diversify into a complete manufacturing operation. "One of our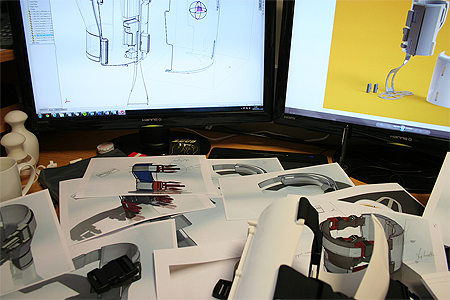 biggest selling points is that we place a huge emphasis on designing all of the products we work on with a view to them progressing through to manufacturing," Nigel states. "We take a holistic approach to each project we embark upon, retaining close relationships with our various metal work and moulding suppliers to ensure that once complete a product not only looks good, but that its path through mass production runs smoothly.
"Going forward, expanding our own manufacturing base in order to better support our partners and clients in the development of innovative products is an area of ever-increasing importance for Morgan IAT. We have already undertaken a revamp of our manufacturing area, relocating and expanding storage space, and opening additional production lines. We will also be making future investments in automating various processes which will complement our existing assembly and testing capabilities. With the necessary capacity in place, and with further spending aimed at bringing in the latest technologies and processes already committed to, we hope to target more of those companies looking to manufacture their designs here in the UK in the near future."
Morgan IAT has designs on more than doubling its existing turnover in the next few years, and as Nigel goes on to conclude, achieving this aim will require a three-pronged strategy. "Moving more into manufacturing is one of these strands," he says. "The others are continuing to diversify our activities – by not only focusing on our medical product partners, but also on more commercial projects – and speeding up the development of our own product designs such as the anti-snoring device. In the meantime, we will not lose track of the things that have been so successful for us recently. That includes the recent launch of the MIAT Prize 2020, which will again give us first-hand insight into the next generation of game-changing innovations that we can hopefully support."
Morgan Innovation & Technology (Morgan IAT)
Products: Designs, manufactures and builds medical and commercial equipment