Morgan Innovation & Technology
Making ideas work
Having successfully designed, developed and manufactured innovative products for over 30 years, Morgan Innovation & Technology is currently in the midst of what could be a game changing year for the businesses
When Petersfield, Hampshire-based, family-run innovation company, Morgan Innovation & Technology (Morgan IAT) last featured within the pages of Manufacturing Today Europe, back in 2017, it was celebrating its 30th birthday. Since it was first founded in 1987, by Howard and Sue Clarke, it has become renowned for its passion for innovations that will have a positive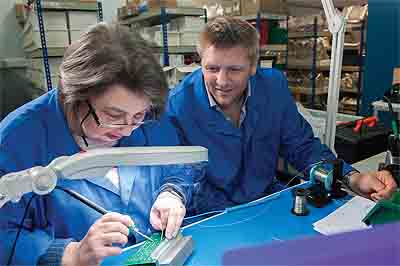 impact on society, and for its ability to design, develop and manufacture quality new products for use in the medical and commercial industries.
To mark the aforementioned birthday, the company drew up a new set of company values and a new vision that would lead it through its fourth decade in business, and beyond. Said values revolve around three key themes – 'Family, Growth and Fun' – while its vision is to make a 'Positive Impact on Individuals and Society'. It was also the wish of the company to reaffirm its commitment to funding inventions, which gave rise to the launch of the MIAT Prize, established to identify and support the next generation of world changing innovators.
"We announced the first winner of the MIAT Prize at the beginning of 2018, which was a real highlight for the company," states Morgan IAT's Chief Executive Officer, Nigel Clarke. The first prize of £30,000 of R&D services was won by Arslan Khalid for his MOBI DX mobile diagnostic device, with £10,000 of R&D services awarded to the runner up, ThinAir, for its invention that extracts clean drinking water from the air. Such was the success of the scheme that, at the time of our interview, the company had only a few days before announced the winner of the MIAT Prize 2019 as being ORB Innovations for its custom fit, smart mouth guard designed to prevent the misdiagnosis of head injuries in sport.
In catching up with Nigel, one of the first topics of conversation revolves around Morgan IAT's overall performance in 2018. "Last year was really one of consolidation, with the business performing rather steadily, boosted by the fact that we export a large percentage of our products and therefore favourable exchange rates worked to our benefit," he details. "During that time, we have also had a number of different products advancing through our engineering and R&D departments towards manufacture, which we anticipate to occur in 2019, and this will impact the growth of Morgan IAT positively and significantly.
"At the tail-end of 2018, for example, we witnessed the completion of the second clinical trial of one of our exciting products, that being Salurate, a screening tool to identify pregnant women at risk of pre-eclampsia by analysing salivary uric acid from week 20 to conclusion of pregnancy. We are currently reviewing the results of this trial and writing software around it. Once we have everything in place, we will then look at the best ways of taking this product to market, which we hope to be examining within the next two-to-three months. Meanwhile, we are also making good progress when it comes to the development of our anti-snoring device, and we intend to be looking at the different ways we can bring this to market during the course of 2019."
The company's efforts in 2018 further contributed to its ongoing diversification into being primarily a manufacturing operation, and one that specialises in not only developing its own innovations, but those of its partners. This work has required continued investment across the business, as Nigel explains. "We have maintained a solid level of investment in a number of areas, such as our facilities, our R&D processes and capabilities, and in developing our own products and those of other parties. comWe went into 2018 having invested capital in growing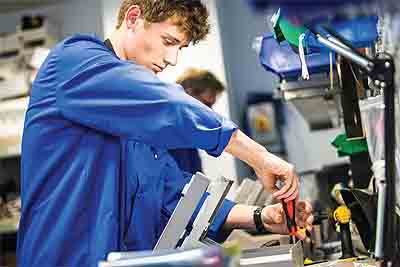 our infrastructure, adding another 100 square metres of office space, and we are now focusing more of our efforts on bolstering our engineering department and the manufacturing side of Morgan IAT."
Growing the company's team also remains high on Morgan IAT's list of priorities, particularly as it foresees increased activity and growth in the coming months. It is one of the reasons why its apprenticeship and graduate programmes remain so important. "We have had great success with our apprenticeship schemes, and we continue to bring new people into the business in this capacity," Nigel enthuses. "The graduate scheme, meanwhile, remains in full flow, with two new people joining us in 2018, and another coming on-board this summer. We still do a lot of work with local schools, and we still see somewhere in the region of 15-20 work experience volunteers visiting us each year. The benefits of such activities are huge, not only for ourselves, but also for the local community, which we consider ourselves to be at the heart of."
Going forward, Morgan IAT has an ambitious goal of doubling its turnover in the space of five years. "This target is based on a combination of our plan to diversify our range of products and the confidence that we have in the projects that we are currently developing," Nigel adds. "We presently have six active projects that will be moving into the manufacturing or selling stage very soon, each of which could result in the business expanding very rapidly in a relatively short space of time.
"Therefore, the goal for us in the short-term is to bring these projects to fruition. At the same time, we will endeavour to better streamline the business. While we would already describe ourselves as being fairly Lean, we recognise that there is always room for improvement. So, we have a lot of things in the pipeline and a huge amount of optimism surrounding Morgan IAT. Most importantly of all, we have the people in place to take this business to the next level!"
Morgan Innovation & Technology (Morgan IAT)
Products: Designs, manufactures and builds medical and commercial equipment