Making history
Morgan might be recognised for its classic appearance, but the company's grip on the cutting-edge of technology remains as tight as ever
Having been producing cars since 1909, the Morgan Motor Company is the oldest privately owned car manufacturer in the world. In the course of over a century the Morgan has risen to become an iconic British sports car recognised the world over for its classic looks and handcrafted build quality. Based at its site in Malvern, Worcestershire, Morgan has been producing cars in the same factory for 107 years and has eschewed modern production line methods for its own evolution of a more traditional but highly skilled and flexible coach building set up. Given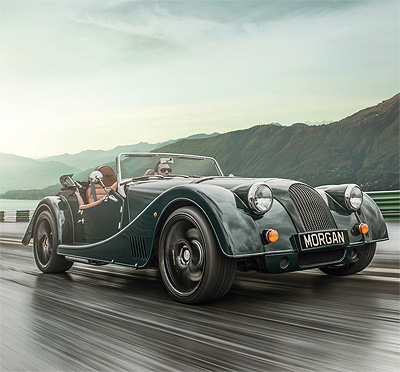 this approach to manufacturing and design, it may be easy to confuse the company with one soon to be resigned to the annals of automotive history, particularly in a period that is seeing the modern car change almost beyond recognition in a buzz of hybrid and electric technology. Yet looking beneath the time-proven surface reveals something very different.
"We still make our cars from handcrafted ash frames and make extensive use of coach building techniques, which no other manufacturer does for any other modern production vehicle," explains Managing Director, Steve Morris. "However, what really sets us apart is the marriage of traditional craftsmanship with modern technology across the entire range of cars we make and sell today. We're using the very latest in cutting-edge technology for componentry and power-train systems, but underpin it with a very unique range of skill sets that have defined the Morgan icon throughout its history."
The three-wheeler set the original stage, followed in 1936 by a four wheeled design that has remained in production ever since, and today's model line up is a perfect illustration of the brand's proud history. The range now includes everything from a 2011 re-launched three-wheeler, four variants of the classic four wheeler with engines ranging from a pokey1.6l four-cylinder unit to a boggling 4.8l V8, and the fifth generation of Aero 8, which puts the brand firmly on the luxury supercar stage. It's a range that continues to attract buyers from all corners of the world, yet keen to appeal to a more diverse segment of driving enthusiasts and take its own lead towards greener pastures, Morgan has set a clear course for the future.
In January 2016 it was announced that the British marque would lead a consortium with Delta Motorsport and Potenza Technology to benefit from £6 million of government funding to develop alternative powertrain technologies. The funding kicks off a new three-year programme to investigate hybridisation and electrification technologies with the aim to progressively introduce hybrid options to its entire model range by 2020. "It's a massive requirement for any automotive manufacturer to be on that treadmill towards alternative propulsion and I think you ignore these things at your peril," Steve says. "For us, to be on this journey as a small niche player is hugely important to ensure we're where we need to be at the right time." The project will also look at how the firm can adapt its manufacturing capabilities to facilitate the future of hybridisation.
As a low volume car manufacturer the emissions legislation that hounds mainstream manufacturers does not represent the same pressures for Morgan. However, Steve points out that large tax penalties can create high cost of ownership in some markets and is therefore putting potential customers off. "Where we've seen some shrinkage in European markets over recent years, thanks to higher taxes, a more economical and low-emissions option will help to reignite that," he points out.
Whilst the company has been involved in alternative propulsion developments for a number of years – its been a decade since it ran its LifeCar hydrogen fuel cell programme – 2016's Geneva Motor Show saw it take a major public step with the unveiling of the EV3 concept. Based on the three-wheeler, the EV3 replaces the petrol-powered v-twin engine with a 46kW motor and 20kWh lithium battery. "EV technology is better placed for lightweight vehicles as it can boast better battery performance the lighter the platform," Steve highlights. "At around 500kg, the three-wheeler is a really interesting vehicle to put that technology towards." Although only a concept at this stage, the reception of the EV3 by journalists, industry leaders and Morgan owners alike has exceeded the firm's expectations and has played a key role in publicising its sustainable intentions for the future.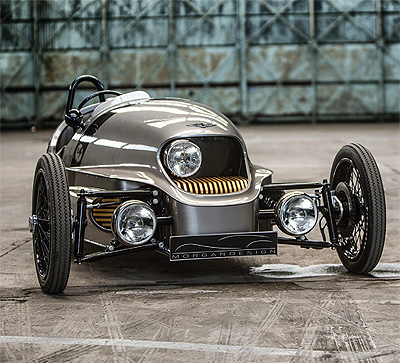 Away from alternative power trains, in March this year Morgan announced a significant motorsport partnership with the University of Wolverhampton aimed at enhancing both the student experience and Morgan's own future product development. "Morgan has a racing pedigree spanning our 107 years in business," Steve explains. "From grass roots motorsport through to victories at Le Mans, we have a very rich racing history. It's great for any manufacturer to continue this association but you have to be able to balance the costs of doing so with what you're doing it for."
The collaboration gives engineering students the opportunity to prepare and test two competing cars throughout the 2016 AR Motorsport Morgan Challenge Series, and offers a unique insight into Morgan's marriage of traditional craftsmanship with modern innovation. In return, information taken from sensors and data loggers fitted to the cars will be fed back into the firm's R&D department to inform the future development of its road cars. "We're a people-based organisation always looking to encourage bright engineers into the automotive industry, so providing this opportunity whilst also gaining access to technical resources we never normally would is fantastic and the ongoing work is phenomenal," expresses Steve.
Today, the Morgan remains as popular as ever. The company's order book is full for all models with build capacity for aluminium platform vehicles sold out for the next year. Despite continued legislation and skills challenges presenting a variety of pressures, the company's future is full of opportunities. However, testament to its heritage any progress made will continue to uphold the traditional brand that has seen Morgan carve out a devoted niche in the market for so many years. Ultimately, whilst its eyes may be locked on the future, its feet remain firmly rooted in its history. And it is proud to be recognised for it – 30,000 visitors are still drawn to the onsite museum and experience the factory tour every year.
"We have an opportunity to carry on doing something that is different to what everybody else is doing, and making sure we do it well," Steve expresses in conclusion. "I believe there will always be a market for Morgan cars if we do the right things and continue moving with the market's requirements, but doing so whilst retaining our iconic shape and feel will undoubtedly remain central to the business."
Morgan Motor Company
Products: Iconic British car manufacturer