Morland is embracing automation in the workplace, but not at the expense of human labor
Founded in 1972 as the woodworking division of Interior Products Group (IPG), Morland is a manufacturer of timber-based fit-out products. The company began its life as a supplier primarily to the UK's caravan industry, but has since expanded into a range of industries, including construction and marine, to which it offers decorative panels, architectural profiles, and doors.
It's been a difficult few years for the manufacturing industry. In March 2020, the Covid-19 pandemic arrived in the UK, followed by a swift lockdown of all but essential businesses. Trade has long since opened back up, but not without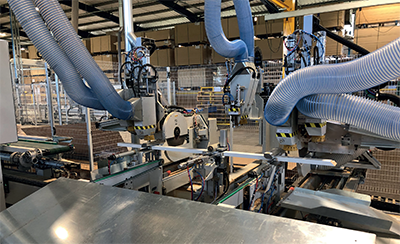 significant supply chain challenges. "It was quite obviously a tricky time," reflects James Morris, Group Managing Director at Morland, when asked about the company's experience. "We were lucky that some of our construction work just kept on rolling. Much of our supply chain stretches to Europe and the Far East, and we encountered varying challenges within each area. For materials coming from Asia, container prices jumped from a pre-pandemic price of $3000 to more than $18,000, although they're now on their way down once again. That imposes significant cost pressure, and there's limited wiggle room for that to be offset.
"Across the board, we did our best to communicate with our suppliers to tell them exactly what it was we needed, how much of it we needed, and what the drop-dead date was for its arrival," he continues. "With our top 15 suppliers, we held twice-weekly meetings to give updates from both sides. We still couldn't influence the price of containers, but we coped, and now we can begin to look forward."
Morland's vision is to supply its customers with high-quality fit-out materials that are fully finished, leaving only the task of assembling and securing the final product. "In manufacturing, we have to focus on the basics," James insists. "That means delivering on-time, in-full, at good value, with a focus on quality and customer service. Most of the businesses we supply have their own production lines, so there's always a pressure for continuous improvement. Over the years, we've tried to build a closer relationship with our customers in order to understand their problems, and to know what we can do differently to potentially benefit their own processes."
To realize this, the company has invested heavily over the years to enhance its capabilities, bringing upgrades to its factories, machines, and software. As an advocate of lean manufacturing, the company has ensured that the majority of its staff have completed formal Kaizen and 5S training. Meanwhile, Morland's powerful ERP system gives it the ability to provide a just-in-time delivery service of batch-specific materials to rolling production line schedules.
"We've been involved with a number of automation projects during the last few years, which have proved to be a really eye-opening experience, and very successful," James comments. "Some of those thoughts and solutions were previously only available to slightly bigger companies, but a lot of that equipment is now becoming more mainstream, and includes automation of material handling, machine tending, and other jobs where it shifts the skill requirement to a new area.
"In the last four-to-five years alone, we've purchased a new production unit, located on the same industrial park as our two existing buildings," he continues. "We had a great opportunity to bring all three parts of the business – panels, profiles, and doors – onto a single business park, and the unit was sufficiently large that we were actually able to sell our separate satellite factories, which gave the added benefit of being able to bring all our staff together. Whereas previously we had separate teams, with their own lines of communication, now we have a campus feel. The next stage will be to build on that, making everything more and more efficient."
Automation motivation
For many businesses, and for their employees, discussions of automation can be frightening. But new technology doesn't have to come at the expense of human labor. "Especially for a company of our size, the rate at which you're able to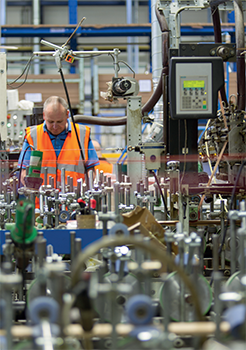 automate isn't so rapid that you end up with the threat of lost jobs," James insists. "We go to great lengths to help our employees understand that the introduction of technology isn't about cost-cutting, it's about becoming more productive. Part of that means making sure we're making the most of the various skill sets among our people.
"What we've seen in our most recent project is that after the introduction of automated processes, some of the skill levels required actually have to increase," he continues. "All of a sudden, instead of a very manual process, we have one that requires an in-depth understanding of software. For our people, it's been a fulfilling challenge to develop that understanding and learn new skills, and that contributes to their overall job satisfaction."
Building on this, James is keen to emphasize the vital regard in which he holds the company's employees, and the importance of a robust company culture. "We're a family business, and with that comes a relatively informal relationship amongst the teams, and a largely flat hierarchy; we don't have a traditional top-down structure, and that's apparent," he confirms. "Our people know they can talk to me at any time – my door is always open, and the same goes for the rest of our senior management team. That's the way we like it."
E-commerce commitment
One relatively new sector for Morland has been e-commerce. A successful venture, when the company first launched its e-commerce activities, its benefits took James by surprise. "Going back five years, we were very much a traditional industrial supplier to leisure, caravans and motorhomes, marine boats, and construction builders of various kinds," he recalls. "It was a revelation to find that we could actually sell products online. We suddenly found ourselves selling sheets of pre-decorated wood to the DIY market, and that was a viable business, with slightly better profit margins than those to be found on the industrial side, with better payment terms."
Creating innovations
The benefit of e-commerce was once again underlined by the Covid-19 pandemic, as it filled the vacuum left in the absence of commercial trade. "That business took off hugely in the first period of lockdown, because everyone was at home undertaking various DIY projects," James says. "Since then, it's continued to perform very well. We took the view that e-commerce was a new business stream in its own right, and that we therefore should invest in it and work hard to make it best-in-class. That investment is just about finished. We've integrated the whole process with our ERP system, from taking the order, to getting it out the door in one seamless flow, and we will keep building on that. We'll also bring out some added B2B functionality in 2023, which will enable our larger customers to easily check our stock levels and create their own product catalogs."
With the threat of Covid-19 now broadly in the past, and as the trading environment continues to ease, James is keen for Morland to get back on the front-foot when it comes to its product lines. Behind the scenes, the company has been busy as ever, creating new innovations to meet the needs of customers across its primary markets.
"We've got a new stock range of fire doors with a standard set of dimensions and finishes, which enables them to be supplied within 48 hours," he reveals. "That's ready to go, and will be up and running shortly. We also have some new materials in the pipeline, which we're due to introduce in the first quarter of 2023."
Looking beyond the next year, the long-term goal for Morland is to keep building its reputation and growing its reach – an ambition that is set to take the company's operations further afield. "We want to expand our business plan into Europe and see ourselves better recognized in our key sectors: marine, construction and leisure," James confirms. "Hopefully, we'll have brought to those markets more cost-saving, process-improving products. If we can do that, it'll help us grow to where we ultimately want to be."
www.morlanduk.com