Containing growth
Continued investment means that MORNOS has its sights set on a growing European market
MORNOS was first founded in 1991 as a packaging materials manufacturing company in Thiva, Greece and in the years that have followed it has grown through a strategy of acquired and organic growth to become one of the country's leading packaging firms. Predominantly active in the food industry, Mornos has a vast range of state-of-the-art manufacturing facilities and demonstrates a number of different capabilities including injection moulding, thermoforming and printing. What results is a portfolio that encompasses everything from flexible and rigid plastic solutions to bottle crates, barrels, carton boxes and a variety of paper packaging solutions.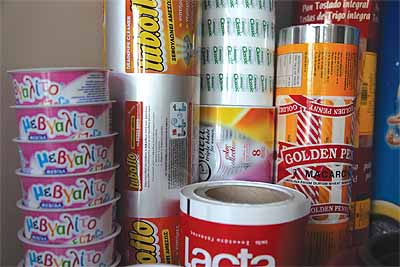 "It is this complete range of capabilities and our cutting edge equipment combined with the broad know how and experience of our people that really sets us apart in the market," begins Marketing and Exports manager Sifis Kalfaoglou. "This is then bolstered by an extensive client base made up of major multinationals." Amongst this client list sits a host of high profile international household names like Heineken, Nestlé, Carrefour, Coca Cola, Pepsico, Fabulous Bakin' Boys, The Co-operative Group, Unilever and Shell.
Sifis notes that the vast majority of MORNOS' activities revolve around the food sector, and its manufacturing facilities aptly illustrate both the reach of its expertise and the types of products delivered to market. "We have three different segments in our production line," he outlines. "The first involves our thermoforming and injection processes, which can provide printed, sleeved or labelled cups and containers. The customer base here is mainly the dairy industries for yoghurt and ice cream, but also for retailers and distributors for the disposable items they produce.
"The second is our flexible packaging line, which is accompanied by both Flexo and Gravure printing machines. Sitting within this is a selection of laminators, slitters, punching machines for aluminium foils, and converting machines for different bag shapes. PE extruder lines and a fully equipped prepress room support this capability. Finally we have our Litho printing line for the manufacturing of printed cartons from cardboard up to 600gsm. Window patching, paper cup printing, UV coating and gold foil are all features made possible by this line."
The majority of this production is carried out at the company's main facility, now based close to Athens, which provides 300,000 square metres of space (40,000 square metres of which is covered), including warehouse capacity. However, a manufacturing site in Albania adds plastic barrel and irrigation pipe manufacturing facilities to the portfolio. Investment into equipment and 73procedures to maintain this highly modern, state-of-the-art capacity is an ongoing commitment.
A dedicated R&D department ensures that the development of particular solutions and products are adapted inline with customer needs. Whilst Sifis expresses that much of its product line is made up of standard components, it is able to work with its clients to ensure it can come up with the most cost effective solutions. A pre-press department also maintains strong co-operative relationships with customers' marketing experts to ensure that the best possible presence of the final product.
"Quality is also a major commitment for us at MORNOS and we have all the relevant certifications for the products that we supply, from ISO 9001 to BRC/IOP and IMS/FDA regulations," explains Sifis. "Supplying into the food industry means we take this responsibility very seriously and, as such, our qualifications cover all food safety aspects and related standards."
Sitting next to its responsibility for high quality standards is MORNOS' approach to its environmental impact and sustainable performance. Whilst it actively works to comply with the ISO 14001 environmental management system, the company also demonstrates a proactive attitude through a number of initiatives. For instance when it comes to energy usage, over recent years the business has installed modern lighting equipment throughout its plants, which has resulted in a marked 80 per cent reduction in power for lighting needs. On top of this it is currently exploring the possibility of natural gas usage.
Furthermore, the business commits to an emissions management system (RTO), a rigorous recycling programme and ensures that its secondary packaging materials are made from 70 per cent recycled paper alongside the reuse of pallets. In addition to this a team of R&D engineers research and collaborate on a continuous basis to improve its own product offerings with the aim to lessening their environmental, social and economical impact.
Business for MORNOS at present is strong with particular growth coming from its export market. Continued investment into its facilities and product development will be key to securing further expansion in Western Europe, which will be a key strategic driver for the company over the coming months. Securing this ambition will take the company one step closer to achieving its ultimate vision to be the most credible and effective partner for its customers, aiding them through a complete range of solutions and services to reach product success.
MORNOS
Products: Leading Greek packaging firm