Fully energised
Morris Line Engineering continues to represent the quality values of UK manufacturing as a leader throughout the world
In 2016 Morris Line Engineering (MLE) is celebrating 40 years since JW & E Morris set out to provide specialist design and manufacturing services for high voltage overhead line disconnectors and switches. Over this time the company has earned an international reputation for outstanding product design and manufacturing quality, supplying a comprehensive range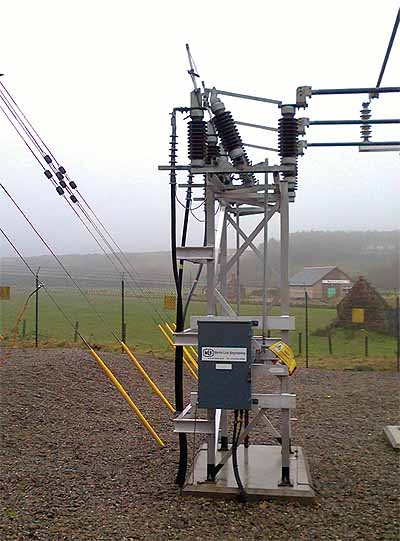 from 12kV to 145kV switches to electricity distribution authorities, oil and gas operators, and rail electrification experts across the UK, Ireland, Middle and Far East, the Caribbean and Africa.
Within the oil and gas market MLE is heavily active in the South and Middle East where it can count blue-chip companies such as Petroleum Development Oman (PDO), Abu Dhabi Company for Onshore Oil Operations (ADCO), and Qatar Petroleum amongst its key clients. Recent growth for the business in this sector has occurred with major contracts awarded by companies like the Saudi Electric Company (SEC), and it now counts for between 30 to 40 per cent of all work for the UK business.
"We are designing products that have to be suitable for use in the desert so they have to be durable," comments Steve Davies, Director of International Operations, in speaking about the company's ability to work successfully in such challenging markets. "We have many years' experience of designing products for tough terrain so we've become very adept at doing so. We are also known for our quality and we stick to the ISO legislation rigidly – that is very important because companies in the oil and gas sectors will accept nothing less than the best."
Innovation has always been and remains to be a driving force in MLE's business, and nowhere is this more evident than its work with the Oil and Gas industry, where the company has been a key influencer in new industry standards for silicone rubber insulators. "Years ago, porcelain insulators were the norm," Steve continues. "Along with ADCO in Abu Dhabi, we developed our switches to accommodate composite insulators, which are hugely beneficial as they don't attract dust. The old porcelain insulators had to be washed twice a year and that requires a lot of labour power. We are now seeing a high demand for 145kV products fitted with silicone rubber insulators and MLE has now reached a solution after several years investigating the possibility of fitting these insulators on to our disconnectors."
The utilities market is also a major avenue for MLE, where it has been supplying the Distribution Network Operators in the UK and Ireland since it was first founded in 1976, concentrating not only on the large orders but the individual and bespoke requirements that each customer may have. More recently it was awarded a three-year contract to provide a Middle Eastern electricity supply company with 13.8kV to 36kV equipment from three separate product lines. Ever committed to developing long-term engineering partnerships and with demand from both the oil and gas, and utilities industries in the Middle East, the company recently made the decision to open up a dedicated assembly plant in the UAE. Not only does this help MLE better serve its customers in the area, but it also helps to effectively manage the cost of doing business in the Middle East.
Speaking last year to Manufacturing Today Europe's sister magazine Railway Strategies, Sales Director Nigel Jones elaborates on this strategic move. "We manufacture all the equipment in the UK still, but in kit form that is then sent out to the UAE in large loads to be assembled locally," he says. "To get a UK assembled unit to customers in the region would be very expensive, so this strategy has helped us to develop a strong customer base, particularly in the Gulf markets.This way we can still guarantee that the quality of the product is maintained, also where the assembly is undertaken there is a stringent quality policy that our International Director Steve Davies monitors closely."
In terms of its rail operations, MLE has amassed a project portfolio spanning the globe from China to Brazil and in the UK it is the preferred supplier of 25kV track switches and fixed earthing devices to Network Rail. In the UK its Welsh manufacturing facilities are situated perfectly to quickly provide design, test, manufacture and support services to Network Rail, and MLE is committed to supporting the training and development of client teams to carry out installation and maintenance works. With major electrification projects being carried out across the UK's network at present, opportunities for the company to continue delivering a quality service are rife, and with the development of a fully IEC tested Load Break 25kV 1250amp switch, designed and tested for the UK's rail network, Network Rail can benefit again by having a product that is manufactured and delivered with the reliability, quality and support that MLE has given them for the last 30 years.
Occupying such a leading position in these three core markets around the world is currently rewarding MLE with high levels of growth. Over recent years the company has undertaken significant development programmes at its manufacturing facilities in Bridgend to cope with the rise in demand. Works include extending its site by a third to accommodate the production and storage of new products and the addition of a new dedicated mechanism department to serve the motor mechanism needs of Network Rail, it has also extended the research and development department due to the amount of development projects that have been requested by its customers – MLE has also acquired additional space allowing it room to grow even further as future demand dictates.
Of course, much of MLE's success can be put down to the years of experience and expertise it has developed over 40 years of operating, yet equally as responsible is its clearly defined and highly focused approach to serving the ever-changing needs of its clients. With a deep understanding of its customers' requirements and the challenges that they continue to face around the world, MLE has been able to develop a leading reputation for providing key solutions and forming strong engineering relationships that facilitate continued product development. Maintaining this is clearly a key part of the  company's vision and adhering to it looks to reward MLE with even more growth over coming years
Morris Line Engineering
Products: Industry leading design and manufacture specialist for high voltage disconnectors and switches