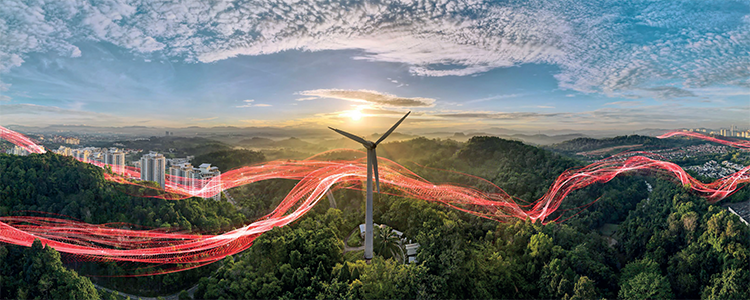 Morten Wierod of ABB talks to Mary Floate about electrifying the world in a safe, smart and sustainable way
With 25 years' industry experience under his belt, Morten Wierod, President of ABB's Electrification Business Area, joined ABB straight out of university. With lengthy stints in his native Norway, and China, and now with over ten years in Zurich at ABB's headquarters, he feels fortunate to have worked within sales, technology, and operations. From industrial automation to keeping the world turning with energy-saving, pioneering drive technology, Morten is now settled in Switzerland, heading up the organization's Electrification business.
ABB is a technology leader in electrification and automation, enabling a more sustainable and resource-efficient future. The company's solutions connect engineering know-how and software to optimize how things are manufactured, moved, powered and operated.
Under Morten's leadership, ABB Electrification is a global technology leader in electrical distribution and management, collaborating with customers and partners to develop innovative products, solutions and digital technologies that enable energy efficiency and a low-carbon society.
"For me," Morten begins, "a vitally important aspect of my work is the impact it has on the bigger problems of our time, which has become increasingly relevant in the last few years. I have been committed to energy efficiency and to improving life and societies with better electrical solutions throughout my career. Over the last three-to-four years, however, it feels as though the rest of the world now has that same understanding.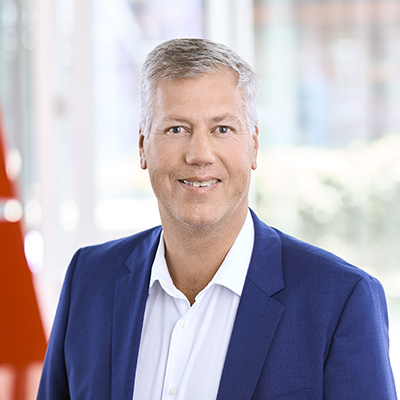 "We experienced the importance of having a stable electricity supply first-hand during the onslaught of the pandemic. Likewise, the outbreak of war in Ukraine reinforced the importance of energy, supply and management, and not just from the perspective of engineering, but as a matter of national security.
"Our business seeks to answer many of the bigger questions we have surrounding continued quality of life and protection of the earth's resources," Morten continues. "With sustainability on everyone's agenda, electrification, more often than not, is the answer that comes to the fore. We have over 105,000 people working within ABB to make a more sustainable future possible. Our people are increasingly engaged and the pride in their work is evident.
"Electrification is the unsung hero of everything we do. Most people tend not to think about it on a daily basis: generally, only when it doesn't work. In terms of networks, it's not easy to store energy, so, it's very much a balance of supply and demand, especially at peak times to ensure a reliable grid and supply. Our job is to make that fine balance more stable, and then, of course, to ensure it is generated in the right way to make the green transition possible. We have a very motivated and committed team here at ABB. I work with great colleagues, who collectively, want to make a difference," he enthuses.
This type of engagement doesn't happen by chance. Indeed, Morten is a firm believer in leading by example. "You need to talk about leadership expectations and the types of behaviors you want to see," he explains. "This then has to be modelled, because simply delegating or telling people what you want won't build and embed a culture. Of course, it requires engagement organization-wide. Similarly, transparency is important: what do I expect from my team members but also what can they expect from me.
"At ABB, we talk a lot about the four Cs: Care, Courage, Curiosity and Collaboration. This encompasses how we interact with each other, take care of each other and the language we use. This sets an organizational standard that needs to be followed, but also provides a safe space in which people are encouraged to speak up when they see behaviors that are not acceptable. We often talk about feedback with good intentions, which is about improved performance, and improved behaviors. We operate in 100 different countries, each with its own culture. Acceptable behaviors in one place may be deemed offensive or inappropriate in another. Alongside this awareness, we also educate people around unconscious bias, which aligns with how we talk to and about others. I am the executive sponsor for the LGBTQ+ community, championing diversity, equality and inclusivity. We want everyone to develop, to become better leaders, better people and better employees for the company and more importantly, for themselves."
Paving the way
Even before the disruption from the pandemic and current geopolitical tensions, Morten believes the manufacturing industry started to face a three-fold challenge. "The global supply chain has been strained for some time," he expounds. "Increasingly, organizations are moving to a regional set up, which is adding complexity because prior to today, we had been on a 20-year journey of globalization, and now, we are seeing those opened trade barriers start to lock down.
"A further complication is the shortage of skilled labor. The population is getting older, and by 2050, a quarter of the population in OECD countries will be aged over 65. This problem is further compounded by an increasing disinterest in factory and shopfloor work as a profession.
"The third challenge facing the entire industry is energy transition. Manufacturing is carbon intense, and while every company needs to embark on its own journey to carbon neutrality, obviously the more carbon there is to omit, the tougher that journey will be," he states.
"If it comes down to a choice between having the perfect plan of action or the perfect team, from my perspective, there is no choice. I think Mike Tyson said it well, when he suggested that 'everyone has a plan until they get punched in the face.' Best laid plans don't always come to fruition. Recent circumstances are a case in point. In my view, capability and resilience planning offers a more appropriate approach. It's a matter of building an organization that is flexible and agile. A decentralized business model that empowers local teams drives faster decision-making. This bolsters organizational capability, both in terms of competence but also mindset. While we can identify some long-term trends and mitigate accordingly, history has taught us that things will happen that we cannot always predict."
Morten continues: "We are in the midst of an energy and digital transformation. We have apps for everything, and society will only become more connected and centralized in terms of operational execution. This transformation is already affecting how people live in cities, and buildings, as well as how they work, and travel. Against the backdrop of sustainability, we have some clear long-term trends that we have to adapt to as a company, and we can use our technology and experience to help organizations on their journey to sustainability."
It is in helping organizations to face these bigger challenges that ABB's technology and expertise come into play. "We are able to understand a customer's problem and find a resolution," Morten continues. "In tackling the issue, step-by-step, and working with local channel partners and distributors, we can help our clients achieve their goals. We often use a pilot project to demonstrate our approach prior to rolling-out measures on a larger scale. For example, if we're looking at energy efficiency measures, we will look at monitoring local usage and analyzing that data for more informed decision-making. In this way, it's possible to drill down to the most appropriate next step in terms of cost efficiencies.
"We took this approach with one of the large global hotel chains; assessing a single site, analyzing everything from lighting controls to heating and cooling systems, upgrading accordingly and then outlining how these measures could be replicated in multiple sites around the world. We boast a network of global partners, technical distributors and system integrators. Together, we are able to deliver our technology to best serve our customers' needs."
On the path to sustainability, electrification is leading the way. "While it may currently seem most prominent in transportation," Morten adds, "in reality, by 2050, up to 50 percent of final energy consumption will be electric. Today, we are at around 20 percent. Green buildings, amongst many other applications, will need to become commonplace to facilitate this shift to energy efficiency.
"In terms of industry, we will see more investment in electrification for renewable energy generation, with more on-site production, consumption and storage. While this will reduce the pressure on the grid, in terms of demand, the green transition will require greater stability. As more coal-powered plants are disconnected, and greater reliance is placed on alternatives, such as solar and wind, we are more vulnerable to instability, from both a commercial and consumer perspective. Implementation of the requisite technology is high on the agenda for utilities, and we may see a trend of continued personalized usage. This process can be further automated, and at ABB, we are working on the technology that will take the time and effort out of monitoring and scheduling usage to work towards achieving carbon neutrality without compromising commerciality or quality of life."
While it would seem there is an overwhelming commitment to sustainability, what Morten would like to see more of is a sense of urgency. "Every facility at ABB is on track to be a carbon neutral operation before 2030. This is our Mission to Zero programme. It has involved significant investment in how we run our operations, and also how we choose those organizations with which we partner. We are asking our suppliers to do the same and are helping them accordingly. When it comes to sustainability, actions speak louder than words. It's not about pushing people but rather, inviting them along on the journey. After all, we are all working towards the same goal. It is too important an issue to make optional, but by using the right technology, we can help to minimize the impact of change for a safe, smart, and more sustainable future," he concludes.