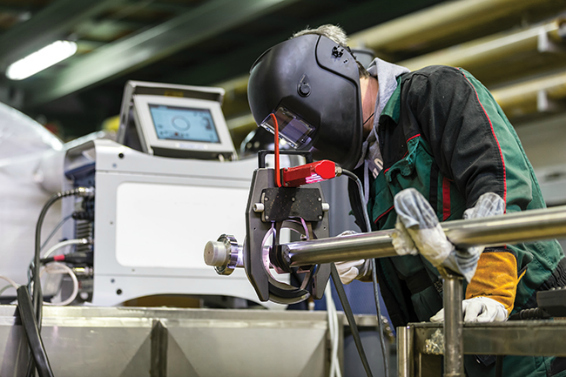 Beginnings don't get much humbler than Morton Industries'. The Morton, Ill.-based company started out in a garage in 1946 that cost the founder $1,000. After performing simple welding and repair jobs, the company attracted the attention of industrial giant Caterpillar, which hired the company to start performing small production work and repairs. In time, Morton Industries' bond with Caterpillar only grew stronger, and the company eventually added new capabilities including tubular fabrications and machined components.
Today, the bond between Morton Industries and its customers is stronger than ever, with large OEMs providing the company with nearly 80 percent of its business. CEO and President Chris Ober says that the long-standing relationships it has with industry leaders such as Caterpillar, John Deere, Komatsu and Kubota are testament to the strength of Morton Industries' services and processes.
Ober says the vertical integration and machining expertise the company brings to the table are key to making Morton Industries successful in serving its demanding customer base with tubular fabrication solutions. The company's primary customers are in the off-highway heavy equipment OEM segment, serving mainly the mining, construction and agriculture industries. Ober says the company also serves some outdoor power customers as well. No matter who its customers are, Morton Industries has been delivering the same high-quality services and industry-leading responsiveness, and Ober says these will be the qualities that will carry the company to new heights in the future.
Fully Equipped
Unlike many of its competitors, Ober says, Morton Industries brings a deep understanding of its customers' needs and has evolved to meet those needs without having to rely on outside suppliers. "I think what differentiates us is that because we've grown up with these top-quality OEMs, we've had to develop most of our processes internally and become vertically integrated, so there's not a lot of purchased content for us," Ober says.
The fact that Morton Industries has developed its vertically integrated processes and services on its own means that the company is uniquely positioned to deliver tubular fabrication solutions to customers quickly and efficiently. That can mean the difference between winning a contract or having the OEM decide to manufacture those components itself, and for certain types of customers and components it can be a true benefit to have a partner like Morton Industries handle that portion of the work.
Ober says the company has sought to be on the leading-edge of the industry from a technology standpoint over the years. He says Morton Industries was among the first in the industry to integrate tube lasers welders, 3-D lasers and inspection cameras into its processes to streamline production and drive greater efficiencies. "When we have that type of equipment, we become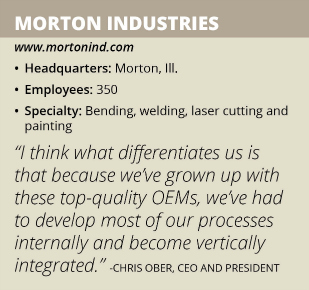 very good at servicing the low-volume, high-complexity markets," Ober says. "We also have several different ways of accomplishing the same thing. This allows the flexibility needed to meet customer expectations in regards to cost, capacity and design constraints. Many times, customers will not have to wait their turn for a specific work center. We have the flexibility to process the same part in several different areas allowing for very short lead times, sometimes as quick as just a day or two which can be a huge benefit for an OEM facing a line-down situation."
Another highly beneficial aspect of the company's vertical integration is that Morton Industries boasts a huge library of tools that can be set on modular fixtures. This allows the company to keep its tooling costs competitive because it doesn't need to build a completely new set of tools to make a specific part. Ober says being able to put machines together and break them down quickly is a major differentiator for Morton Industries compared to the typical competitor.
Overcoming Costs
As hard as Morton Industries works to keep costs down for its customers, however, there remain certain costs that are out of the company's control for the most part. One of the most significant for the company today is the cost of worker's compensation and healthcare, which cut into the company's already-thin profit margins. "We're completely exposed on those types of costs," Ober says.
However, Morton Industries is doing what it can to mitigate those expenses, primarily through a program aimed at promoting wellness and healthy lifestyles among its employees. Ober says that through a combination of educational programs and providing employees with access to health professionals to help them plan healthier lifestyles on and off the job, Morton Industries already has seen a substantial decrease in its worker's compensation costs. "That's been a big win," Ober says.
Building on Strength
Even though Ober characterizes the marketplace as "challenging" for the last few years, Morton Industries is confident that it will continue to serve its customers and remain at the top of the industry. He says the company is working closely with existing and potential customers to determine what Morton Industries can do to help them reach their full potential and help them grow.
Ober says the company also plans to continue investing in new technologies and processes to create greater benefits for its customers, as well. This may involve acquisitions as well as organic growth, he adds. In all, Ober says, Morton Industries believes the next 70 years of its history should be just as successful as the first.