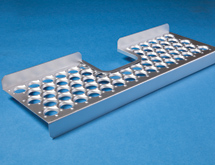 Morton Manufacturing has been in business since 1903 and over the past century it has become a leading supplier of slip-resistant walking surfaces for the rail industry and industrial market.
The Libertyville, Ill.- based company's walking surfaces exceed all federal specifications for slip resistance. Customers can choose from a selection of ready-made steel and aluminum safety grating channels, sheets, steps, ladder rungs and walkway products. Morton started by manufacturing running boards for boxcars for the railroad industry and in the 1950s it patented its Open-Grip® pattern. "What still sets us apart in the railroad industry is that we provide slip-resistant safety grating running boards that are user-friendly, lightweight and designed to fit customers' specifications," Vice President of Sales Mike Hendricks says.
Open-Grip running boards are designed with large, round debossed holes and raised, perforated buttons, integral wiped ends and have margins all the way around. The design allows ice, snow, mud and other debris to fall through, keeping the walking surface clear and safe. Morton also supplies brake steps, end platforms, intermodal platforms and locomotive steps to the rail industry. In addition, its Deck Span® safety grating has a diamond configuration and is an excellent slip-resistant pattern used for tank cars in the rail market and a wide variety of industrial applications.
Mergers and Applications
Morton Manufacturing was family owned and passed down through four generations before Jason Inc., a Milwaukee- based parent company of a number of niche manufacturing companies, purchased Morton in October 2011. "The owner Bill Morton wanted to get out of the business and retire," Hendricks says. "We are a good fit within Jason's Components Group and excited to be part of the Jason family of companies."
The company also benefited from being acquired by Jason because it can collaborate and implement best practices with other companies within the Jason network.
"They have had a strong emphasis on operational excellence and safety in the plant, which has been our No. 1 focus," Hendricks says. "The first hire after the acquisition was a continuous improvement manager."
The company's marketing and sales operations have changed and become more aggressive since Jason's acquisition because of its strong focus on growing organically. "There is a strong push to figure out how we overcome any potential impediments so we can continue to best serve our existing customers and develop new opportunities," Hendricks says.
Jason divides its businesses into four categories: seating, automotive acoustics, finishing and components companies. Morton fits in its components group, which is how its merger with Metalex came into play. Metalex was purchased by Jason in the 1990s and merged with Morton in early 2013. "Morton and Metalex are a very similar type of business," Hendricks adds. "Both company names are well established and we now have regional sales managers selling both Metalex and Morton products throughout the country."
Metalex was founded in 1961 and is one of the largest expanded metal manufacturers in North America. Expanded metal is versatile, available in ferrous and non-ferrous metals and has a wide range of mesh sizes. There are a number of standard designs, but expanded metal can achieve whatever characteristics are most critical for customers' applications. The product can be found in filtration, patio furniture, security fences, lockers, vents, shelving, car grilles and stairs.
In December 2005, Metalex, also based in Libertyville, increased its product offering by purchasing the assets of Arcor Inc. This allowed the company to offer light-gauge perforated products.
Steady Growth
Morton has seen an increase in demand in the railroad industry for running boards because an increasing number of cars are being built for the oil and gas industry to haul materials. The railroad industry will hopefully continue to keep Morton busy for years. Hendricks is also optimistic that because of its increased marketing and sales efforts, its products and value add capabilities will become well known.
In 2014, Morton expects its growth will be centered on the industrial market with various OEMs and select distributors. Metalex and Morton are working to increase its share of the perforated market. Perforated products are made through the metal stamping and punching process. Perforated metal is used in a wide variety of industries. Perforated and expanded metal are also appealing for architects and designers because of its practical and aesthetic features. The service can be used for filtration, noise control, lighting, architecture, home appliances, electronic enclosures and fixtures, to name a few options.
Metalex and Morton purchased a new state-of-the-art Bruck press in June 2012 that is 60-inches wide and equipped to handle up to 12-gauge capabilities. Additionally, the company has another Bruck press to be delivered in August 2014 that will handle heavier gauge requirements, increasing capacity.
"One of the growth markets is perforated metal; it's a $350 million market," Hendricks says. "We are trying to grow with our existing and new OEM customers. We pride ourselves on being a solution provider and our goal is to make it easy and pleasant to do business with us."