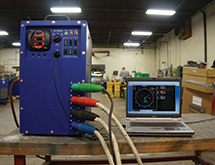 Mosebach Manufacturing has gone through a lot of changes since its inception by Karl Mosebach in 1924. Originally it supplied electrical gear for coal mines in Pennsylvania and West Virginia. Several decades later, the company was split into two entities, Mosebach Electric Supply and Mosebach Manufacturing. The latter continued to grow and was sold in 2006 to Telema, an Italian family owned business that is very invested in technology and developing new products, while Mosebach Electric was sold in 1990 to Consolidated Electrical Distributors and is no longer tied to the original company.
Mosebach Manufacturing's specialty for more than 40 years has been designing and building dynamic braking grids and resistors, which are used in locomotives for all the large railroad companies, as well as rail distribution companies. These resistors slow down locomotives without using the braking pads. This puts the engine's energy into Mosebach's resistors rather than forcing the wheels to turn, which slows the locomotive without using brakes more quickly and cheaply on downward slopes. Additionally, the company sells a number of replacement grids for resistors that have burned up.
"This is the bread and butter of the company," says Ken Lapinski, marketing administrator for Mosebach.
Load banks were the next step in offerings from Mosebach. Load banks test generators by simulating an electrical load to ensure that, when the power goes out, the generator will continue to work to the best of its ability. Mosebach's load bank simulates all of the kW that a generator would need to keep things running in the event of a power failure. The company recommends that its customers, such as generator service companies, utilize the load bank testing at least once a month.
To manufacture a load bank, the company takes a reel of steel and coils it. Thousands of coils or resistors go into one large load bank. The load bank is then tested by each kW, from 10kW to 20kW to the maximum kW to make sure the resistors are creating the correct amount of electrical resistance. Coils are then stacked up in the load bank and a large fan/blower is added, which cools them down. Once that's all put together, Mosebach adds the rigid louvers to protect the air intake and exhaust. Finally, it goes into testing for up to a week of quality control.
"Standard products are in for a few hours," Lapinski says. "We're making sure everything is wired correctly and then making sure we're getting temperature readings and high pot readings that are compliant with our standards. And then it's off to shipping and receiving."
Additionally, Mosebach produces electrical heaters for industrial applications, rental fleets and for killing bed bugs. For apartment and hotel owners and housing authorities, bed bug heaters are a necessity. The company argues that heat treatment is the most efficient way to destroy bed bugs because users do not need to locate all the bugs' hiding places, as one would if using chemicals.
Mosebach's heaters are designed to use common power sources without the use of a generator, ranging in power from 9kW to 19kW. By bringing the room and its contents up to 125 F and leaving it on for several hours, Mosebach says that all bed bugs and eggs will be gone.
"Our heaters are some of the lightest and most portable heaters available," Lapinski notes.
Lasting Products
Everything that is produced in the facility depends on the upcoming demand forecast. The purchasing department for Mosebach manages inventory and determines what the company has, what it will need and how it will be able to supply the forecast.
Since all of its products are made in-house, Mosebach takes great pride in the quality of its products. For example, the company has re-engineered its resistors to manufacture them cheaply, but in a way that will allow them to last much longer than the traditional ceramic resistors most companies produce.
Applications for Mosebach's products include extreme weather and use conditions, such as the northern-most part of Alaska, which really beats up the resistors. The company is also working on another resistor grid for a client working in Halifax, Canada, which is an extremely heavy and large piece of machinery the company has never built before. But Mosebach is confident these products will last in the harsh conditions.
"I would say that our engineering department really strives to make a product as small, lightweight, durable and easy-to-use as possible," Lapinski says. "We're not just making something that will last until the warranty is over but will last long into the future."