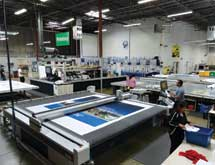 Some manufacturers make widgets. Others produce components for complex machinery. Then there are those that create mind-boggling works of art. From its elaborate stage set at the 2010 MTV Video Music Awards to its spectacular visual displays at the Super Bowl Halftime Show, it is obvious which category Moss Inc. represents. The Elk Grove Village, Ill.-based company specializes in tension fabric structures for applications ranging from retail stores and arenas to conferences, trade shows and special events.
"Merging the freshest in fabric, large format print graphics and lighting innovations with new, environmentally progressive manufacturing strategies, Moss' adaptable products are lightweight and easy to transport and assemble, creating overall savings and ultimate versatility in design options," the company says.
Moss not only is the leader in tension fabric structures, it also is the industry pioneer, says Vince Marler, executive vice president of operations. Founder Bill Moss invented tension fabric technology when he built the world's first pop-up tent in 1955. The product was an instant success. Soon, everyone had a Moss brand backpacking tent from common camping enthusiasts to famous explorers such as Jacques Cousteau.
Moss utilized the same lightweight fabric and frame at the 1983 Outdoor Retailer Show to create a captivating backdrop for its demonstration tents. Nearby exhibitors were so impressed by the display, they asked if Moss would make a similar item for them.
"The products are very lightweight, durable and washable, which saves money in the trade show world," says Shelly Alex, vice president of sales and marketing. "They're also aesthetically beautiful and can make almost any shape you can think of."
A New Direction
In 1991, Moss opted to sell the rights to its tent designs to outdoor gear producer REI and shifted its core focus to tension fabric structures for trade show exhibits. By this time, Bill Moss' widow, Marilyn, was running the company. Upon her retirement, she sold the firm to a private equity investor, enabling the company to acquire another tension fabric company, Exhibit Architecture, in 2002 and increase its capabilities.
In 2007, Moss partnered with Nichols Inc., an industry pioneer in printing on fabric. Combining Nichols' printing expertise with Moss's innovative tension fabric structures was ad­vantageous for the firms, according to Kevin Elsberry, senior director – manufacturing for Moss. Nichols be­came part of the industry's largest dye-sublimation printer. As for Moss, partnering with a fabric-printing expert catapulted its creativity to unimaginable levels.
In 2010, Moss acquired New York City-based Pink Inc., one of the premier brands in event décor. Re-branded as Pink Powered by Moss, the company specializes in event displays that combine swooping tension fabric structures with dramatic lighting for memorable visual effects.
"Using a wrinkle-free, flame-retardant stretch fabric and, in some in­stances, a lightweight aluminum-tube skeletal structure, Pink Powered by Moss designs are valued for their versatility and sleek, sculptural style along with their durability and ease of installation," the company says.
That year, Moss acquired Flying Colors, a leader in sports venue branding. "With its recent partnership with Flying Colors, a full-service design and project management company known for imaginative stadium graphics, Moss has the power to transform any sporting event into a memorable experience," Moss says. Flying Colors' clients include the National Football League, the National Basketball Association, Major League Baseball and the National Hockey League.
Driven by Quality
Moss operates manufacturing facilities in Elk Grove Village and Salt Lake City, along with rental depots in Las Vegas and Secaucus, N.J. It also has sales and design engineering offices in Berkeley, Calif., New York City and Belfast, Maine. In addition to tension fabric structures, it offers display hardware and large format printing services. Strategic acquisitions have enabled the company to expand its market presence and geographical scope, but it also focuses on organic growth. Moss' commitment to quality and innovation has been central to its success, Marler explains.
The Moss production system fo­cuses on people, processes and performance. "We utilize some of the lean concepts and ISO 9000 in our quality system," Elsberry says. "Because we are a multiplant environment, we focus on the harmonization of processes across the organization. When you're a design/builder, you have to look at the entire system from order entry through shipping as well as the feedback loop on returns. Everyone is held accountable to the quality of our products and the standards we have established."
"We do what we say we're going to do," Alex adds. "Trade shows, events and store openings don't change dates, so we only have one shot to get it right. Be­cause of our large capacity, customers who have a lot at stake trust us to get things done on time. As was the case with the MTV Video Music Aw­ards, there's typically not even a bidding process – we are the only company that can handle that large and complex of a project with the materials that we work with."
Customer-centric
Although Moss is well known for its massive commercial art displays, the company also offers easy-to-assemble items that customers can install themselves. For example, the Moss Radiance collection features a series of indoor fabric light boxes, which are an easy, economical way to display illuminated graphics or logos.
The EZ Fabric Wall System combines the versatility of modular walls with the benefits of lightweight fabric structures. Internal lighting and sound options make the walls unique to each application.
"What we've tried to do is scale to the large number of products that we currently have," Marler notes. "We print fabrics, cut fabrics, generate aluminum construction and put all of those things together. Each job scope and size is different, but we have to be able to manage all of these projects in a very uniform way. That's been one of our key challenges."
"Everything we do, from the smaller items to the gigantic displays, we try to do to the Moss standard of quality," Elsberry emphasizes. "That's how we separate ourselves in the field. At the end of the day, we build cool things. It's a miracle to see how quickly people rally to get these interesting and unique products out the door. It's an exciting environment to be in and fertile ground for new concepts and ideas."