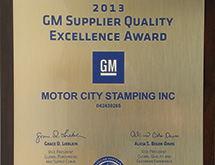 Last year, as it did the year before, Motor City Stamping received the GM Supplier Quality Excellence Award for its work on small to medium stamping and welded and robotic assemblies. Receiving the honor from the automotive giant is no small feat, according to Motor City Stamping CEO Judy Kucway, who says the company earned the honor by producing near-zero defects for the last five years in a row.
The award is a major source of pride for the Chesterfield, Mich.-based certified woman-owned business, and rightfully so. Being honored by one of the largest auto manufacturers in the world for the quality of its work indicates that Motor City Stamping is at the top of its field, and Kucway says every employee is focused on ensuring that it stays there. "All of my employees are very much in tune in wanting to get that award," she says. "They take a lot of pride in it."
Being recognized by GM shows just how far Motor City Stamping has come since its earliest days. Starting out with a $5,000 loan and space in a small garage in 1969, Motor City Stamping soon grew into an operation that stamped parts for GM. Specifically, the company was stamping parts for the Chevy Vega in the beginning, but in time the company expanded into one of the most successful companies providing small to medium stamping and welded assemblies in the Midwest. "We're still about 50 percent GM, but we have other customers," Kucway says, adding that convertible top assemblies for the Ford Mustang represent some of the work it does outside of GM.
Even though Motor City Stamping came from humble beginnings, the company today is a highly sophisticated operation, boasting some of the most advanced technology in the stamping and welding market. Kucway says the company can't afford to stand still as the automotive market continues to become more demanding with each year and the amount of competition in the marketplace becomes more intense. "Customer demands are more extreme than they've ever been," she says. "The only thing you can do is do your very best and be as competitive as possible, and that seems to have worked for us so far."
Full Capabilities
One of the biggest advantages Motor City Stamping brings to its customers is the depth and breadth of its capabilities. Although the company was successful when focusing just on stamping and washers, Motor City Stamping knew adding more value-added services would make it even more useful for its customers, so it expanded into spot welding, resistance welding and robotic welding.
The company also has its own tool and die shop as well as building its own robots for use in its processes. This means Motor City Stamping can provide virtually anything its customers could need in one location. "We can do just about anything here," Kucway says.
Motor City Stamping's operations are highly automated, which removes a lot of the potential for error out of the equation. However, no system can be guaranteed to be 100 percent error-free, which is why the company also invests heavily in error-proofing, which consists of cameras and automation, and die protection control systems.
Still Improving
Motor City Stamping has grown a lot since its inception more than 45 years ago, and Kucway says the company still sees a lot more growth to come. Customers continue to expand their own operations, creating new opportunities for Motor City Stamping to expand its own offerings and fulfill future needs. Kucway says she expects the company will continue to invest in larger and more value-added equipment to accommodate its customers' needs.
However, Motor City Stamping recognizes that continuous improvement means more than simply keeping up with technology, and strives to ensure that its employees are encouraged to be their best in every aspect of their work. "In our business we believe our biggest asset is our employees," Kucway says. "Teamwork is essential for success. We strive to provide profit sharing and the most affordable benefits we can which promotes the employees feeling they are part of the financial success and provides a positive work environment.
"We all at Motor City Stamping strive for continuous improvement and winning awards from our customers encourages this continued effort by all employees," she adds.