Ingenious engineering
Basing its success on a long engineering history combined with a willingness to adapt and change, Mpac Group entered 2020 on a trajectory for further growth
The pedigree of the Mpac Group is one of leadership in world markets, and this position has been achieved thanks to inspired innovation, and a change of direction – in 2017 the company,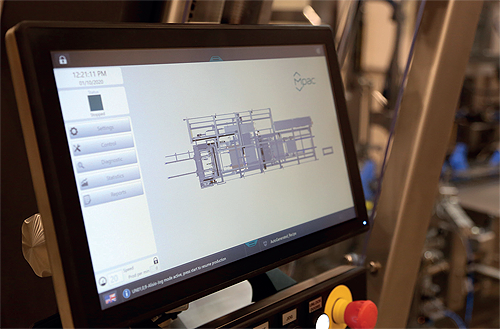 then called Molins PLC, divested itself of its instrumentation and tobacco machinery business, and adopted the name Mpac Group.
Today, focusing 100 per cent of its efforts on the supply of innovative, high-speed packaging solutions and related support services, the Group operates as a single business, principally serving the pharmaceutical, healthcare, and food and beverage sectors.
Tony Steels, Mpac Group CEO, is delighted with the progress made since the changes were implemented. "This has been a period of real development as a group and has delivered profitable growth. Since we sold the legacy tobacco machinery and testing business (which was tantamount to selling off the family silver!) we have had a strong balance sheet to supportboth organic growth and the acquisitions that we have done since."
This success has been underpinned by the strategy that Tony and his team put in place in 2018, based on what they called the 'One Mpac business model' – a global sales and service approach supported by plants utilising common processes, procedures and systems, aimed at delivering consistently high quality projects wherever customers choose to build their plants.
"There were some necessary changes to the business culture to promote our One Mpac business model, as it needed a leadership team that absolutely understood the benefits of being a strong global player as opposed to a local silo," added Tony. "This isn't easy and I am proud of our leadership team and the progress they have made in bringing the businesses along this journey."
One of the major high points for 2019 was Mpac's acquisition of Lambert Automation Limited (Lambert) a provider of leading automation solutions to the medical and consumer healthcare markets. Typically working upstream in its customers' product and production lifecycle, the addition of Lambert will enable Mpac to offer a more comprehensive and broader range of automation and packaging solutions to its customers. "Our acquisition strategy was very clear – we targeted a company in the primary packaging space, ideally in the healthcare sector. In addition, we were looking for a well-run business with real latent potential to grow," commented Tony.
"The business was a good fit because it met our strategic intent and a bonus was the great team that already worked at Lambert's site in Tadcaster. The integration has been very smooth and we now are focused on leveraging the business globally in partnership with our other companies. The acquisition of Lambert is a highlight for us, in that it fulfilled our tactical commitment to be a full solution provider, and has achieved the targets we set when the business became part of our group."
Lambert had been providing remarkable products and exceptional service for nearly Group50 years, and had grown from a handful of staff to an international company. Now called Mpac Lambert, the division focuses on the creation of fast, flexible, cost-effective factory automation platforms for the healthcare sector. Its ingenious machines are based on proven processes with a modular design. Dedicated to providing a truly end-to-end service, Mpac Lambert supports the entire product lifecycle, from first prototype to palleted products, from one single purchase order.
With Lambert bringing expertise in healthcare to the table, Tony noted that this sector was a major area of focus for Mpac, alongside Pharmaceutical and Food and Beverage. "Our primary focus on healthcare/personal care has brought some real traction to the business, not least since the acquisition of Lambert, which is 100 per cent focused on this growth market," he said. "We will continue to develop our product range to support this market with full solutions, and with the increased scale of the business our customers and potential customers are very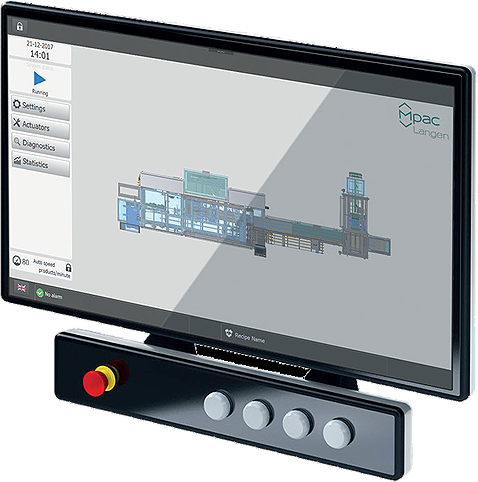 supportive of our plans."
Leveraging the Lambert business globally is a top priority for Mpac, starting in the USA, and as Tony explained, further additions to the company's stable are always under consideration. "Our acquisitions pipeline is robust and we will continue to develop discussions to acquire businesses, which complement our strategy and innovation programme," he confirmed. This is in addition to the organisation's focus on organic growth: "We believe our businesses have huge latent potential to provide a broader range of solutions to our customers and potential customers," he added.
Trading alongside the Mpac Lambert division, is Mpac Langen, which designs, delivers and services precision-engineered machinery for the automated processing and packaging of products across the food and beverage, consumer and healthcare goods, and pharmaceutical sectors. Following the Lambert acquisition, the Mpac Langen site in Coventry, UK was also rebranded as Mpac Lambert (its sites in Canada, The Netherlands, Thailand and Singapore remained unchanged.) Bringing together the two existing UK businesses to trade under one brand name supports Mpac's strategy to drive innovation and remain at the frontline of special purpose assembly and packaging machinery.
The new strategies and approaches undertaken by Mpac Group have already been seeing results, with Tony pointing to a strong order book and a vibrant innovations pipeline, and a number of new products scheduled to be launched in 2020. "We will launch full line solutions in the healthcare and food and beverage markets this year based on platform, modular technology, and we are confident in continuing our growth journey," he confirmed. Another further exciting development is linked to the product development area, as in early March 2020 Mpac Group signed a partnership agreement with Siemens Digital Industries in the UK. Under the new relationship, Siemens Digital Industries will function as a partner to supply end-to-end solutions to Mpac Lambert. The co-operation will boost Mpac Lambert's robustness and efficiency in delivering digitally scalable machines to its global clients.
"Our digital partnership with Siemens will enable us to co-create solutions with digital technologies, make sense of the data and, most crucially, develop it so that we can address customer needs to provide bespoke solutions," noted Tony. "It is very important to us in order to be fast to the market and have a control and software platform which enables Industry 4.0 functions for our customers and a single intuitive human machine interface (HMI)."
Siemens will support the original equipment manufacturer in its value chain with planning and design, engineering and the ordering process to installation. The holistic portfolio of total integrated automation, Internet of Things (IoT), software solutions is included in the partnership.
It is clear that Tony and the Mpac Group team have created not only a solid base from which they can grow the company, but that they are positioning the company at the forefront of technological innovation in order to ensure that their products are ready for the future. "We have an ambitious plan to more than double the size of our business over the next five years," said Tony, corroborating that Mpac Group has no intention of slowing down its momentum. He also highlighted two further areas where Mpac will be concentrating its efforts: "We see service as an increasingly important product for our customers and so we see this as a strong growth and innovation area especially around Industry 4.0 technologies, which we will launch in May 2020. In fact, we have already launched a number of important new products over the last two years that have Industry 4.0 enabled features, and these provide our customers with future proof investment and increased tools to support OEE improvement. Leveraging our One Mpac busines model will also mean that our customers will be able to have a consistently high level of service wherever they choose to build plants in the world."
With a group mission to be the global leader of high speed packaging and manufacturing automation solutions, Tony won't be taking his eye off the ball in 2020, but that's not to say he doesn't take the time to enjoy the success the business has experienced so far. "The highlights for me are the organic growth the business has been able to achieve together with the focus on service," he concluded. Add these to Mpac's upgraded ability to provide its customers with a much more comprehensive support programme to maximise their return on investment, and it is clear that the organisation really does offer the full package.
Mpac Group
Services: Packaging machinery manufacturer