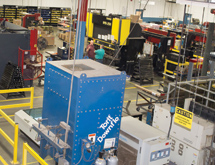 Rather than waiting for customers to bring ideas to them, executives, industrial designers, manufacturing engineers and manufacturing experts at MPE Inc. keep prospective and current customers informed about the latest design and manufacturing innovations in their fields. Customers' needs range from complete designs of products to value-engineering, designing for manufacturability and manufacturing of components or completed products.
MPE specializes in the design and manufacture of medical carts, consoles, tables, metal fabrications and assemblies for medical and high technology original equipment manufacturers. Some of the products MPE designs and manufactures for medical equipment companies enable specialists to quickly and easily transport a computer and the medical equipment needed for a specific diagnosis or treatment around a hospital, clinic or emergency room.
MPE is able to offer its customers efficient and cost-effective manufacturing of those components and devices because of the skill and expertise of its employees, emphasizes MPE President and CEO Gary Les.
"We've got some robotics and some heavy-duty capital equipment, but more than anything, we've got really great people – skilled craftspeople – that are doing great work behind the scenes on products that are being distributed all over the world," Les says.
"We're a global company, and it's our people that drive all of this," Vice President of Operations Jack Koepke emphasizes. "I help navigate and guide, but really, it's our people that make it happen. It starts with our business development team – industrial design, engineering, materials – and then certainly on our manufacturing floor – fabrication, welders, metal finishers, paint and high level assemblers – all talented people that are really great at their craft."
Where does MPE Inc. obtain such talented employees? "We develop most of them from within," Les says. "We believe in promoting people who have the work ethic and interest to learn more and grow. Jack has been promoted a couple times within the organization, and people at all levels have career paths. The state of Wisconsin is a strong manufacturing state, so some of the people we get are high school interns who then earn permanent positions. Some are college engineering students we have in our internship program. We're always looking for the best and the brightest talent."
Award-winning Frame
MPE designs and manufactures custom, complex, high-value products for medical and high technology OEMs. It is a high-mix, low-volume manufacturer of highly engineered products that works with some of the largest medical companies in the world.
In 2012, MPE was selected No. 1 overall among 3,000 vendors of Dräger Corp. and was named the Supplier of the Year for its work on the frame of an incubator for transporting premature infants. The frame consists of more than 60 pieces of cut and bent metal. It was very highly engineered.
"We had to take it from 60 pounds down to 40 pounds, and it had to withstand the vibration levels, because of the helicopter they are transported in," Les recalls. "It took months and months of engineering collaboration with Dräger's engineers in Germany to meet their specifications and provide the best possible product."
Innovation Forever
MPE was founded in 1978 and is celebrating its 35th anniversary in 2013. "MPE is an innovation company, and we have been an innovation company since we were started," Les stresses.MPE presents an innovation showcase for its customers at its manufacturing plants that demonstrates the company's innovative design and manufacturing techniques. It also takes its innovation forum on the road to customers' facilities to show them the latest in technology, design and manufacturing techniques.
MPE Inc. manufactures at its 150,000-square-foot headquarters plant in Milwaukee and it's 30,000-plus-square-foot plant in Monterrey, Mexico. "The Monterrey facility has been in existence for 11 years and is ISO 9001-certified, just like Milwaukee," Les states. "We don't look at them as a low-cost facility to bring product up to Milwaukee. It's really to serve our customers in Mexico and other parts of Latin America. It's really what we would call regional manufacturing."
MPE designs its products for manufacturability, and at both plants is implementing quick response manufacturing (QRM) techniques. "It's a proven strategy to reduce lead times, improve quality and decrease cost," Les summarizes.
QRM is not limited to the manufacturing floor. Koepke has created a quick response office cell (QROC). "It's a cross-functional team of skilled employees that are focused on total customer care coming from estimating, customer service, manufacturing, engineering, quality and materials," Koepke explains.
Les estimates MPE has invested from $5 million to $8 million in capital equipment over the last 10 years. "We have a robotic welding system, and a robotic press brake system," Koepke notes. "We have a top-of-the-line turret and punch laser combination. We do an awful lot of different operations on these machines. So we certainly invested heavily throughout the company, mainly in training of people, but also in capital equipment and software."
"Our people are what make the company go," Les stresses.