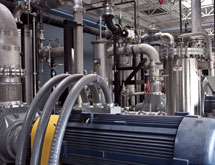 A Wisconsin-based design/build  contractor with 56 years of experience building manufacturing facilities is taking the next big step in its ongoing evolution.
MSI General Corp.'s Eco/Design Build program, launched in 2009, offers clients in the industrial sector and other markets high-performance building options regardless of whether they wish to seek formal LEED certification through the U.S. Green Building Council.
"We concentrate on the return on investment, not the certification," says Craig Coursin, president of the Oconomowoc, Wis.-based company. "Most of our buildings exceed LEED energy requirements. However, many clients do not have a reason to be certified. They just want to have lower operating costs and provide a great work environment."
MSI General Corp. works with its clients to analyze how they can lower their costs through either new construction or renovating their existing buildings. The company does this through building surveys, consultations and other services. MSI General Corp. employs a number of LEED-accredited professionals and is a member of the Wisconsin Green Building Alliance and the state's Green Masters Program.
"The Eco Design/Build branding certifies that we incorporate green building methods on every project," Coursin says. "Even when our customers say they're not going out of their way to be green, we're giving them a higher efficiency building without necessarily adding cost to the building."
Sustainability First
Several of MSI General Corp.'s industrial facilities are in fact LEED certified, including a 138,000-square-foot industrial facility completed in 2012 for Ingeteam, a Spanish wind turbine manufacturing firm in Milwaukee. The building, for which MSI General Corp. earned the 2012 Project of the Year award from the Business Journal in Milwaukee, is LEED Gold certified.
The site is located in a brown field development in Milwaukee's Menomonee Valley and incorporates all natural landscape vegetation. MSI also reduced parking spaces because the city provided street parking, and incorporated extensive lighting controls with light sensors that detect the light level coming from the 120 sky lights in the plant area and adjust the overhead lighting. The HVAC uses hot water radiant heating on the perimeter, and in the VAV boxes. MSI also increased the insulation thicknesses in the building envelope, and the roof has controlled flow drains to slow the water flow. Locker rooms and bike racks are also provided for employees to commute by bike, and the building is on a city bus line.
Other LEED certified projects include a 4,100-square-foot methane pumping facility for Veolia Environmental Methane in Muskego, Wis. The project, completed in July 2012, is LEED Silver certified. The facility now pumps the methane gas collected in a nearby landfill and pumps it 16 miles to Milwaukee's sewage treatment plant, where it is burned to dry out. The drying out process  produces the product Milorganite, a natural fertilizer the city sells on the commercial market. Previously, the methane was burned off on site.
One of the clients for whom MSI General Corp. completed a LEED Silver-certified office and production facility – the Lauterbach Group, a printing company in Sussex, Wis. – saw a direct return on investment after they completed the project and gained additional business through the LEED designation. Companies that need to show their supply chains are sustainable now call Lauterbach directly with orders, Coursin says. The new facility also led Lauterbach to begin  adding tracking tags on their labels printed for the food industry which can track the cows used to produce the milk and cheese in the package, Coursin says.
MSI General Corp. takes many of the sustainability initiatives it discusses with clients to heart in its own operations. "It's important to us that we put our money where our mouth is as a company ourselves," Chairman and CEO Dirk Debbink says.
The company diverts 84.6 percent of its construction waste away from landfills and has incorporated technology such as motion sensors into its headquarters. It also uses a fleet of fuel-efficient trucks and other vehicles. "We have seen a remarkable drop in our own gas and electric bills after putting these things in place," Debbink adds.
Experience at Work
Dirk Debbink's Grandfather Claude Debbink and father Pete Debbink founded the company in 1957 as Metal Structures Inc., or "MSI" for short. Pete Debbink carried on the business after Claude's death in 1962, changing its name to MSI General Corp. in 1972 to reflect its expansion beyond metal structures to traditional buildings.
Dirk Debbink joined the company in 1983 after spending 6 years on active duty with U.S Navy, and became its president in 1991. At about that time, the company started to emphasize its capabilities as a architect as well as a contractor and construction manager, trademarking the term "Single Source Responsibility" as a company tagline. "Single Source Responsibility is what we're all about," Dirk Debbink says. "We have the ability to step forward and say we will be responsible for all of the work we do. The upfront design controls the majority of the performance factors and the costs of a project. The importance of having in-house expertise at the front of the firm can't be overstated."
All of the company's projects are done on a design-build basis, with all professional service providers under one roof. The company directly employs sales, architecture, structural engineering, estimating and construction management personnel. Coursin is a licensed architect, and Debbink is a licensed professional engineer. "Our capabilities really set us apart," Coursin says.
Coursin joined MSI General Corp. in 2007, allowing Dirk Debbink to take on his current role as chairman and CEO. Before joining the company, Coursin served as vice president of the industrial division of contracting firm CG Schmidt Inc. His previous experience also includes a stint as vice president and architect manager of architectural firm Zimmerman Design Group. He is a veteran of the U.S. Air Force, and served as a base architect during his active duty from 1983 to 1988. His military experience also includes serving  at the 128th Civil Engineering Squadron  of the U.S. Air National Guard from 1988 to 2003 ultimately becoming the Squadron Commander as a Lt. Colonel.
Dirk Debbink also has an extensive military background, which includes an initial six-year active duty period as a surface warfare officer in the Pacific, followed by 24 years of drilling, part-time Navy Reserve duties which took him literally around the world while he also worked at MSI General. For the last five years, he was recalled to full time active duty in Washington, D.C., on the staff of the Chief of Naval Operations. Debbink retired from the Navy in 2012 as a Vice Admiral and returned to MSI General.
Company Advantages
MSI General Corp.'s focus during the last few years has largely been on small renovation and efficiency projects. "As the industrial market slowed down, we focused on the smaller projects that our clients needed to do to gain efficiency, and just basically survived in the slow time without heavy investment on the capital side," Coursin notes.
Recent larger projects include:
Designing and building a 19,000-square-foot addition to Charter Steel's headquarters in Saukville, Wis.;
Building a 12,500-square-foot headquarters for Enviro-Safe, an industrial chemical reclamation company in Germantown, Wis.; and
Completing an office and warehouse addition for plastic manufacturer Hampel Corp.'s headquarters in Germantown, Wis.
MSI General Corp. will likely see even further growth, as manufacturing in southeast Wisconsin continues to recover. "We intend to grow organically and gain market share as the economy regains traction," Coursin says. "We have a distinct advantage in that we have no debt, which allows us to take advantage of opportunities as they arise."