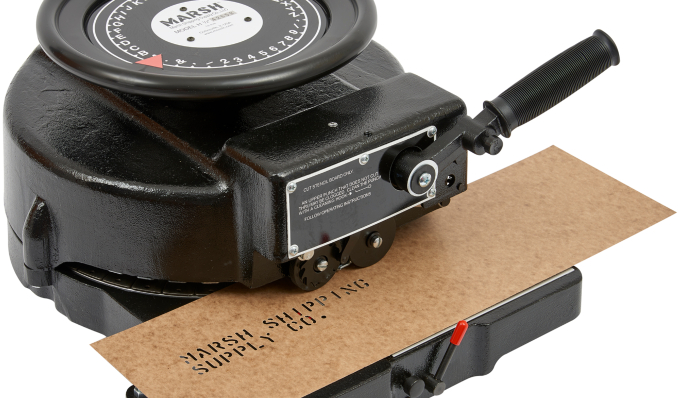 It's apparent that a company is doing something special when employees want to invest in it. That is exactly what happened with Marsh Shipping Supply Co. (MSSC). Marsh's history dates back to the 1920s, and in 2000 former employees bought the Marsh general product line and the Marsh name to launch MSSC. Since then, MSSC has become known for combining Marsh's dedication to quality with a level of service that is second to none.
Based in Collinsville, Ill., MSSC supplies industrial ink jet printers for coding, as well as a range of products for marking, sealing and stenciling. The company sells to more than 250 distributors worldwide, and continues to offer many of the same original Marsh products, with enhancements to meet market demands. It is a small company, but it takes pride in providing a high level of customer service and is on a first-name basis with most of its distributors.
"We are really focused on helping distributors sell the product," Vice President of Sales and Marketing Mike Strope explains. "Through the phone, email, social media, WhatsApp – whatever method, we are there for them with any kind of technical support, questions, anything to help them sell the product and support their customer. When customers do call us directly, we also provide help and support, as well as a local distributor to offer the local touch. We give distributors the comfort that they need to sell the product and support their customer."
Strope is an example of an employee who takes a great level of pride in working for MSSC. He started with the company as an intern, because it was located close to his alma mater of Southern Illinois University. He worked his way around the company to his current position, and continues to work with local schools to find new employees for MSSC.
MSSC takes pride in making its products in the United States – with facilities at its Collinsville headquarters and in Owensville, Mo. – and finds local suppliers for parts. The company has a long history with its suppliers, so it benefits from quick turnaround times, allowing it to be prompt and flexible with orders.
"We serve a lot of different industries, it really depends on the product," Strope says. "We have water-activated reinforced paper tape dispensers, – we build the machines that dispense out the tape so you can securely close a carton."
Continuous Improvement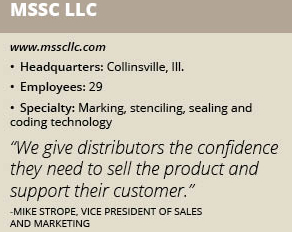 Marsh designed, engineered and manufactured its first manually operated stencil machines in the 1920s, and following that, immediately started producing complementary products. Today, the Marker, Stenciling, Sealing and Coding industry is quite large. MSSC maintains a good part of the market share because it continues Marsh's dedication to evolve with the market, high product reliability, and excellent customer service.
To ensure a high level of quality, its production process is arranged according to employee experience. "The more experienced assemblers and operators are found the farther down the line you go," Strope says. "New people start on the subassemblies, but as the product moves down the line, it has more experienced operators assemble and inspect. Once a product is fully assembled, we perform a 100% functional test.
At the same time, MSSC is dedicated to the continuous improvement of its products, always working to enhance the value of its product offering. Strope explains one of its machines could be in the market for five to seven years, and if a customer sends it back for repair, MSSC will identify things that can be improved. For example, the company may have a new treatment to better harden the steel or may know to use a different, more enhanced coating.
One area in which MSSC is always trying to improve is in making its products more environmentally friendly. "With the tape dispensers, especially in Europe, there is a strong push to move away from plastic tape," Strope says. "Instead, there is a big push to use the water-activated paper tape dispensers. When you think about it, every box has tape on it. The environmental factor is important to us all."
Strope noted the pharmaceutical industry needs more barcodes on its products for additional quality and safety tracking. MSSC is integrating the ability to print dynamic barcodes with variable information from customers' databases from its ink-jet coders. Strope notes a significant amount of information can be stored in barcodes printed from these MSSC products.
Additionally, the company is seeing more requests for special colors for its stencil ink, which is used extensively on goods such as metal pipes and export crates. "We can produce any Pantone color for specific customer needs," Strope says. "We can even do small batches for them – it's a 30 gallon minimum to make any color. That way, customers can have their specific Pantone color in their logo, or maybe have a special band of color around a pipe to show the grade of that pipe."
Proven Technology
MSSC will continue to look into new technology to enhance its product line, especially by listening to the needs of their customers and distributors. It is an ongoing goal, Strope says, to develop and engineer new software or hardware to satisfy customers' needs. Primarily, MSSC wants to provide a high level of value to its customers, new and existing.
"Customer service is huge for us," Strope explains. "When people call us, they speak with a live person. If for some reason we don't know the answer to their question right away, we say that upfront and then give the customer a definitive time when we will have an answer. If they have a problem, we will get a specialist and walk them through it. We can use our phones to 'face time' and have them show us the problem. Distributors really like that they are supported. If there is a problem, we stand behind it and help them fix it.
"Our product is known for its quality," he continues. "The water-activated tape dispensers have been around for 40 to 50 years and we've been making the stenciling products since the 1920s. This is proven technology that works, and we've had a long time to refine the equipment to ensure it's a quality, economical product."