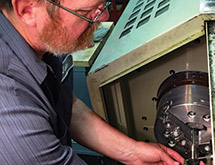 Metal Technology (MTI) has developed a reputation for reliability and quality over the past 44 years because of its innovative approach to precision forming processes using reactive and refractory alloys. "We have always focused on high-temperature, corrosion-resistant alloys that are produced here in Albany, Ore.," Director of Sales Steve Smith says. "Niobium, titanium and zirconium are some of the alloys used heavily in propulsion systems for rocket and aerospace applications."
Albany has a rich heritage of metallurgy dating back to the early 1940s when President Franklin D. Roosevelt tapped the Albany branch of the U.S. Bureau of Mines to develop a process to produce these metals, Smith says.
MTI began as B-J Enterprises in 1971 and quickly grew in size and capabilities. Today, MTI specializes in the precision fabrication and custom manufacturing of high-temperature, corrosion-resistant alloys. "We have developed our processes to include CNC machining, water-jet cutting, and deep-draw forming and forging," Smith notes. "The deep-draw process is our claim to fame." Over the years, the company has accumulated an impressive inventory of tooling for its press operations. Each tool is machined in-house and then heat-treated to harden before being used in production.
MTI works with diverse markets and industries, including aerospace, defense, chemical processing, coatings, high-energy physics and nuclear medicine. Customers range from national laboratories to space-travel prime contractors that rely on the company to deliver. MTI meets that challenge daily and in 2014 achieved a 93 percent on-time delivery rate. "One thing to note about our business is that we are diversified," Smith says. "We can weather downturns because when one industry is down another is up."
New Techniques
Custom manufacturing is a major part of MTI's business and the company prides itself on being AS9100 and ISO 9001:2008 certified. "We have a process-based approach that focuses on continual improvement and meeting customer requirements," Smith explains. "Our calibration systems are designed to standardized equipment and tooling to MIL-STD-45662 requirements – meeting the high standards set by the National Institute of Standards and Technology."
Staying true to its roots, the company continues to innovate by developing new manufacturing techniques that enhance its customer service. "In 2014 we began our additive manufacturing initiative and developed techniques for producing quality parts from powder metal," Director of Engineering Jason Stitzel says. "We're now leveraging that knowledge to produce parts that we refer to as 'hybrid,' in that we can produce parts that incorporate both additive and traditional manufacturing methods."
MTI can capture the benefits of additive manufacturing for highly complex geometry of a component and then transition to traditional CNC methods for less complex portions. "The hybrid approach is available to our customers and we'll prescribe it – if it represents the most economical way to manufacture their component," Marketing Manager Matt Crateau says.
In 2014, MTI 3-D printed density trials in a key alloy required for space travel. C-103 is a niobium-based alloy that contains about 10 percent hafnium and one percent titanium and is used in space applications because of its formability, cost, weight and reliability, the company says. MTI became the first to use a powder-bed laser additive manufacturing system to produce solids from C-103. "In 2014 we ran trials with C-103," Crateau notes. "We are now partnering with a space propulsion company for the second phase of development."
In phase one, MTI's goal was to determine the right parameters between the laser power and speed that the 3-D printer uses. "We learned where we need to be to achieve density of C-103," Smith explains.
In another recent development project, MTI began hot-forging molybdenum. The process uses CNC-controlled force and depth on the company's largest hydraulic press to create a near-net shape that can then be precision machined to meet final dimensions. "We're excited about moving ahead with hot-forging. Our team includes experts in forming alloys in a way that maximize the performance in finished parts," Smith said.
Going Green
MTI is also focused on developing and implementing environmentally sound practices. Most recently, it made a process change to drastically reduce its strong acid use in chemical finishing by converting to an automated polishing process. The process delivers a superior product, but with lower environmental impact and workplace hazards. "We have gone green in our metal-cleaning process and in doing so we have saved ourselves time and it's healthier for our employees," Deep Draw Supervisor Gary Warnock says.
In a different green initiative, the company has made another improvement to its deep-draw process that also provides safety benefits to its 18-person manufacturing staff. "Over the years, we have used a proprietary lubricant in our draw process that was acetone-based and we are switching to a water-based lube," Warnock explains.
Moving forward, MTI plans to continue focusing on exotic metals and alloys as it has since day one because it has become a specialist in those materials over the years. "These metals are not something a lot of other companies work with because of their high cost and properties that make them a challenge to manufacture," Smith says. "MTI has 40-plus years working with them and we'll continue developing techniques to produce high-precision products in the most economical way."