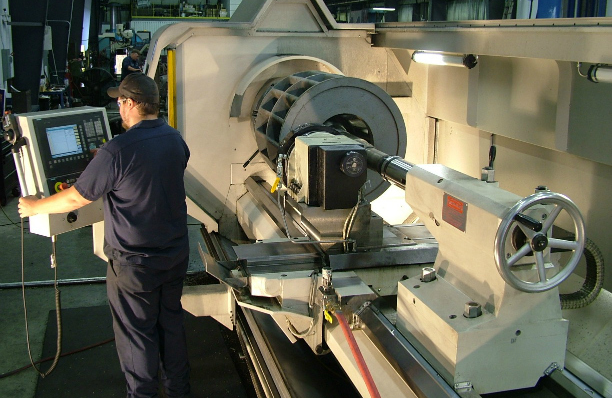 MTR Martco specializes in building, rebuilding and updating component parts and equipment for the steel and paper industries. When a manufacturer needs a new part for a machine, MTR Martco sends its engineering experts to assess what is needed. In most cases, repairing or rebuilding a piece of equipment can save customers time and money.
Founded in 1967, MTR Martco is about to celebrate its 50th anniversary in the steel and paper industries. Owner and President Ray McIntosh says the company is grateful for so many years of success. "We've got a few things planned – advertisements, tradeshows we're going to do – just to let people know it's been 50 years," he says.
McIntosh has been with MTR Martco for 30 years. He began in the manufacturing plant, moved to sales, then management and eventually became owner of the company. Thanks to his experience in so many departments, he says he understands what the customer needs. "We partner with our customers," McIntosh explains. "We're actually their maintenance and engineering staff. People partner with us to maintain equipment, so we're basically like a maintenance department for all our customers."
That ties back into MTR Martco's overall approach: to mix new, used and rebuilt equipment rather than building all-new components at a higher cost to both the customer and MTR Martco. Of course, challenges arise when other manufacturers can build new equipment for less cost overseas.
"The way we approach that is recognizing value in the used equipment versus replacing it with new," McIntosh explains. "Some of the new stuff is hard to compete with price-wise. But we get better end-results by doing it the way we're doing it.
"A lot of the older equipment is heavier duty than the newer replacements," he continues. "When parts are updated and retrofit, you end up with heavier and stronger pieces than some of the newer, cheaper stuff. A lot of the new stuff is built for a short life for a cheap price. Over the use of the product, you just dispose it and buy a new one, but some of our products have been in the industry since we've been in the industry. You just keep upgrading the refurbished product and get a better end-product."
To combat the cheaper manufacturers, MTR Martco regularly adds larger machining capabilities to machine even larger components. Along with that, the company is working with the largest used-equipment supplier in the paper industry to refurbish equipment for it. It also is partnering with a company that ships a lot of MTR Martco's component parts to Mexico.
"We are constantly looking at new product lines that we can take our same approach to," McIntosh says. "We're always looking for product lines in the paper and steel industry that are high-wear items we can rebuild and refurbish for longer lifespans. We look at a product line and try to come up with a better way to make it last longer."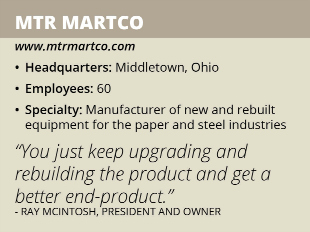 New Technology
MTR Martco manufactures its steel component products from all states of raw stock: plate stock, bar stock, structural, carbon, aluminum and stainless steel. It fabricates and welds, then conducts final machining and final assembly. MTR Martco tests its products and runs a live application before shipping to customers. "We test it exactly how it will be installed in the mills," McIntosh notes.
The company has made its operations even more efficient with the addition of CNC machining and 3-D modeling. MTR Martco can put together a 3-D model of an entire project, including a customer's facilities and existing equipment. The company then analyzes the situation and recommends either new equipment or upgrades to existing equipment for better performance.
"For retrofits and upgrades, doing it on a 3-D model beforehand you can see a lot of changes and improvements you can make and better utilize the layout of the mill," McIntosh explains. "That technology has come a long way in the last 10 to 15 years. It used to be trial and error, now it's very much planned out. It also helps on installation time because so much is pre-planned with the 3-D modeling."
The 3-D modeling also includes stress analysis testing to simulate stress, deflection and loads on the machinery. If improvements to the parts are necessary once tests are complete, design improvements are incorporated into the manufacturing process to produce the most functional part or component.
"We always incorporate lean manufacturing and are always looking at ways to cut costs," McIntosh adds. "Some of that you can do with tooling, CNC machining or work centers, where you can do multiple operations in one set up. Any way to streamline a process, we will do. Everything from our front office to the shipping dock, we try to streamline."
From Within
One of MTR Martco's biggest challenges is finding skilled tradespeople. McIntosh says not many of today's young people are going into skilled trades or manufacturing. In response, the company has incorporated an apprenticeship program into its operations to hire young workers and train them in-house.
McIntosh has found that this keeps people around because the young workers see an upward career trajectory with MTR Martco. "We do a lot of promoting from within," he says. "I went from manufacturing all the way through. A lot of our people have been hired in and worked their way up to advancement. People see the path others have taken and pick out a path for themselves."
MTR Martco pays for its employees' schooling and training if they want to continue their professional education. It has found this method to be extremely beneficial in the long-term and much of the staff has been around for years, McIntosh being a prime example of that.
"They can see my career path and know that it's wide open here," he says. "We've had 50 years of continued growth and continue to find niches, be very flexible and add and grow as a company, but that's all a testament to the people."