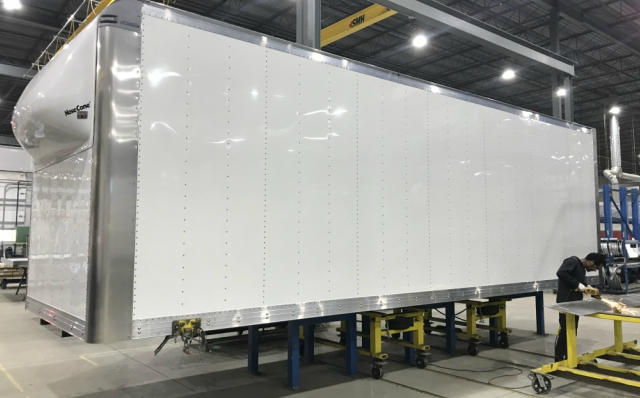 Truck bodies haven't changed much in the past few decades. Most trucks are still made from aluminum or fiberglass-reinforced plywood and the general box shape remains the best way to maximize cargo space. That's not to say the industry is stagnant, rather that the most significant improvements have come not from the products, but in the way they are made.
"The big innovation in our industry has not been the product, but the actual manufacturing process," says Steve Schafer, COO of Multivans, a Canadian truck body manufacturer.
Most of those innovations revolve around lean manufacturing principles. Multivans simplified many of its processes to make production lines run more efficiently. When its new facility opened in 2014, it organized the manufacturing floor to place tools and raw materials near workstations so they could be easily and quickly accessed.
Further, the facility itself was designed from the ground up for flexibility. Instead of locking down equipment, Multivans incorporated some mobility to make it easier to shift production.
Employees play a role in those efforts as well. Multivans empowers its workers to identify bottlenecks and suggest solutions. "We train our people to understand they have an opportunity to make changes to the process to make their job easier," Schafer says.
Fast Response
The company specializes in truck bodies between 16 and 30 feet long. The trucks can haul almost any kind of dry or refrigerated good, but most are used to deliver products such as liquor, food, consumer goods or pharmaceuticals within a city. Multivans primarily serves rental companies, leasing businesses, fleet managers and truck dealers.
Multivans has served the Canadian transportation industry since its founding in 1962 and U.S. customers in the Northeast and Great Lakes states since 1992. "Our growth in marketshare had gone very well in Canada so we wanted some opportunity to get some market in the states," Schafer explains.
However, distance has been a barrier to further expansion. Because Multivans does not own the chassis on which the truck body sits, the customers must deliver the chassis to Multivans' facility in Bolton, Ontario, a Toronto suburb. The per-mile cost to transport the chassis can become prohibitive, eroding profit margins.
As a result, the bulk of Multivans' customer based is located within a 400-mile radius of its facility. "The truck body manufacturing plant that's closest to the [truck] manufacturer has an advantage," Schafer says.
Once the chassis arrives at Multivans' facility, the company works quickly to install the truck body so it can be returned to the customer. The sooner the final product is delivered, the sooner it can start earning revenue.
It's why Schafer believes customers value speedy delivery the most – with price and quality secondary considerations. "They deliver a chassis to us and if that chassis sits with us a long period of time it's costing them money," Schafer says. "They're not able to generate money from the chassis."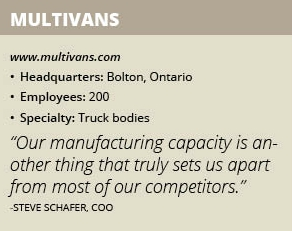 Capacity Advantage
With one of the most efficient manufacturing facilities in the truck body industry, Multivans is well positioned to meet customer deadlines. Manufacturing time varies between two and eight weeks depending on the time of the year and customization options. Most rental and leasing customers want their trucks ready by spring, when new model year chassis become available.
"Our manufacturing capacity is another thing that truly sets us apart from most of our competitors," Schafer says. At 125,000 square feet, the plant is more than double the size of Multivans' previous facility. It also has more than double the amount of surrounding land, enabling the company to park more chassis as they await truck body installation. The larger size allows Multivans to operate five production lines, increasing its capacity and trimming turnaround time.
Multivans is investing in some automation, such as robotic welding, but it relies primarily on human hands to make its truck bodies. That's been harder in recent years as the global economy has improved and there are fewer available skilled workers to fill positions. "It's hard to find people and it's hard to keep people," Schafer says. "You have to make sure you keep people happy."
The company has responded by investing more into the workers it already has and amplifying its training efforts. The easiest way to learn is by doing, so Multivans started a mentorship program where experienced workers on the shop floor are expected to help younger employees learn their roles and elevate their skills. "A lot of it is training people and making sure they understand what they are building and what they should be doing," Schafer notes.
A highly skilled workforce will help Multivans drive its next wave of expansion. The company recently reached the end of a three-year plan and is preparing its next multi-year strategy, which will surely involve aggressive growth targets. "There are very few small backyard truck manufacturers," Schafer says. "The companies that are thriving are the ones that are growing. The ones that are not growing are dying."
The new facility gives Multivans the capacity it needs to expand production as demand increases. "Growth will come from manufacturing innovation and our customers in the market area where we serve," Schafer says.